VTOL Craft, Cars & Boats
The advent of reliable and cheap microrocket power inspired designers to experiment with utilising it to model a vast range of vehicles, both actual and imaginary.
We present here a small – but typical – selection from this range.
Classic Models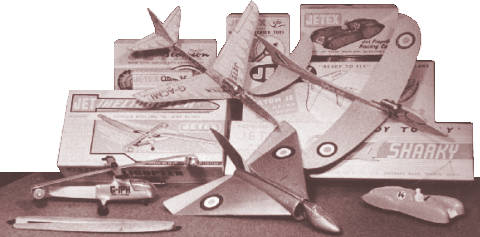 Many and varied are the kits which have been produced since 1949 up to the present to take advantage of Jetex propulsion. This section of the Jetex.org website presents details of a number of examples, of different types.
On this page we give details of the kits illustrated in the vintage photograph above.
Click on various parts of the above vintage image to jump to that kit.

A Bouquet of Classic Kits

Jetex Wren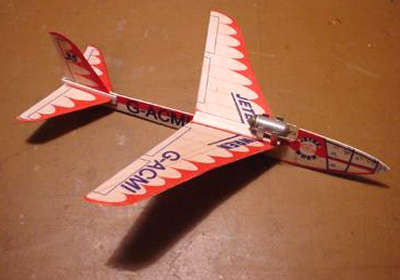 This model is the Jetex Wren for Atom 35 power, designed by Mike Ingram.

This photograph shows a replica constructed by Howard Metcalfe, using the old ads in Aeromodeller. He also made a flying version, which "proved to be a superb little flyer and flew well with both Rapier L1 and L2".

Photograph contributed by Howard Metcalfe



Jetex Sharky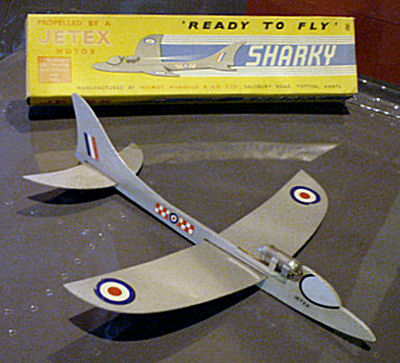 This model is the Jetex Sharky, produced by Wilmot Mansour as a "Ready to Fly" kit.

This photograph shows it sitting on the tail of a Spitfire in the Solent Sky Museum Jetex display.

As for motive power, the box simply states "Powered by a Jetex Motor", without indicating the size. However, inside the box, purchasers found a 50B motor, together with instructions, mounting clip and a box of fuel; the model illustrated shows the 50B in place.

Photograph contributed by Howard Metcalfe











Jetex Helicopter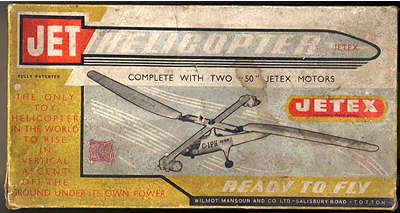 Proudly billed by Wilmot Mansour as "the only toy helicopter in the world to rise off the ground under its own power", the Jetex Helicopter came "complete with two 50 Jetex motors" and was "ready to fly".

Although identified in the instructions as the "Jetex Plastic Helicopter", only the body and wheels were of plastic, with the pre-finished blades being made of balsa.

Photograph by Andy Blackwell; contributed by 'Rocky' Simmonds



Jetex Interceptor Fighter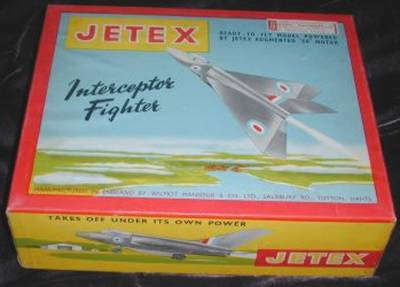 This "Ready-to-fly" model from Wilmot Mansour is powered by a Jetex 50C with augmenter tube and "takes off under its own power".

The kit illustrated was sold on ebay in January 2003 for £150.00 (approx. $US250.00).

Photograph spotted by John McKnight










Jetex Racing Car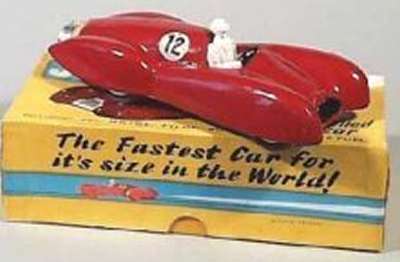 Promoted as "The Fastest Car for it's [sic] size in this World!", this "Jet Propelled Racing Car" was Wilmot Mansour's venture into Jetex-powered speed on four wheels.

It came ready to race, with a pylon and tether, a Jetex 50C motor and a tin of 20 pellets.



Frequently Asked Questions



Here you'll find answers to the questions we're most often asked.
Click on any question to reveal the answer below.
If you still can't find the answer to your question? If you post a message in our Discussion Forum and pose your question there, you'll be able to tap into the collective wisdom of our 250 members from all round the world.
You're also welcome to contact the Jetex.org via our Contact Form.
WELCOME TO JETEX.ORG

Jetex.org was set up in 2004 and, with its active forum, quickly became a comprehensive online resource for free flight jet modellers all over the world.
The original Jetex.org site covered the historical and technical aspects of small rocket motors used in model aircraft, hydroplanes and cars, of which the British post-WWII Jetex motors and modern Rapiers are the best known.
The original Jetex.org site is well and happy, but in retirement.  It can still be accessed at: archivesite.jetex.org.
Building on the old website's success, the present Jetex.org site includes lots of new information, a model gallery, links to other relevant sites and a growing online store.
The active forum discusses everything from how to build and fly small model jets, to reports of meetings and collecting vintage motors. 
We welcome contributions from fellow modellers, rocket scientists, historians and micro rocket enthusiasts.
We hope you enjoy looking around the site.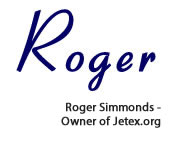 Do join the Jetex Forum or contact us if you have any questions or would like to contribute.
And please visit our About Us page – why we're here, how we got here, who's behind it, and, most importantly, how you can help Jetex.org become even better!