The lack of Rapiers has been a great source of frustration to US modellers, but it has been a great spur to the development of 'Micro EDF', but not everybody has been happy with the status quo, and Chris Sorenson of Maker Research Labs is determined to do something about this, partly because he believes the excitement of rocket planes will be a great way to get youngsters enthused about science and technology. I have been liaising with Chris for over a year and he and his colleagues have developed a Rapier L-2 analogue that looks most promising. I received examples of their prototype X-1 and X-2 motors for testing earlier this year. As Chris has gone public with his endeavours:
https://vimeo.com/209771680?utm_source=email&utm_medium=vimeo-cliptranscode-201504&utm_campaign=28749

now is a good time to publish my results. I also tested one of the 2017 L-2 LT motors for comparison.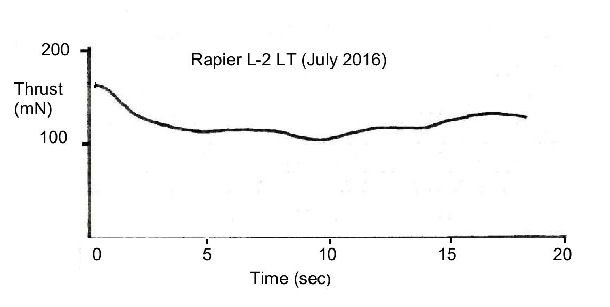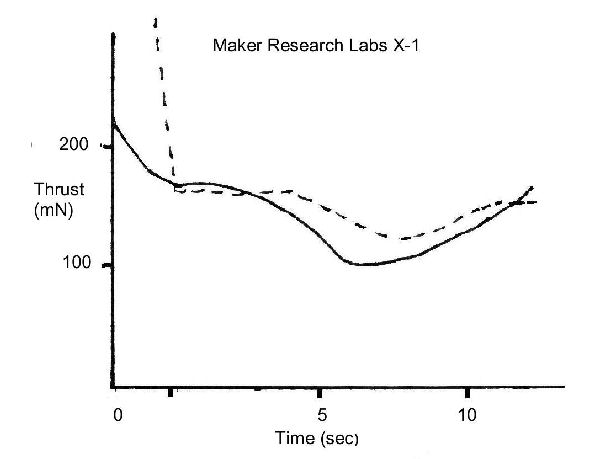 The thrust time profile of the L-2 LT ‑ a very useful 125 mN for 18 seconds ‑ is in-line with the many fine flights we have seen with these motors and shows just why they are so popular. The X-1 motors, of very similar size and weight to L-2s, fired up without problems, and their performance of roughly 140 mN for 12 sec is promising. A little more duration would be nice, and experiments with the jet orifice diameter and a combustion inhibitor could pay dividends.
Below are the 'empty' brown X motors with a used Rapier L-2 motors for comparison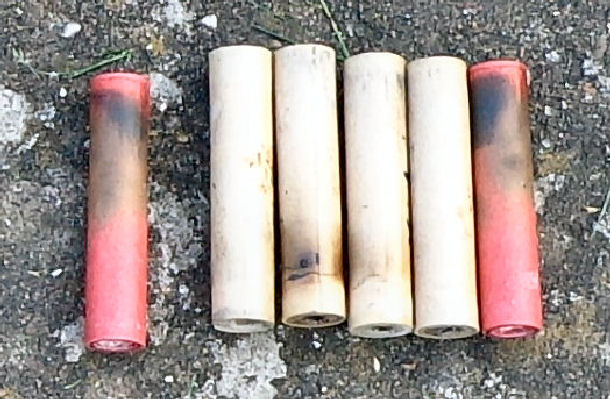 Chris is now putting out feelers to scale up production, and is all too aware of the many legislative hoops he will have to jump through before he can bring his product to market. But his motors do work (see https://vimeo.com/197810434) and if you would like to support Chris's project with its most worthy pedagogic aims please contact him at: This email address is being protected from spambots. You need JavaScript enabled to view it.. I have already put Chris in touch with modellers in the US who still have some old Rapiers, and I look forward to hearing about his progress.
Added 6 May 2017:
Have a look at Chris's latest video:
The thrust of the latest motors appears 'spot on' ... we just need a little more duration!
You may like to visit Chris's website:
https://www.indiegogo.com/project/preview/74dc1d73#/
and tell him what you think!