Swedish Profile Jets for 2018
I  am very pleased that our website has (so far) resisted all attacks and I hope the shop will soon be open for business.  I'm not yet able to give the site the attention it needs - the gallery for example needs greatly expanding  and I've not been as assiduous with the 'blogs' as I should be.  I have also, so far, resisted all requests to go on to Facebook, Twitter, Instagram and the like!
It's not too early to be thinking about models for 2018, and, since we know what sort of motors we've got (powerful L-1's, feisty L-2X's and very nice, if low power (< 10 0mN)) L-2 LT's we can design/ size our models accordingly.  As some of you will know, I have a 'thing' about the idiosyncratic Swedish jets like the Draken,and Viggen and have medelled these more than once.  As to the earlier, rather more conventional  Lansen, read on! Some years ago Howard Metcalfe came across a very colourful ARTF Lansen: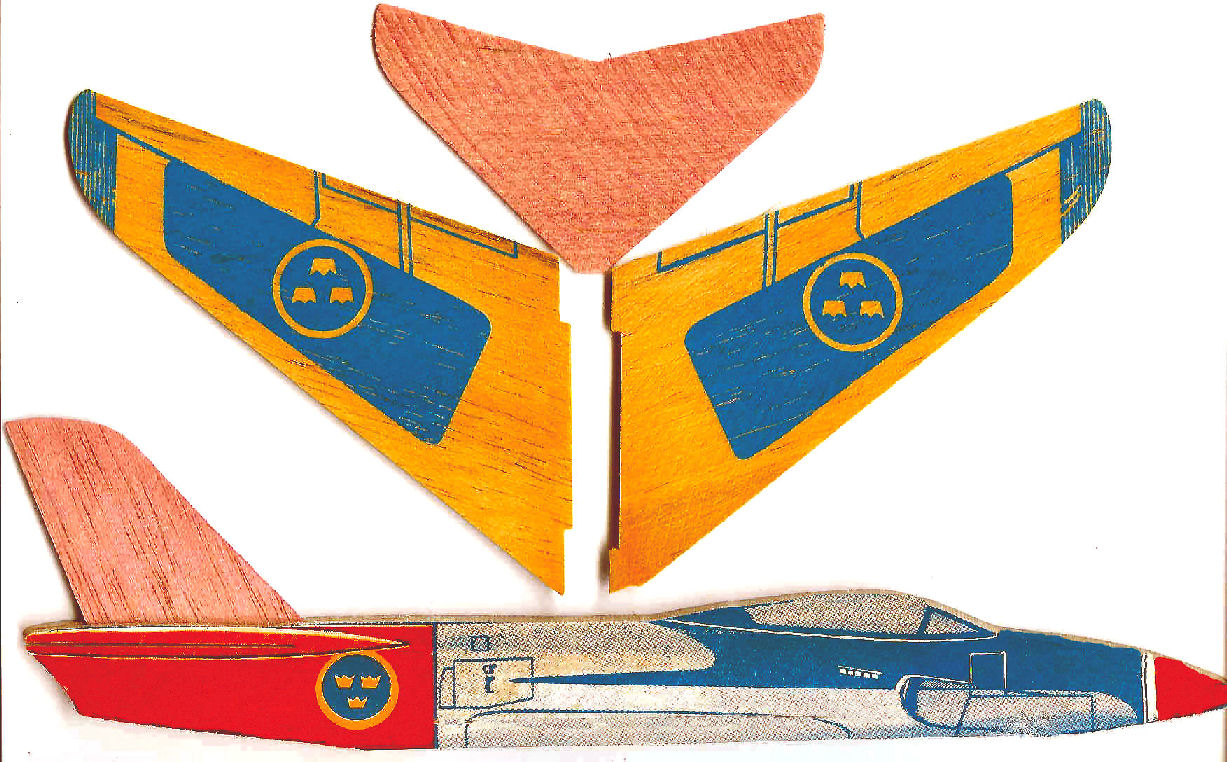 Latest Motors from Dr Zigmund
Dr Zigmund, developer and manufacturer of our 'one shot' Rapier motors, delivered a fresh batch of three types of L-2's (L-2 LT, L-2-X and L-2 HP) when he visited Old Warden's model meeting in July.
I have now tested these with the following results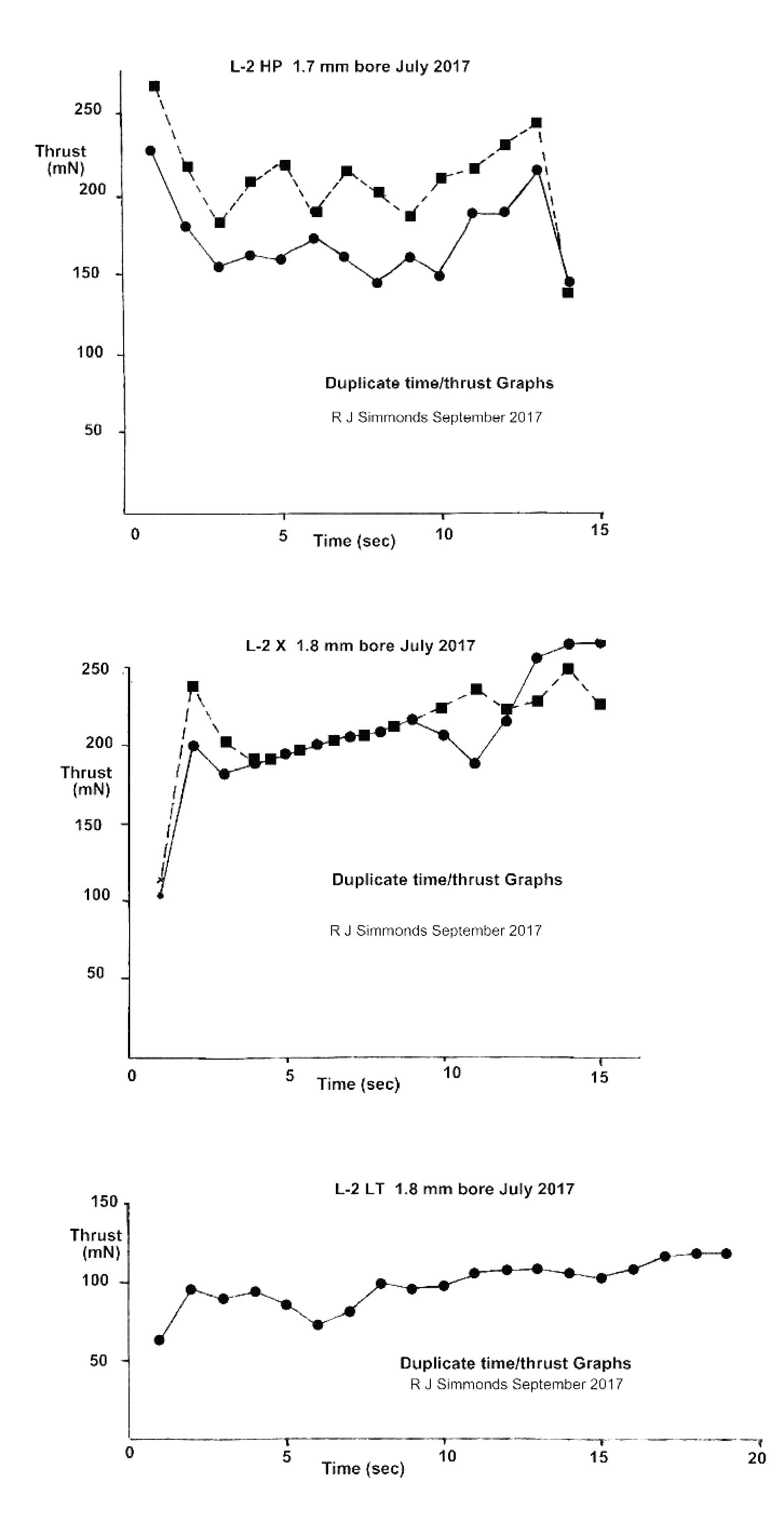 These are quite pleasing: the L-2X motors appear a bit more powerful than the 'HPs' but both are usable.  The L-2 LTs have less 'oomph' than last year's, but, again, they are perfectly acceptable.
The L-1 motors are quite powerful: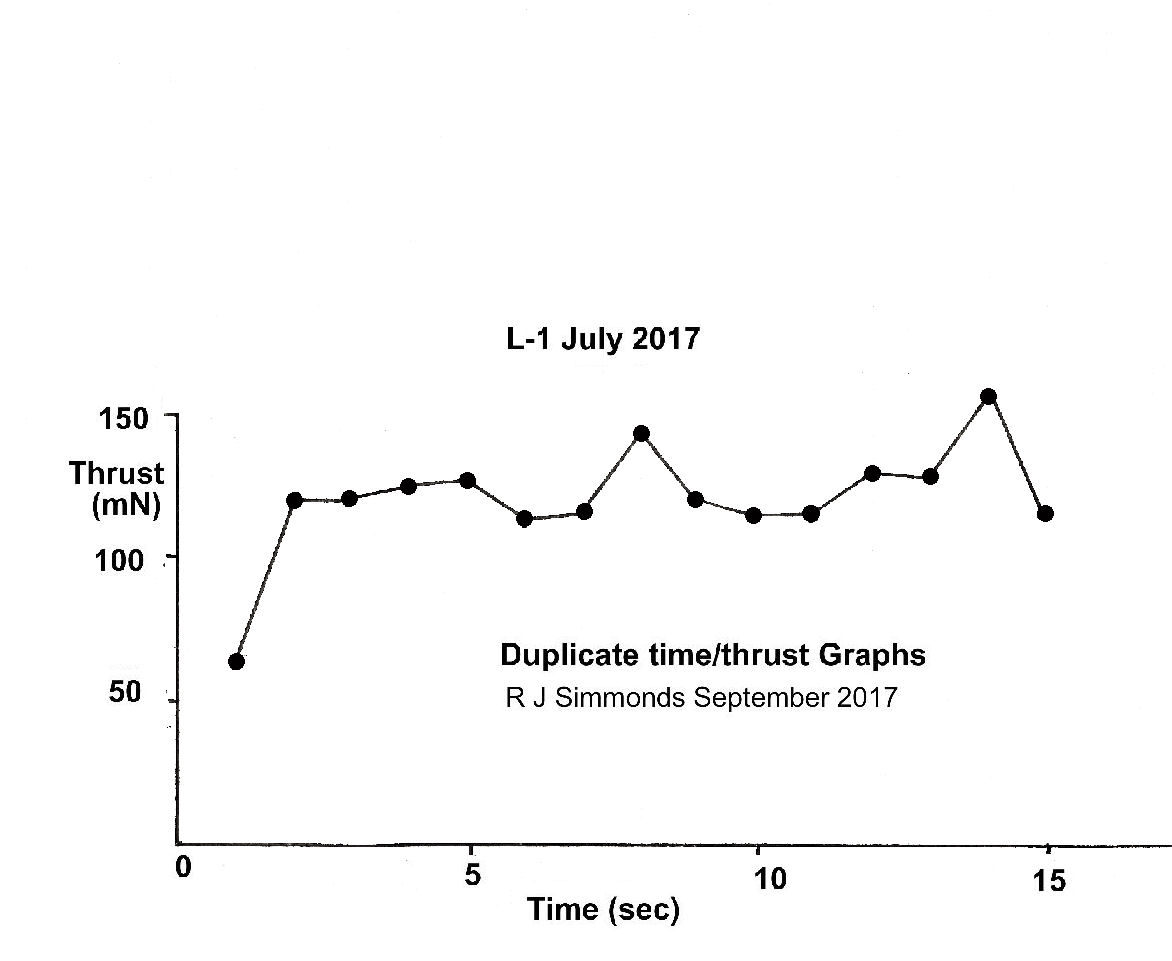 We have good stocks of all these motors, so please contact me for details of how to get them.
Availability of Rapier Motors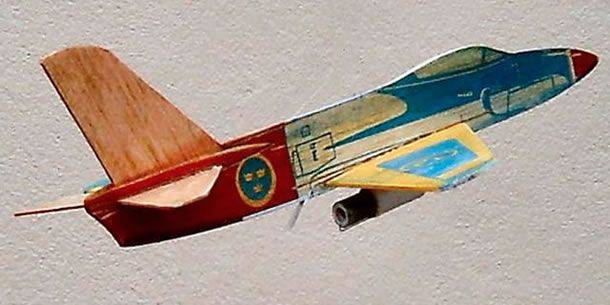 Flying small model aeroplanes with rockets is a thrilling activity, one open to all, but in the last couple of years there have been questions about the availability of Rapier motors, and their reliability and performance when you can get them.
Although they are not now sold by model shops like the splendid 'SAMS Models', who nevertheless sell models for them, see: 
http://www.samsmodels.com/acatalog/copy_of_AEROGRAPHICS_KITS.html
Rapiers are still made by Dr Zigmund in the Czech Republic and available in this country. They can be collected at meetings or by personal delivery. The situation is not unlike that of the more powerful motors for model rockets. But, if you want 'em, you can get them, and the latest 2013 batches are well worth having.
The latest L-1 motors put out 100mN for 10 sec, giving my Swedish Lansen (above) a sparkling performance:
The latest L-2 motors are also pretty potent, and so far, I've had no blowouts. So we can build and fly with confidence!
Jetex and Rapier related 'blogs'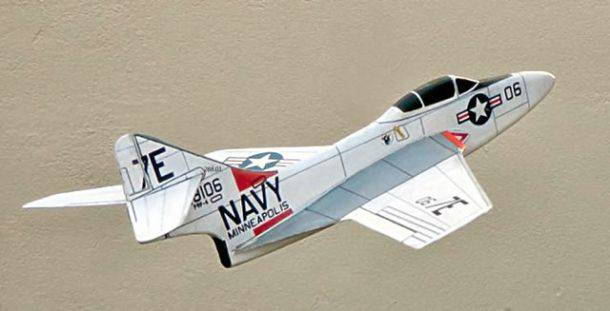 Welcome to the first of what I hope will be regular 'Jetex and Rapier related 'blogs'. As this is my first foray into the 'blogosphere' it will take me time to find my niche, so please bear with me.
These will of course be full of interesting observations about the modern 'small model jet plane flying' scene which will motivate a loyal cadre of enthusiasts to keep up with the latest news about motor availability, upcoming meetings and how to take part in what I hope will be a growing part of the free flight aeromodelling scene. Note the 'free flight' bit. I have nothing to say about those marvellous and sophisticated RC jets that we see showing off at meetings. However, free flight EDF is pertinent to our hobby and is one way of keeping our models flying. We shall see!
What with the winter weather – my own flying field is more suited to hydroplanes than aeroplanes at the moment – I have been designing some new models for the new flying season. These are simple 'semi-profile' models like the Cougar above  suitable for the latest batch of Rapier L-1 and L-2 motors.
Joe Mansour innovation
One of the inventors of the original Jetex motors, Joe Mansour, explored innovative ways of building models – for example the 'Tailored' series with internal motors: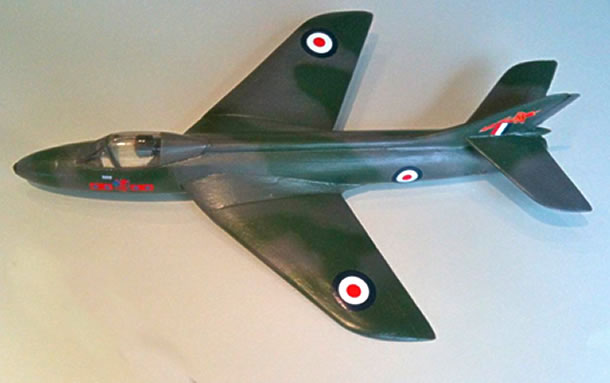 An original Jetex Tailored Hawker Hunter rescued from eBay and beautifully restored by Ian Hobbs.
A feature of these models, the fully moulded balsa fuselage, is not too difficult to reproduce, for example this Draken: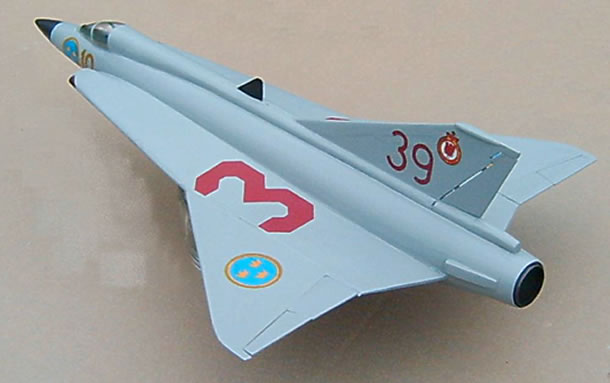 Draken for Rapier L-2. The fuselage is moulded; the wings and tail are built up.
The trick is to use the very lightest balsa available, and I can fully recommend online suppliers like
http://www.slecuk.com/catalogue/sitemap.html
The Draken is a little over 30g – much lighter than an old Tailored model and should fly well, but, what with the weather at meetings we had last year, has not been fully trimmed out.