Paper over balsa
Another modelling technique Joe Mansour experimented with was 'paper over balsa'. This is a method well suited to profile jets, and, using computer programs not available to the old guys in the 1950's, very colourful models can today be designed and put together very quickly: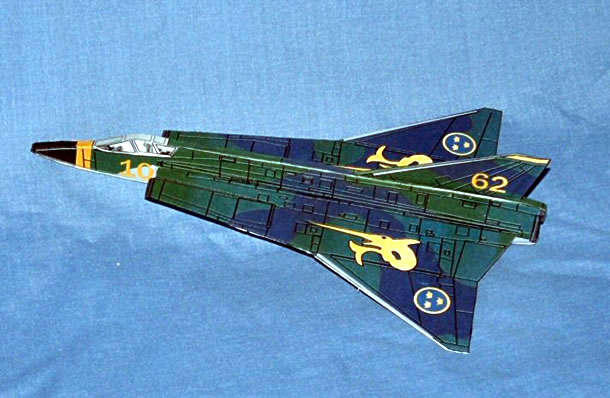 Draken designed by Rob Smith using CAD. Construction is printed paper over Depron and balsa.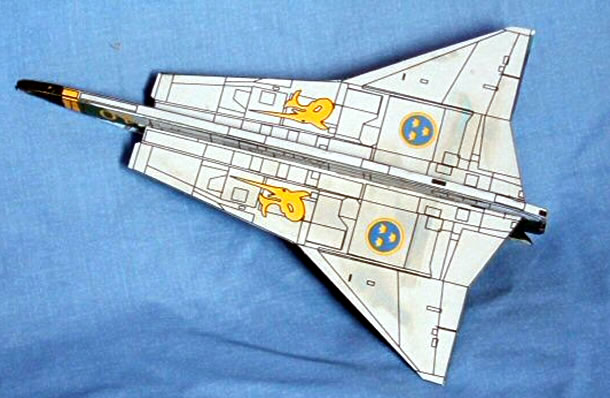 These models make a very good introduction to rocket flying, as they are robust, light, easy and inexpensive to build. Also – a consideration given the nasty weather we have been having – another can be printed off if the first one flies away in a thermal or crashes because of turbulence.
One rule for one it seems?
It seems strange to me that Jetex stuff is apparently sold on eBay and, by all accounts, posted off to the lucky winner, without the restrictions that apparently apply to Rapiers. I have bought motors and pellets on eBay with good results.
Fuse, though, is definitely dodgy – to buy and to post – and some of the old stuff doesn't burn very well. I am told that Dr Zigmund is 'on the case' so if I hear anything I'll let you know. Meanwhile, I guard the good fuse I do have – the test is to see if it stays lit through a Jetex nozzle – and hope somebody clever comes up with an electric igniter.

This nice item appeared on eBay recently, but will the fuse (right) still work?
New Rapier Motors for 2014
Our intrepid contact with Dr Zigmund ('Nighthawk') will soon be collecting Rapiers for the 2014 flying season.  He asks what types we would like him to collect, so I told him, "A repeat of the 2013 types please".
These motors were favourably received by rocketeers, as the L-2X motors were perfect for models like the Aerographics Bell XS-1, Bluebottle Bell X1E, Mike Stuart's Thunderstreak, and the larger profile models like Bill Dean's Hawker Hunter or my own F-100.
The L-2HP is potent enough for the older larger Flying Scale models and the Aerographics Sukhoi SU-11 or Steve Bage's MiG 21,and the latest L-1s are just perfect for smaller profile models.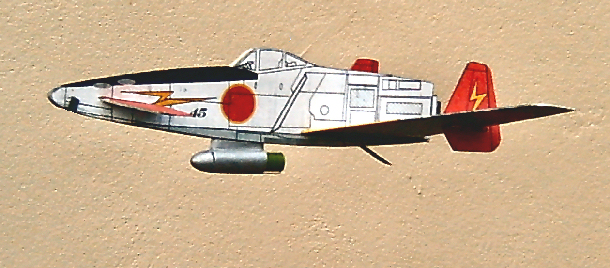 Above:  Rob Smith's unusual Jet Shinden flies splendidly with a Rapier L-1.
My thrust-time graphs I produced for the 2013 motors are shown below: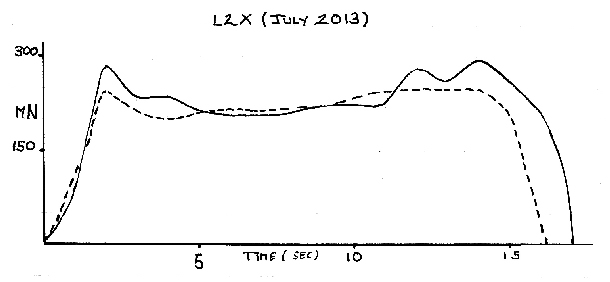 Above: L-2X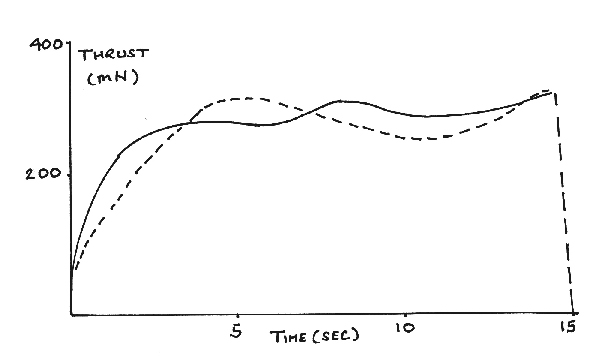 Above: L-2 HP - pretty potent!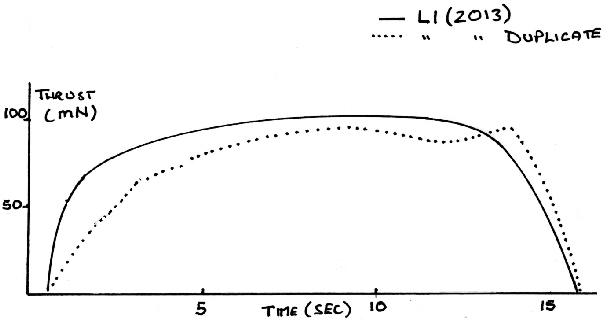 Above:  The latest L-1s - a really great motor!
So (a) think about what jets you should be building this year, secure in the knowledge that, at least on this side of the pond, you will have something to power them with (b) ask yourself what motors you would like this year. 
And you could always  phone up SAMS Models in the UK and encourage  George to restock with his Rapier kits!
Perseverance in the 'computer age'
I recently bought some very nice vintage Tiger kits from a gentleman in Japan: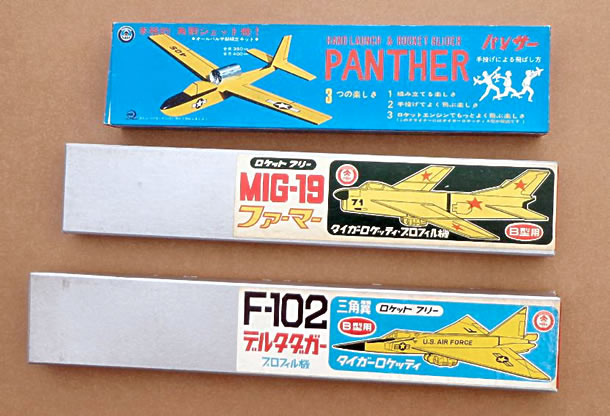 Tiger profile kits, made in Japan in the 1960's were nicely presented.
The F-102 Delta Dagger and MiG-19 are I think unique, and well worth replicating today.
Today's modeller has access to many computer techniques simply unknown in 'the old days' so that the parts of an old kit -– and the vast majority of 'Jetex' kits are old and date from the 1950's – can be scanned in, cleaned up and replicated. The trouble is, most of the modellers interested in such kits also date from the 1950's. We have problems getting the best out of sophisticated drawing/painting programs – well I do anyway – and modern modellers who can make the latest CAD or version of Paintshop sing and dance are not interested in granddad's latest antediluvian model. So I struggle on, cutting and pasting on bits here and there until that classic and evocative Jet from 1951 looks 'half right':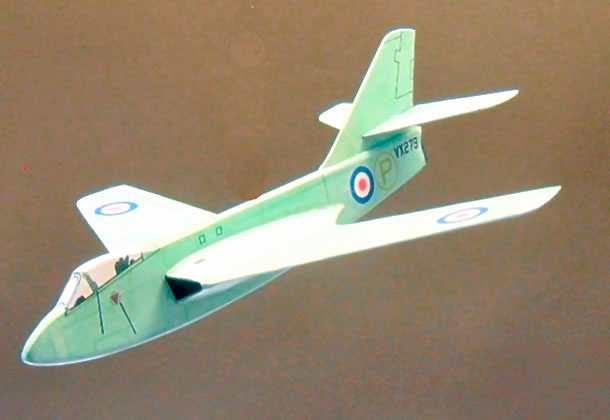 A Hawker P 1081 – the precursor of the Hunter - for Rapier L-2, designed and drawn using a popular 'Paintshop' program. Reproducing the 'eu de nil' pale blue/green caused an outburst of 'computer rage'.
But it takes hours, what a young expert can do in minutes takes me hours, and I end up truly pixellated. 'Never again' I say, until I find the next evocative prototype on the Internet.
Since first writing this, I have been putting together templates for an Alpha Jet, MiG 19 and an F-106 Delta Dart (which initially I derived from the Tiger Kits F-102 Delta Dagger).
Silver/grey is particularly tricky to reproduce - 'Fiffty Shades of Grey' isn't in it as it becomes blue/green  on printing and transferring to balsa with heat transfer paper.  Any suggestions?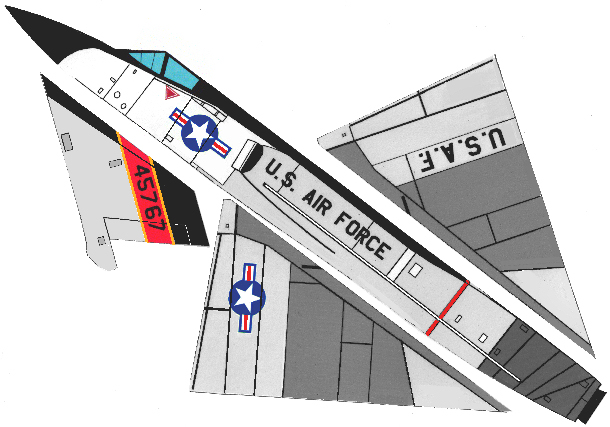 Above:  progress so far with the F-106 for Rapier L-2.  All 'profile models' tend to be caricatures, and  note the wings are enlarged, but are the various shades of grey here 'over the top'?
Where will the next Generation of Rocketeers come from?
Every organisation, well the ones I'm familiar with, like the Society of Antique Modellers, the British Model Flyers Association and the Village Tidily Winks Team,  share a grave (and I use the word 'grave' with its morbid resonance advisedly) common concern: "Who will carry on after we are gone?"
A trip to model flying events, especially  free flight, shows that the vast majority of flyers are either in, or are approaching, what are, one chap said, their 'twilight years'.  Hmmm. 
There is the occasional youngster on the field with granddad, but of 15-20 year olds (the group amongst whom modelling was so popular in the 1950s-1960s), there is little sign. 
So are we the last free flight sport modellers, and, more pertinent to Jetex.org, the last 'Jetex' modellers?
Perhaps young modellers (under the age of 45) fly the splendidly cheap R/C RTF models – park flyers – and the like?  But if they are, I don't see them.  Perhaps they are busy on their simulators, and will one day graduate from this solipsistic obsession to the real world.  We can but hope.  And that, having crashed their first real model, they don't look for the 'reboot' key!
In the spirit of, "It is better to light one candle than bemoan the dark" the BMFA promotes a number of cheap and cheerful models suitable for the fledging flyer. 
One of these, the Aerojet delta, might go well with a Rapier … this got me thinking: in the main, the simple Jetex kits suitable for the beginner, like the Veron Sea Hawk or Keil Kraft Shooting Star, are over fifty years old and (apparentlu) attractive only to those who remember them from their youth.  The Jetex.org 'part kits' are, I think, very nice, but sell only to those happy to part with a small proportion of their pension: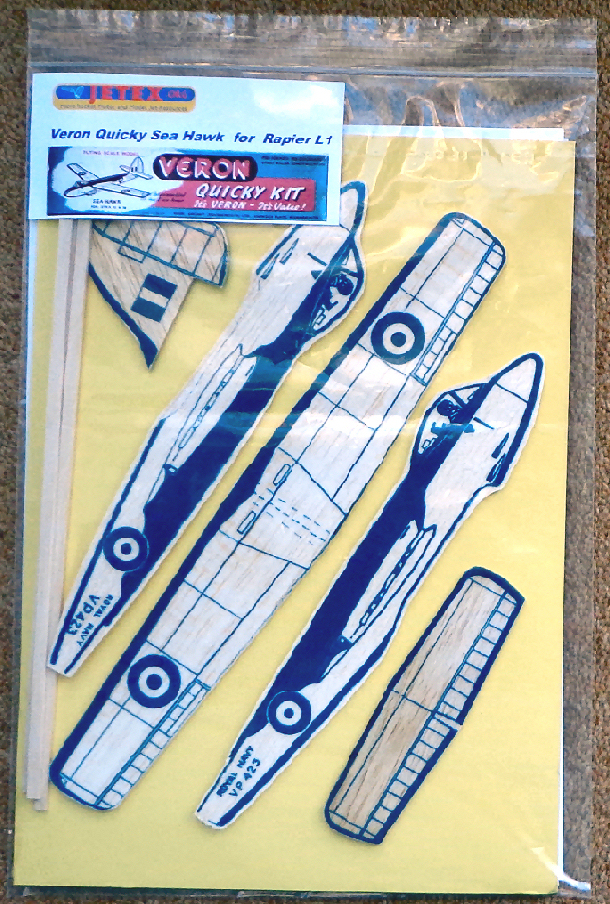 Above: the Jetex.org Sea Hawk.  It is a faithful replica of Phil Smith's original Veron 91950?) kit for Jetex 50.  Only bought today, alas, by modellers of a 'certain age'!  
So to try attract youngsters I thought I might try something more colourful; a MiG-19 for example: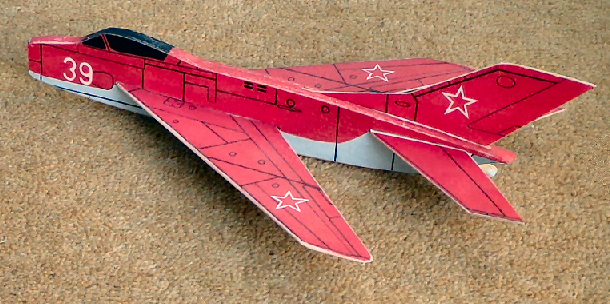 Above:  The prototype MiG-19, inspired by the Japanese Tiger kit of 1958-1960. It is more modern than the Sea Hawk, but will it still be seen as desparately old fashioned?  
I then thought, what else is out there likely to attract the young Jet Jockey?  Jason Wentworth, similarly concerned to evangelise modelling in general and rocket flying in particular, sent me examples of a little chucky popular in the US that he thought might just be suitable for an L-1: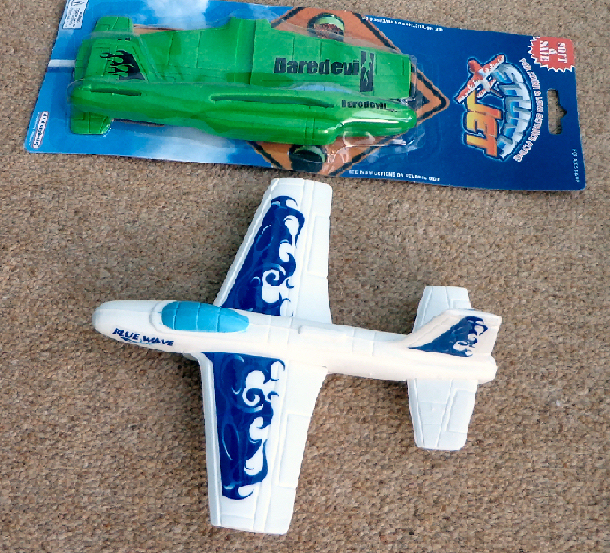 Above: readily available in the US, Jason thought these near-unbreakable chuckies might go well with an L-1. Perhaps, though they are a trifle small.  Could be a lot of fun, though.
Perhaps, I thought, there are some more suitable 'quick and easy' models  out there?  A quick survey of the giganormous Hobby King site  came up with a few suitable  candidates: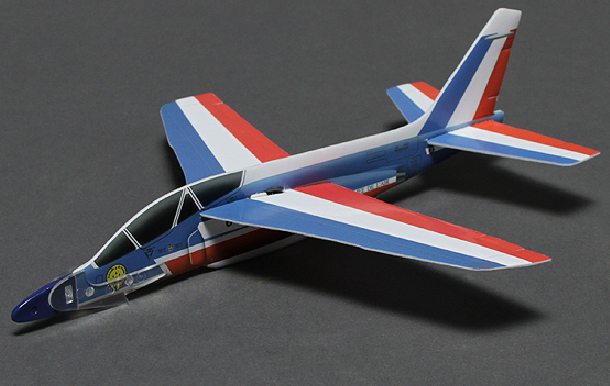 Above:  Hobby King's all Depron Alpha Jet.  At only a few ponds I expect they sell well.  But will the young jet jockey graduate from this to something a little more challenging?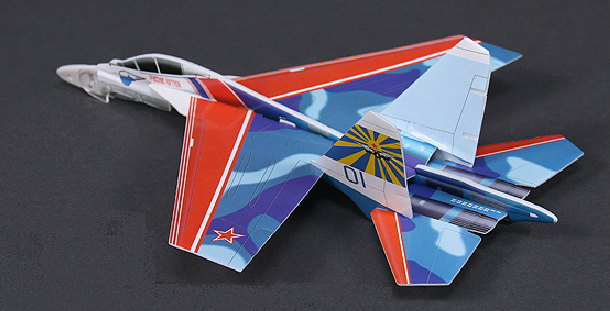 Above: Hobby King's SU-11.  An exciting model, and at just a few pounds (though don't forget the tax and the (quite steep) postage) it costs less than the kits available on Jetex.org. 
OK, and according to my friend André Bird the Hobby King jets  can be rocket powered, given a bit of serious 'fettling' (his Raptor needed two Rapiers mounted atop!):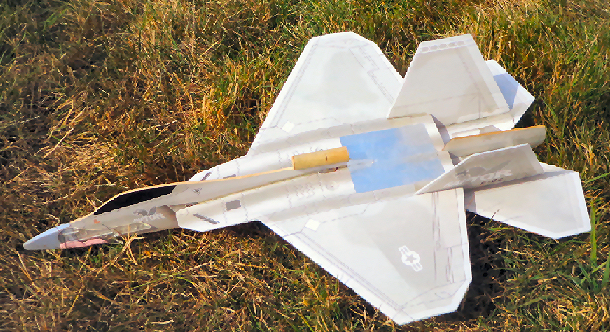 Above: Andre showed off his adaptations of the Hoby King F-22 Raptor and F-18 at the 2014 Peterboro Flying Aces.  He says they do fly (though he declined to do so in the wind we had) but are more than a little tricky to trim. 
And this is the point worth emphasising.  I can produce an Alpha Jet nearly as tasty looking as that offered by Hobby king: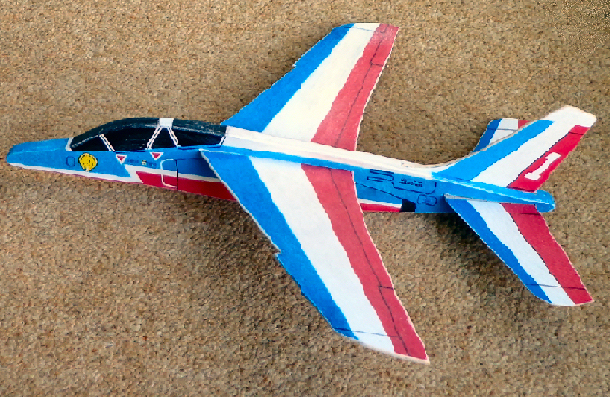 Above: My prototype (and unfinished) Alpha Jet.  Being all-balsa  the flying surfaces are very stiff, and trimming with a Rapier L-2 should be straightforward.
It does, of course, need more 'building' than Hobby King's models, but it will (I hope) fly in a fast and in a smoky way with a Rapier motor 'off the shelf'. This justifies the asking price, but will the punters see it that way?
To conclude: has  anyone else out there attached Rapiers to Hobby king's products?  And finally, how can the joys of Jetex and the rewards of Rapiers be evangelised to the next generation?  Any thoughts?