Regular 'Jetex' flyers and readers of the various motor-related threads on the forum will know that motors are in a bit of a short supply at the moment.  We have no Rapier L-1's and stocks of about 300 Rapier L-2's.
I have sorted out  these last motors for distribution and measured their performance: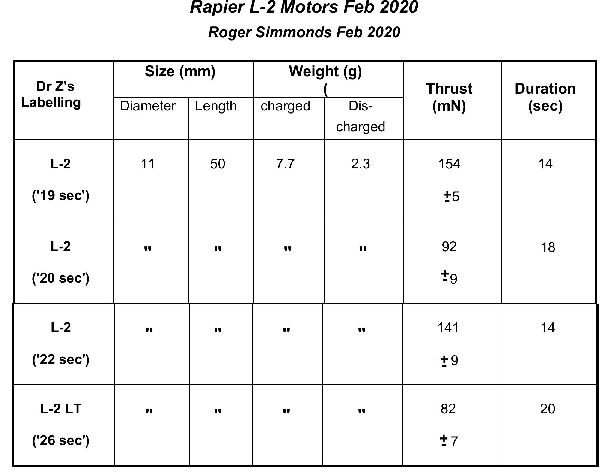 These are all very useful in the right model, so and please contact me (This email address is being protected from spambots. You need JavaScript enabled to view it.) if you would like some.
Fortunately, when these are all gone, we have an alternative, a brand new, and hopefully secure, supply of motors for our beloved rocket  planes.  These are the new TSP 'Tender' motors.  Below are examples of the L-1 and L-2: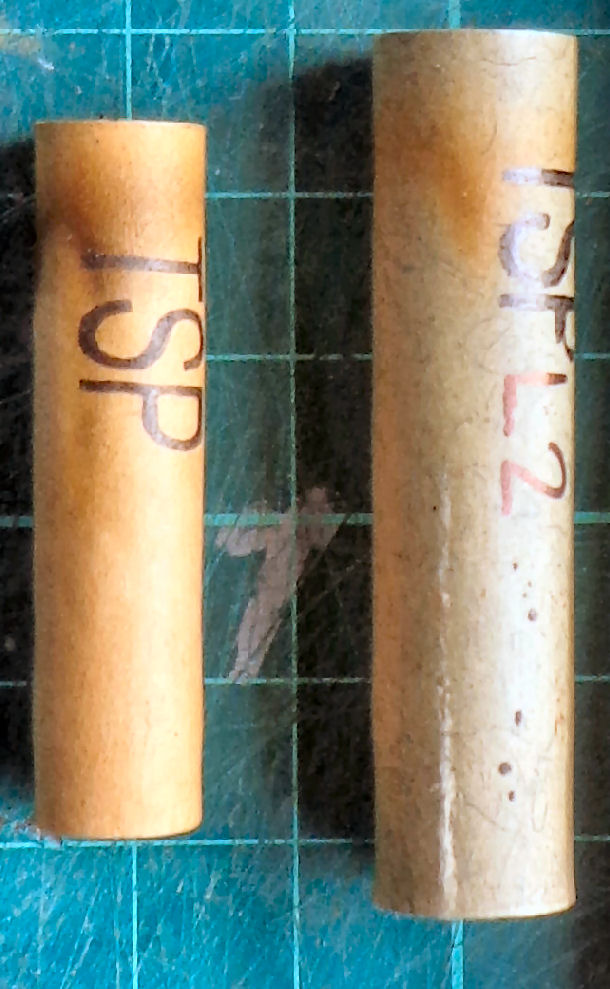 These are very close to the sizes of the Rapier L-1 and L-2 motors.  Note these are 'used' motors and that the casings have done their job well!
Below are the TSP L-2's with the Rapier L-2's: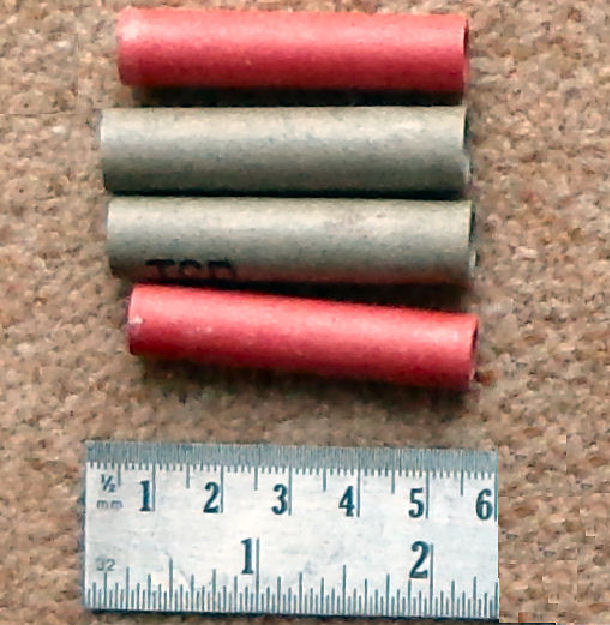 Note they are similar in size to Rapiers, if a bit thicker.  No problem, though!
The performance of the Tender L-'s are great: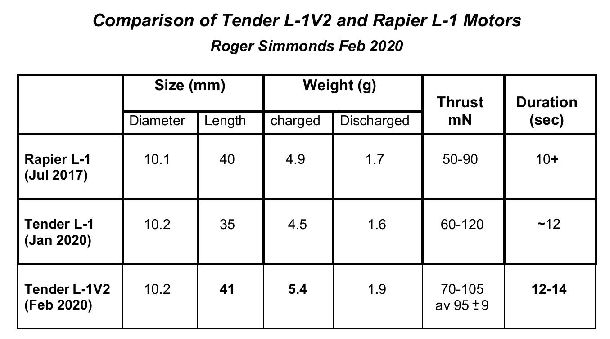 And the thrust is consistent: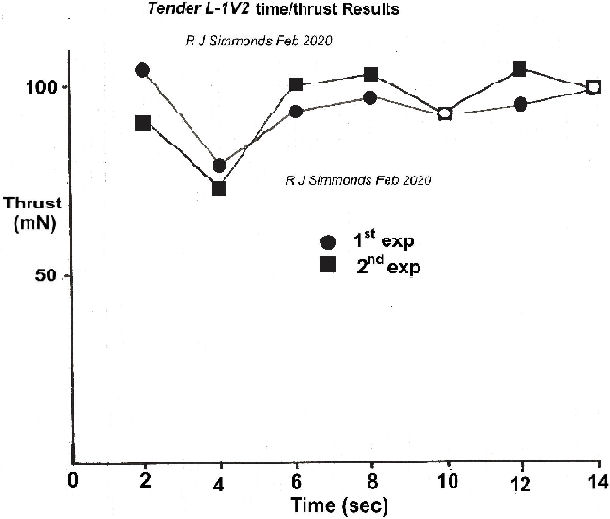 The Tender L-2 motors too, measure well: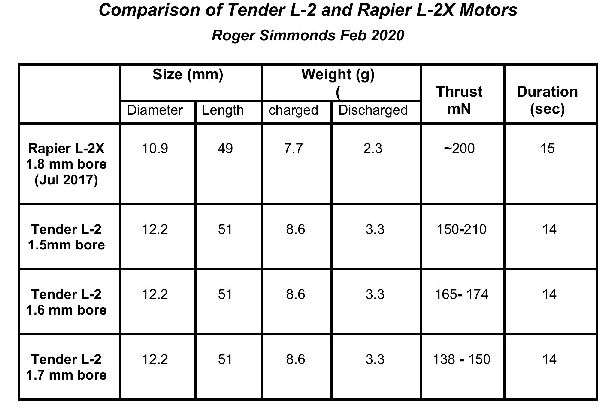 And the thrust on the test rig with different sizes of nozzles is predictable: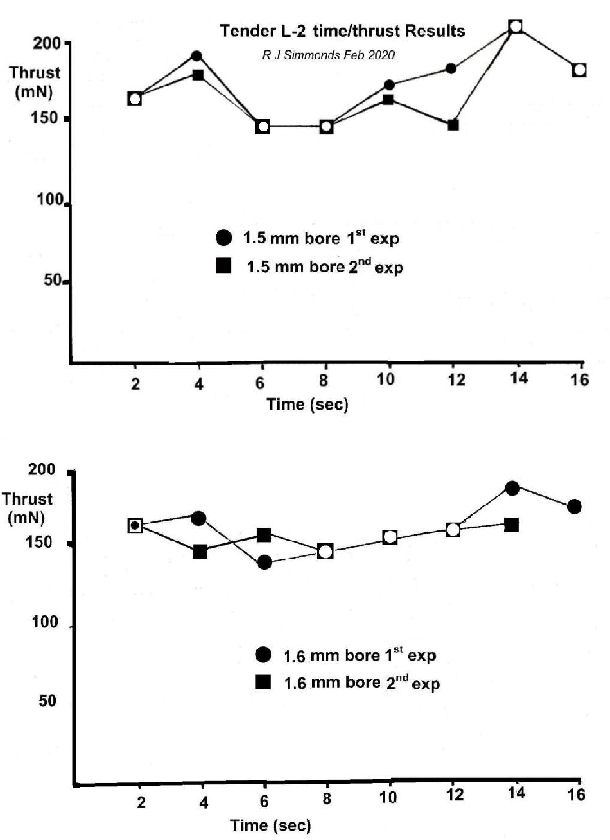 Boring out the two types of L-2 and L-2L to 1.7 mm gives particularly good results: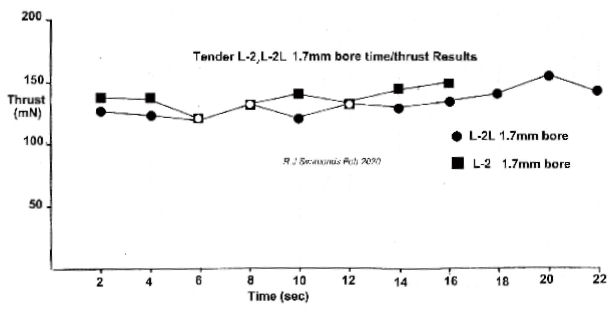 Piotr, who is responsible for the development and manufacture of these motors, tells me he will now concentrate on the 'L-2L' type.  These can be used with confidence in any of the profile Jetex.org kits, or the many Jetex kits from the Vintage Model company:
https://www.vintagemodelcompany.com/jetex-powered-models.html
More about these motors can be found on two forum threads, see
http://www.jetex.org/index.php/jetex-forum?view=topic&catid=8&id=317
and
http://www.jetex.org/index.php/jetex-forum?view=topic&catid=8&id=319
Piotr is happy to discuss the supply of these motors to flyers in the UK.  His email address is:
This email address is being protected from spambots. You need JavaScript enabled to view it.
I shall be getting a supply of the Tender L-1 motors from him, and and I look forward to trying out Piotr's motors on the flying field.  The motors are beautifully produced and can be put in that precious scale model with confidence!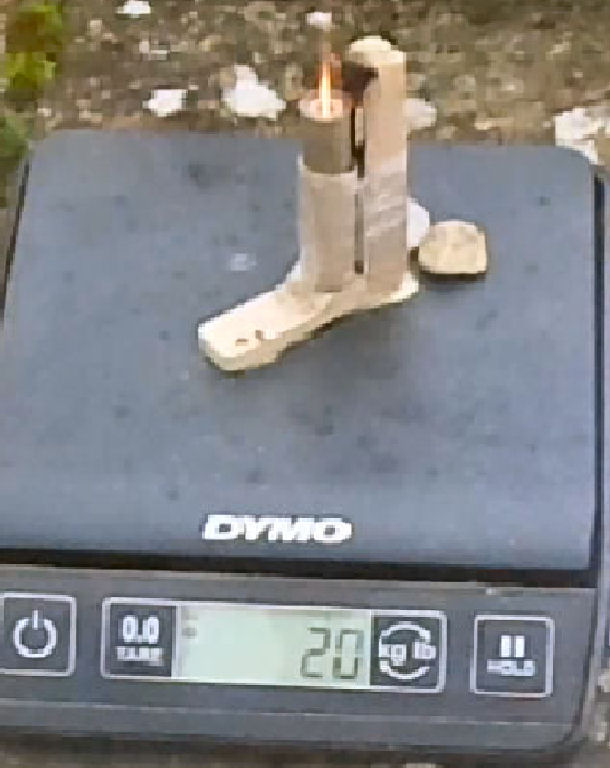 Above:  a TSP Tender L-2L motor on the test rig.  The reading equates to a steady thrust of 150mN, just perfect for those vintage models!
All of the above is very much 'work in progress' so do look at the forum for news of further developments, like an L-3 and a TSP L-2 HP!