The Jetex Heyday – 1948 - 1956 by John Miller Crawford
Jetex takes off
The first Jetex motors went on sale in June 1948. Using marketing skills honed by years of experience with the FROG brand, 'Bill' Wilmot and Joe Mansour executed a cunningly-planned publicity campaign which would ensure that the new micro rocket motors created a sensation in the modelling world. The aeromodelling public had been softened up a month before when the premier aeromodelling magazine Aeromodeller had tantalised its readers by hailing "the latest developments of a new fuel and motor giving an effect of jet propulsion". Next month's issue would be "something of a special 'jet' number for which an appropriate cover design has been executed by Mr. C. Rupert Moore" (the renowned aeronautical artist). True to its editor's word, the June 1948 cover depicted a twin Jetex powered Gloster Meteor model in near-vertical ascent (somewhat fancifully, in view of its all-up weight, with fuselage and nacelles carved from solid balsa). Inside the magazine were plans and construction notes not only for the scale Meteor but also for a Zephyr duration model. The editor hailed the "new development in the powering of model aircraft", and an article was devoted to "Pellet Power Possibilities". All this editorial content was complemented by the first full-page advertisement (below right) from Wilmot, Mansour & Co., Ltd, announcing two Jetex outfits. These were the Jetex 100 for 27s. 6d. and the Jetex 200 for 37s. 6d. – not exactly cheap, given that on another page Gamages were advertising the FROG 100 1 cc diesel engine for 60s.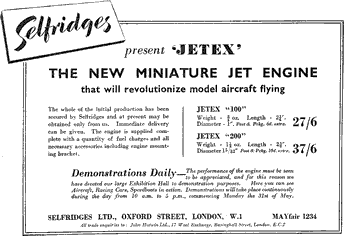 Further, in the same issue, the leading Mayfair department store Selfridges advertised "Demonstrations Daily" of "Aircraft, Racing Cars, Speedboats in action", boasting they they had secured "the whole of the initial production" of the revolutionary new engines.
There was one element strangely absent from the initial Wilmot Mansour product line – models for the motors to power. This absence was especially curious in light of the partners' model-making background, and even more so given their employment of leading designer Bert Judge, later to be be the creator of so many innovative and successful Jetex models. Selfridges, too, must have disappointed many customers who learned that they could not buy the models the store was demonstrating so enthusiastically.
It was left to enterprising commercial kit manufacturers to meet the market demand for Jetex model kits. Veron was quickest off the mark. Its Chief Designer, the talented Phil Smith, produced the Air-O-Jet (right) and it was on the market by November of 1948. Keilkraft was not far behind. From the drawing board of the versatile and prolific Bill Dean came two versions of his Skyjet, one for each motor, in November. These three kits were a boon to aeromodellers anxious to try out the new motive power but without design skills of their own.
In late 1948, the larger 350 motor arrived, in time for the Christmas market – "Treat yourself this Xmas", said the advertisements). The outfit was priced at 50 s. At 80% of the price of a Frog 100 diesel, this was a substantial slice of youngsters' pocket-money. Wilmot Mansour were clearly conscious of this and enjoined prospective purchasers to remember that they "will not suffer the usual worrying speculations as to whether you'll break the prop. (another 4/6!)".
Even now, there were no models produced by Wilmot Mansour for any of the three motors. The best they could offer in their advertising was the advice (in small print!) that plans for Bill Dean's Jetwing for the 100 unit were "featured in the latest issue of Model Aviation Series".
By early 1949, Wilmot Mansour had become aware that sales of their new model power units were restricted by two factors – pricing and a product range that did not include model kits. They moved rapidly to address both issues.
In May, prices were reduced by over a third on all three existing motors ("now that development and tooling costs have been paid off") and the smaller Jetex 50 outfit (above right) was introduced at just under the critical price point of 10s. It came attractively packaged in a yellow box, which would come to be regarded as classically Jetex (and so provides the background colour for the Jetex.org masthead!). The Jetex 50 proved overwhelmingly popular and, more than any other Wilmot Mansour product, was responsible for the company's commercial success in the years to come.
At the same time, the first models from Wilmot Mansour appeared. This was almost a year after the first motors had been released and even now, they were quite elementary. There was a 40 m.p.h Racecar and the beginnner's Mijet all-balsa 50-powered glider (above right).
By 1951, the Jetex range of kits comprised 10 models, of an impressive variety. There were two high performance duration models, both of them designed by a new recruit to the design team from IMA, the gifted young designer Ian Dowsett. There were scale models, a Meteor for twin 50s and two sizes of Vampire, for the 50 and for the 100. Aircraft models also included a flying wing and two helicopters, for twin 50s and twin 100s, while non-flying modellers were offered two race cars and a hydroplane.
After their dilatory beginning as Jetex kit manufacturers, Wilmot Mansour gave their model design team their head, resulting in some impressively inventive kits. The Zyra Space Ship (1951), the twin-engined SARO A/1 (1952) and, paragons of Jetex kits, the 'Tailored' range of scale models (1952 on) all played their part in establishing Wilmot Mansour in a leading position in the production of model motors and model kits.
If Wilmot Mansour had missed a marketing opportunity with their tardy introduction of model kits, they did have the acumen to take an early initiative that proved to be an inspired promotional success. At the same time that they advertised their first simple models, they also announced the inaugural Jetex Contest and the approval by the S.M.A.E. (for insurance purposes) of Jetex power.
The first International Jetex contest was held at Fairlop Aerodrome in September 1949. In an indication of the interest aroused by the new form of model motive power, there were several hundred entrants, including representatives from the US and the Argentine. From these, 30 finalists were selected. The manufacturers of Jetex fuel, Imperial Chemical Industries, donated a substantial silver bowl to be grandly designated the 'Jetex ICI Challenge Trophy'. The contest was convincingly won by Dick Twomey, the "child aeromodelling prodigy" (as Aeromodeller called him), flying his 200-powered Firecrest.
Prior to this prestigious event, Jetex had gained early recognition at other contests. A year earlier, at the Third International Week at Eaton Bray in September 1948, "in the unorthodox section Minney had been a lucky winner [according to Aeromodeller] with his Jetex powered model which 'flew over'".
In 1951, the S.M.A.E. gave further recognition to the status of Jetex power by establishing a second annual contest for a handsome silver trophy, known as the Jetex Challenge Cup. This was won by Bill Henderson in a field of 53 competitors, flying his legendary Vindskreenviper. This 350-powered craft was a descendant of Puff-Adder, with which he had gained a third placing in the inaugural ICI contest.
These contests continued in subsequent years, though with declining numbers; in 1956, Ian Dowsett won the Jetex Challenge Cup in a field of 18 entries. At the same time, Jetex power had become such an accepted part of the serious aeromodelling scene that it had acquired a class of its own at general model aircraft contests; in that same year of 1956, Jetex events were held at the Stockport Express Rally and at the All-Britain Rally.
Wilmot Mansour did not confine their ambitions for Jetex to the British market. From early on, they believed that there would be a large export market, and they were proved right. By 1951, 60% of Wilmot Mansour's earnings were coming from the export sector. American retail sales alone brought in some £150,000 in that year. Total kit production was averaging some 3,000 per week.
Jetex motors met ready and rapid acceptance abroad, not just in Commonwealth countries such as Australia, New Zealand and Canada, but also, particularly, in France and the United States. Designers in these last two countries welcomed the challenge of creating model aircraft for the new form of propulsion.
Over the Channel, in France, the leading aeromodelling periodical Le Modèle Réduit d'Avion championed the Jetex cause, publishing plans by leading French designers. Among them, bringing a distinctively Gallic idiosyncracy to their designs, were P. Maillard with Pfupf in 1951, Jean-Claude Aggéry with Puk in 1953, and R. Parlatoré with his "slightly supersonic" Mosca, also in 1953.
On the other side of the Atlantic, in the United States, designers were even more rapidly off the mark with Jetex models. Bill Winter's Swish, for the Jetex 100, was published as a plan by Model Airplane News as early as November 1948, a mere five months after the first Jetex motors had been released onto the British market, and before any had been marketed in the US. In January 1949, Modelcraft Hobbies of New York prominently advertised Jetex model jet motors, "the latest and simplest form of power in the world for planes, cars and boats" (but surely only for models of those). $4.95 was the price and only the 100 outfit seemed to be available.
Just three months later, in April 1949, Model Airplane News, Flying Models and Air Trails Pictorial were all carrying an advertisement by Berkeley for the Sin-Jet (bearing a brasher name than the British kitted models), "the first American made Jetex powered model kit" (right). Jasco was also offering its more mundanely named Jasco Jet for the 100 motor.
By March 1950, American Telasco had become the official US distributor for Jetex and were offering the Jetex 50 for $1.95. In following years, Telasco, Berkeley and Comet all added to the range of kits available to the American modeller.
The Wilmots' first production
- The Aeroplane World, Dec. 17, 1918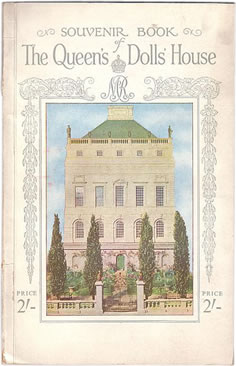 Souvenir Book of Queen Mary's Doll's House, on which Joe Mansour worked
- Olney & Son, 1924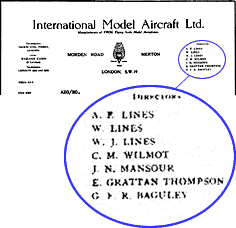 An IMA letterhead, showing Wilmot and Mansour as directors along with the Lines brothers
- FROG Model Aircraft, 1989 (p. 10)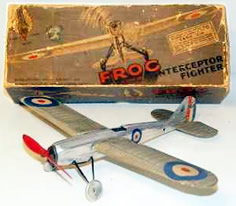 FROG Interceptor and box
- Aumann Auctions, 2005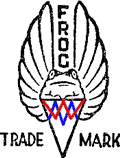 FROG logo ('W' and 'M' hightlighted)
- Meccano Magazine, Dec. 1948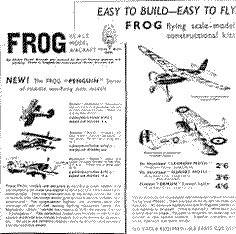 Advertisement for FROG kitsets
- Popular Flying, Feb. 1937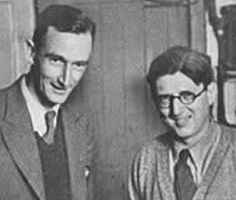 'Bill' Wilmot (left) and Joe Mansour
- FROG Model Aircraft, 1989 (p. 10)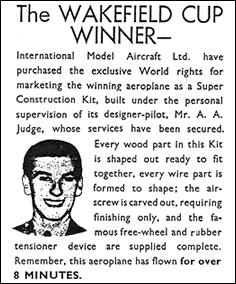 IMA announces the acquisition of "designer-pilot" Bert Judge in 1937
- reproduced in FROG Model Aircraft, 1989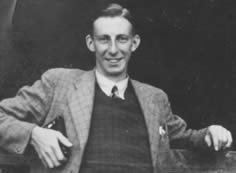 Alex Hutchison at the time of his
work on Jetex fuel
- Alex Hutchison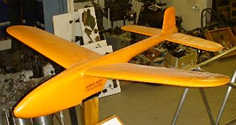 IMA target rocket plane,Tangmere Aviation Museum
- Howard Metcalfe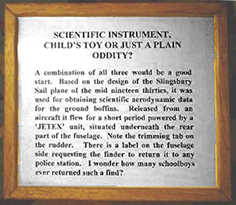 Label for the IMA target plane, Tangmere Aviation Museum – somewhat misleading, but it does mention "Jetex"
- Howard Metcalfe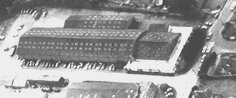 Former Jetex factory (previously Beaulieu
hangar), Totton, in 2001
- David Carpenter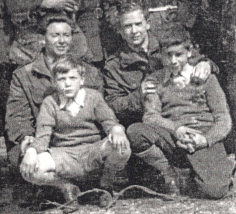 Robin (l.) and Chris Heath, Beaulieu 194
- Chris Heath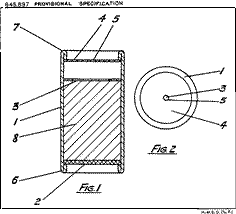 - UK Patent 645,897, 3 Mar. 1948
Acknowledgements
Text by John Miller Crawford, based on the following sources provided by David Carpenter, Bill Henderson, Edward Jones and Stuart Guy:
- Editorial obituary: Joe Mansour, Aeromodeller, January 1973
- Coles, R. History Of Beaulieu Airfield, Robert Coles 1982
- Lines, R. & Hellstrom, L. FROG Model Aircraft 1932-1976, New Cavendish Books, 1989
- John May, 'Trixie, Jumbo and Co', Aeroplane Monthly, May 1978 p. 261
- Hampshire - the county magazine, December 1990
- Personal correspondence of Bert Judge to Edward Jones
- Personal correspondence of A W Thatcher (Wilmot Mansour staff, 1961- ) to Stuart Guy (Head of Engineering, GEL Engineering Ltd)
Illustrations:
- David Carpenter, John Miller Crawford, Chris Heath, Alex Hutchison, Mike Ingram, Edward Jones, Howard Metcalfe, Aumann Auctions