WELCOME TO JETEX.ORG

Jetex.org was set up in 2004 and, with its active forum, quickly became a comprehensive online resource for free flight jet modellers all over the world.
The original Jetex.org site covered the historical and technical aspects of small rocket motors used in model aircraft, hydroplanes and cars, of which the British post-WWII Jetex motors and modern Rapiers are the best known.
The original Jetex.org site is well and happy, but in retirement.  It can still be accessed at: archivesite.jetex.org.
Building on the old website's success, the present Jetex.org site includes lots of new information, a model gallery, links to other relevant sites and a growing online store.
The active forum discusses everything from how to build and fly small model jets, to reports of meetings and collecting vintage motors. 
We welcome contributions from fellow modellers, rocket scientists, historians and micro rocket enthusiasts.
We hope you enjoy looking around the site.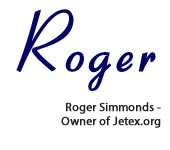 Do join the Jetex Forum or contact us if you have any questions or would like to contribute.
And please visit our About Us page – why we're here, how we got here, who's behind it, and, most importantly, how you can help Jetex.org become even better! 
New Jetex Plans Section!
Our new Jetex Plans section has every plan we have ever published and much more, now in one easy to use location.
Through the years, an amazing collection of plans has built up on Jetex.org. Articles were posted with various plans in them as well as pages created to link you to plans on the site based on motor size etc.
As the years went by, Jetex.orgs original site was archived but still available to allow our visitors access to the wealth of Jetex knowledge and plans that were posted. Although there, it made it a little difficult to locate that one particular plan you may have come here to find.
It was clear we needed to put all the plans together in one place, complete with a searchable index and categorised into motor size and model type. But why stop there? We searched the net and found every model we could powered by Jetex and added it to our collection!

To access, and use, this impressive collection, simply click on the Jetex Plans link in the top menu bar. Create a new account in the Jetex Plans Section here ( https://www.jetex.org/jetex_plans/register.php ) and log in to download any of the plans available. It is separate from the forum and will not work with your Jetex Forum information!
If you have a plan we haven't listed, and would like it added to our collection, simply This email address is being protected from spambots. You need JavaScript enabled to view it. it  to us (as an attachment) with, if you have it, a picture of the model.
As the Jetex store is now closed, we have also decided to make templates of these kits - like the Veron 'Quickys', Keil Kraft 'Shadows' as well as the many original designs like the Draken, Mirage III and Red Arrows Hawk available as downloads so that rocketeers can make their own versions of these unique models.
New L-1 and L-2 Motors from Poland
Regular 'Jetex' flyers and readers of the various motor-related threads on the forum will know that motors are in a bit of a short supply at the moment.  We have no Rapier L-1's and stocks of about 300 Rapier L-2's.
I have sorted out  these last motors for distribution and measured their performance: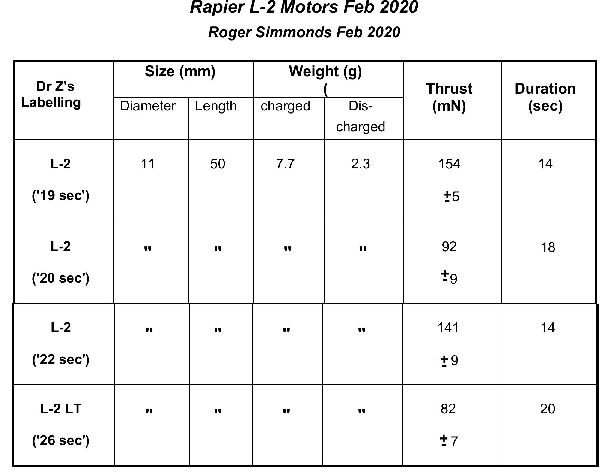 These are all very useful in the right model, so and please contact me (This email address is being protected from spambots. You need JavaScript enabled to view it.) if you would like some.
Fortunately, when these are all gone, we have an alternative, a brand new, and hopefully secure, supply of motors for our beloved rocket  planes.  These are the new TSP 'Tender' motors.  Below are examples of the L-1 and L-2: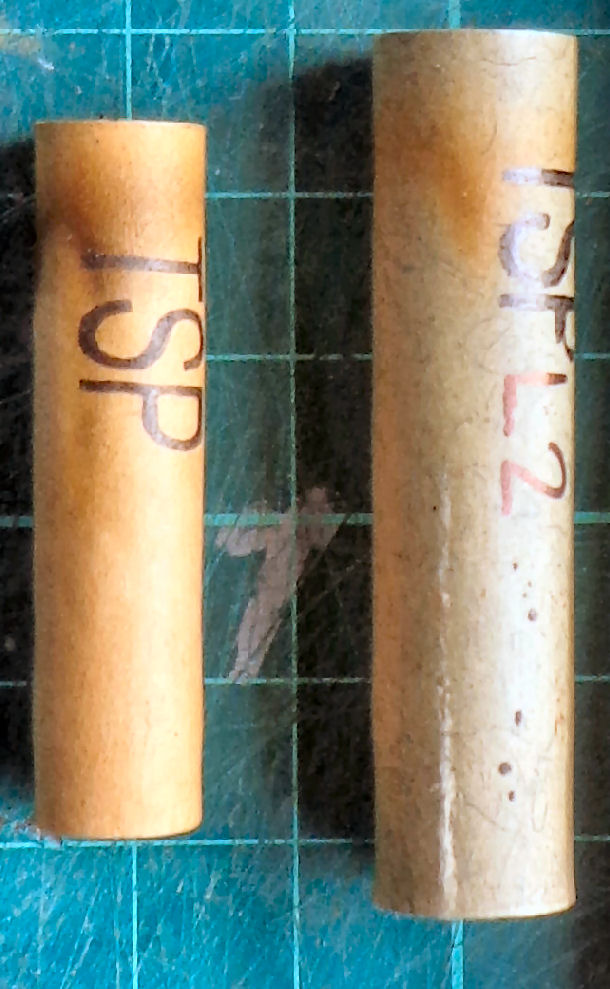 These are very close to the sizes of the Rapier L-1 and L-2 motors.  Note these are 'used' motors and that the casings have done their job well!
Below are the TSP L-2's with the Rapier L-2's: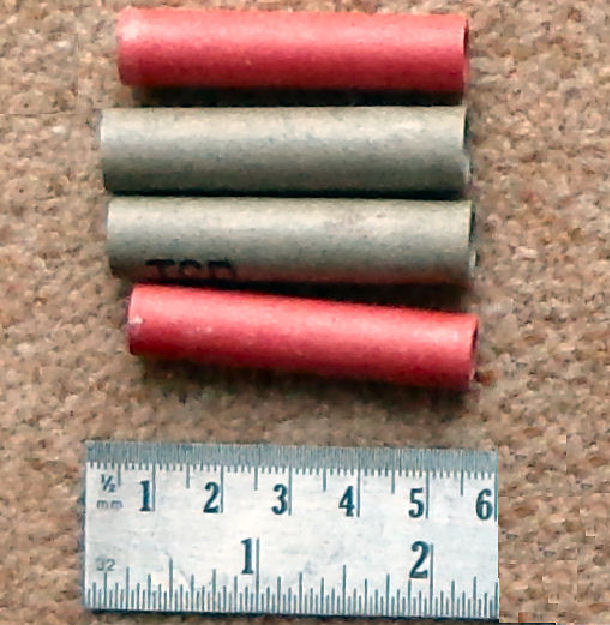 Note they are similar in size to Rapiers, if a bit thicker.  No problem, though!
The performance of the Tender L-'s are great: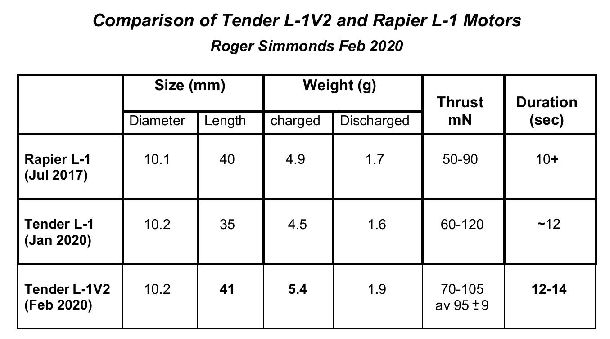 And the thrust is consistent: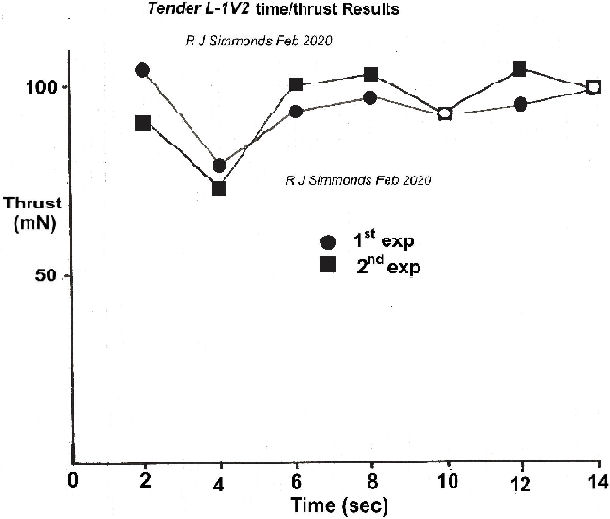 The Tender L-2 motors too, measure well: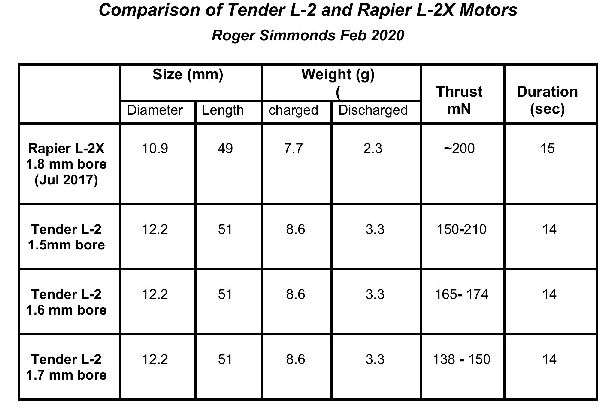 And the thrust on the test rig with different sizes of nozzles is predictable: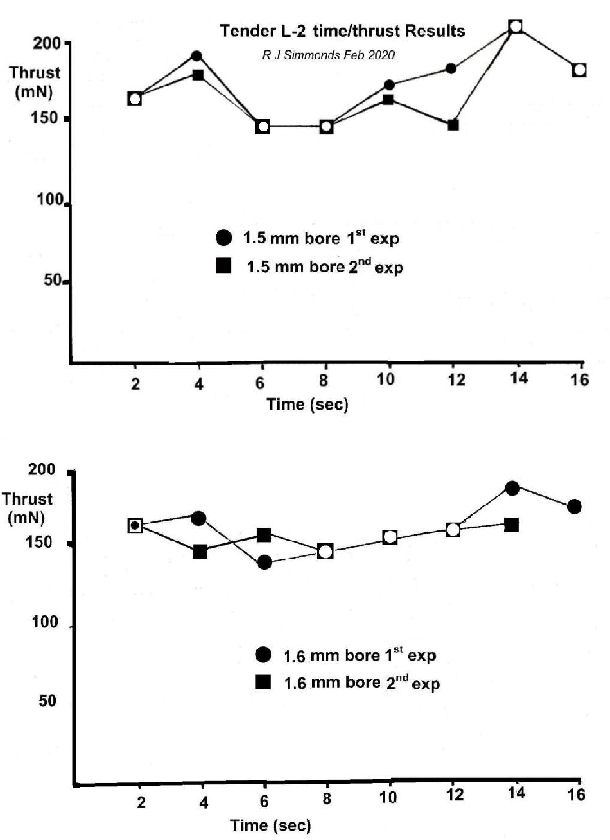 Boring out the two types of L-2 and L-2L to 1.7 mm gives particularly good results: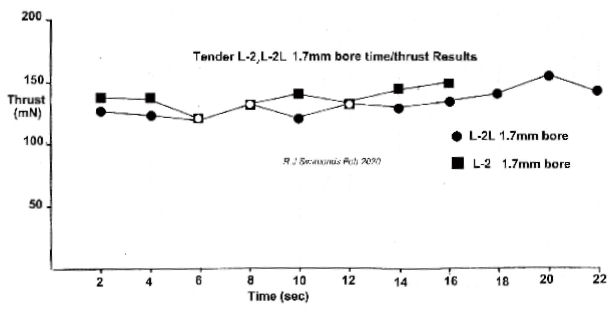 Piotr, who is responsible for the development and manufacture of these motors, tells me he will now concentrate on the 'L-2L' type.  These can be used with confidence in any of the profile Jetex.org kits, or the many Jetex kits from the Vintage Model company:
https://www.vintagemodelcompany.com/jetex-powered-models.html
More about these motors can be found on two forum threads, see
http://www.jetex.org/index.php/jetex-forum?view=topic&catid=8&id=317
and
http://www.jetex.org/index.php/jetex-forum?view=topic&catid=8&id=319
Piotr is happy to discuss the supply of these motors to flyers in the UK.  His email address is:
This email address is being protected from spambots. You need JavaScript enabled to view it.
I shall be getting a supply of the Tender L-1 motors from him, and and I look forward to trying out Piotr's motors on the flying field.  The motors are beautifully produced and can be put in that precious scale model with confidence!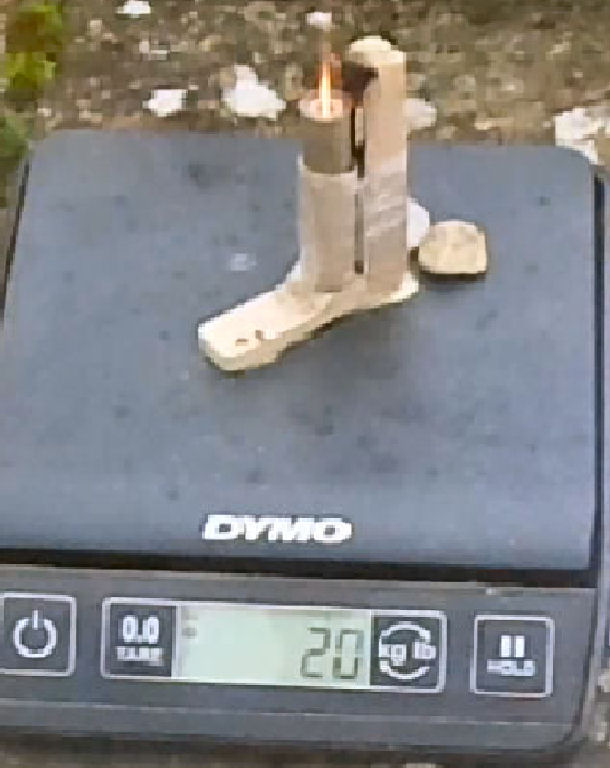 Above:  a TSP Tender L-2L motor on the test rig.  The reading equates to a steady thrust of 150mN, just perfect for those vintage models!
All of the above is very much 'work in progress' so do look at the forum for news of further developments, like an L-3 and a TSP L-2 HP!