Those who have read my latest postings on the forum will realise that I am now, with a refurbished set of heart valves working as about as well as a mint condition (though antique) Jetex 50 or, perhaps, a new Rapier L-2X, ready to give Jetex.org the attention it deserves.
Folk that I meet on the flying field are appreciative of the website. This nice - it is there for the free flight rocket flyer - and it is my hope to add to the site and make it an even better resource for those, young and old, who want to fill the sky with smoke trails, and not the thrumming of the latest ARTF drone.
I have not been altogether idle during my enforced months of convalescence, and I have put together several new designs, including this 'semi-profile' T-38 Talon: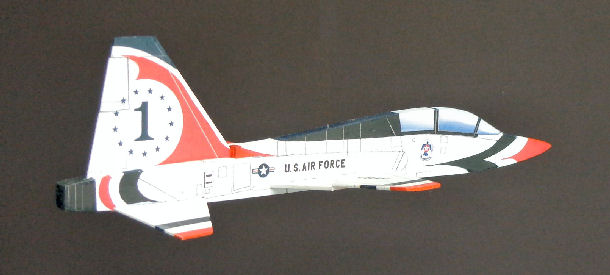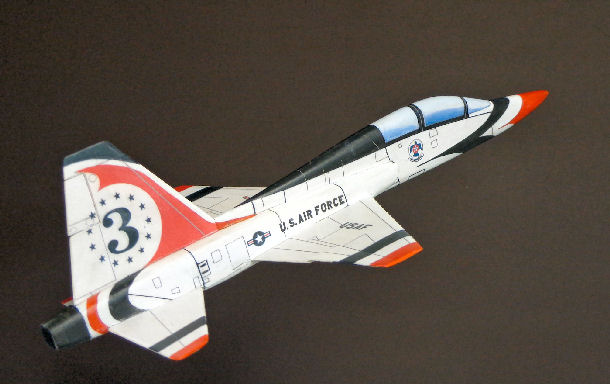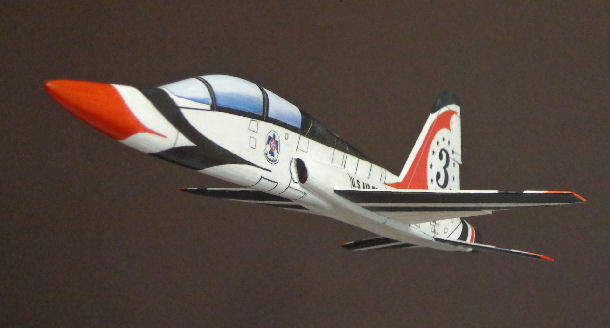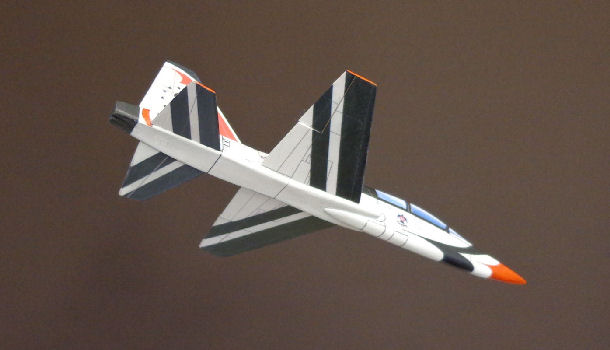 Above: My latest models were designed, if that is the right word, by modifying 3-views retrieved from the Internet. After some manipulation of the flying surfaces, templates were then refined and decorated using 'Paintshop pro'.
The printed templates were then transferred to (generally) 1/16" light balsa.
I made two versions of the T-38 in the livery of the USAF aerobatic team (the 'Thunderbirds'): number '1' to check everything went together OK, (note the square fuselage) and no '3', where the fuselage is 'fleshed out' and a lot more rounded.
Both await their 'rocket pods' (for Rapier L-2) and trimming.
Well-known rocket-flyer and 'prime pilot' Andy Blackwell has recently 'beta tested' this design for me: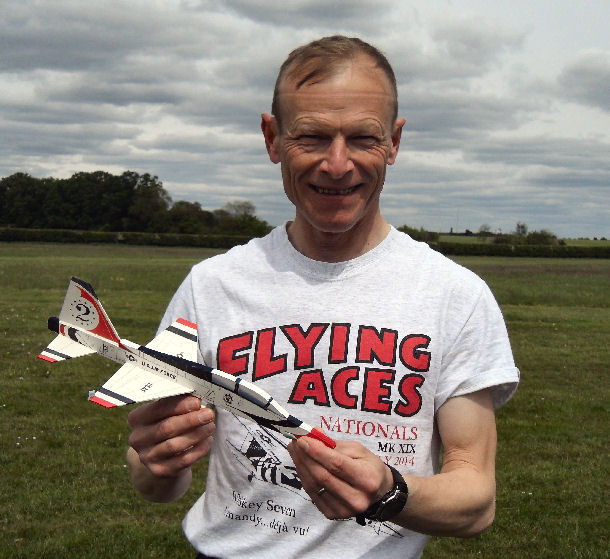 Above: Andy was quicker finishing his T-38 Thunderbird (no 2') than I was with numbers 1 or 3! Here he is after its first very successful and spectacular flight.
Next, something for the Francophiles (you know who you are!):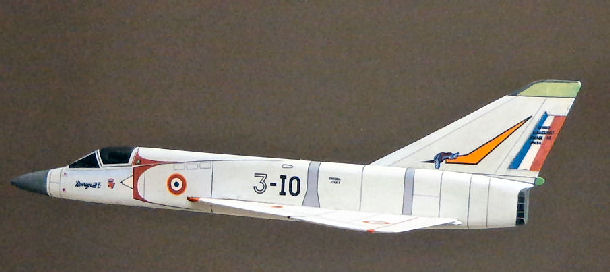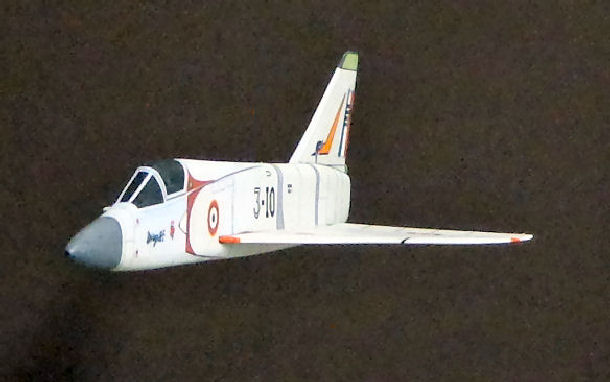 Above: Following the success of my semi-profile F-106 Delta Dart, I couldn't resist trying a Mirage III. If it flies as well as the Delta Dart I will be well pleased. This is 'printed paper over balsa', which allows for a more rounded fuselage.
Back to the US: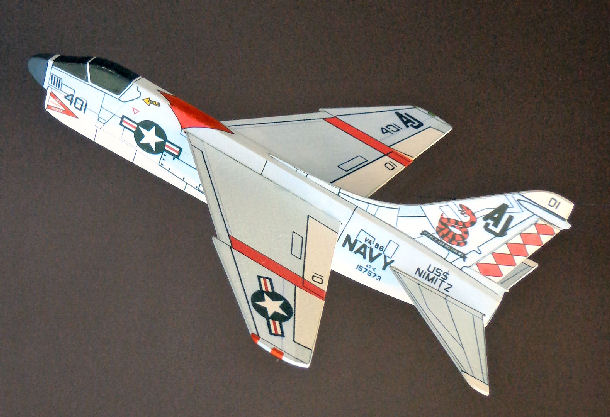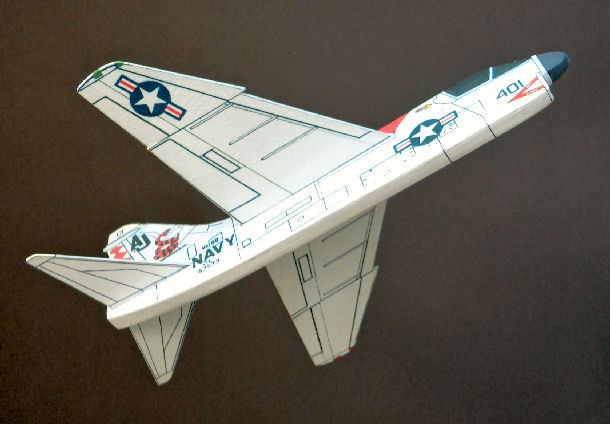 Above: The Corsair II has all the proportions of a very stable model - large flying surfaces and plenty of fuselage side area.
And now for something completely different: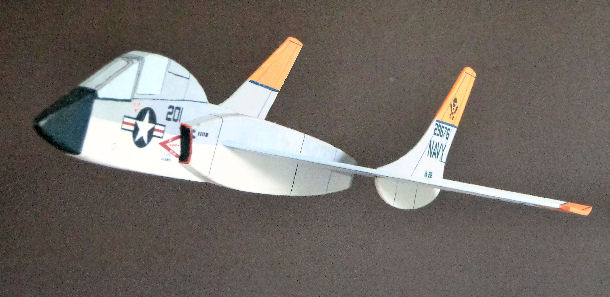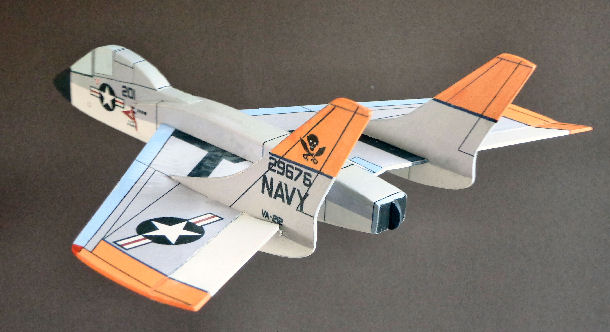 Above: The Cutlass was let down in real life by its poor engines. In miniature it presents a challenge, but I'm hoping that my version, powered by a Rapier L-2X, will show what the original could have done for the US Navy.
The Corsair II and Cutlass are printed 'Dark T-shirt' heat activated transfers over balsa. This allows for a colourful model - note the balsa doesn't show through, but fuselsges are best left with square edges.
Designing and building all (balsa) sheet models was therapeutic, but by this time I was fed up with staring at the computer screen, and hankered after something' stick and tissue' that needed a little more building: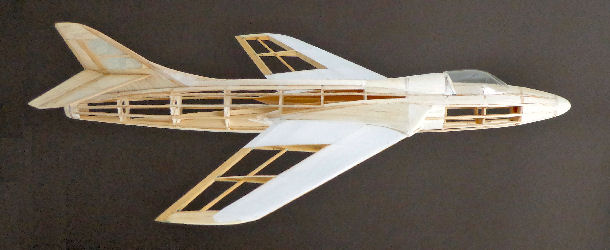 Above: My original Skyleada Hawker Hunter was wrecked by a Rapier 'blow out' in 2008. Here it is brought back from the dead and ready for covering. Note the attention paid to the jet pipe, which looked a little 'naff' on my first one.
Here it is again, canopy fitted and ready for airbrushing - not my favourite procedure: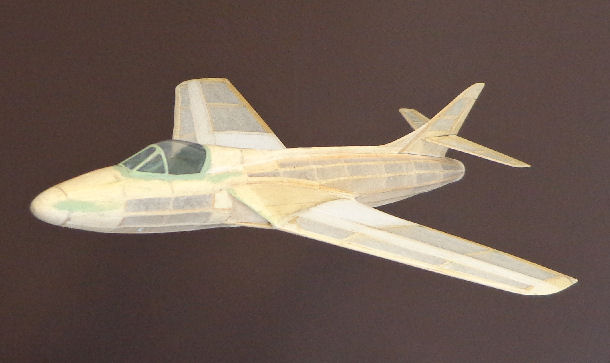 Above: It is covered in white 'Starspan': green Modelspan would have been better, as I hope to finish it in the 'eu de nil' ('duck egg green') of WB188, the first prototype.
My building skills don't approach those of ubermodellers Mike Stuart, Peter Smart, Richard Crossley et al, but it's the best I can do.
I also cannot build light: at the moment the Hunter a little over 26g without paint, motor mount or nose weight. So think '32-34g' ready to fly. It will probably need all of the 160 mN of thrust an L-2 X can provide. We shall see.
Howard Metcalfe, too, has been taking a break from profile models: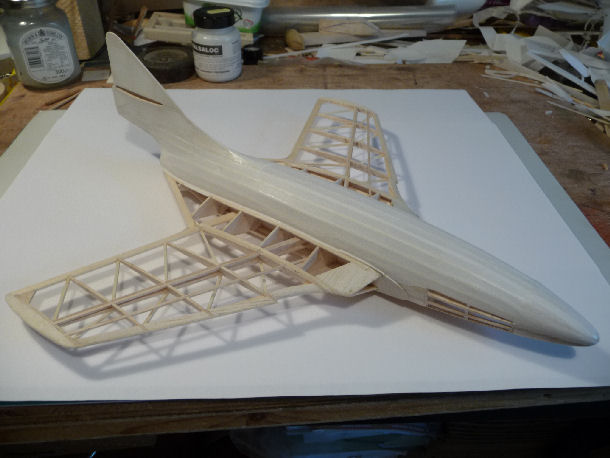 Above: Howard's Cougar. This is Andy Ray's design. I do hope it will be finished before the end of the 2015 Flying Season.
If any reader is interested in any of the new profile models, I can supply templates that you can print out and attach to balsa, for example: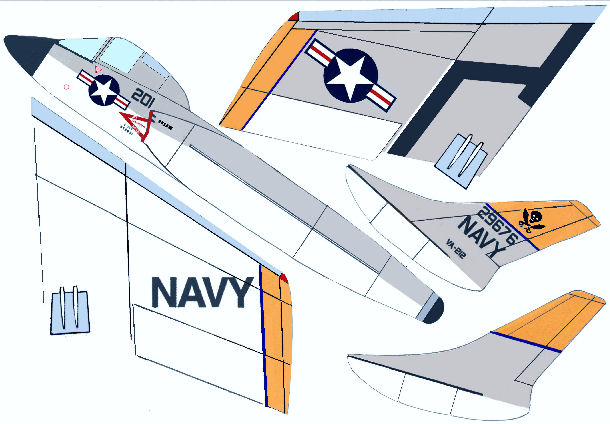 Or a set of finished balsa parts. These, though, will cost you £17.50 including postage.
So there you have it: I'm all set for the 2015 season. I would love to hear from you about your own models, especially 'work in progress'. Please email me with a picture or two and some words.
I also hope to meet you on the flying field - my next meeting is Middle Wallop in mid June.