I have now tested some of the latest L-2 and L-1 motors collected from Dr Zigmund by our very own 'Nighthawk'. 
Dr Z's  nominal thrust ratings are:
70Mn for L1
130Mn for L2
150Mn for L2X
200+Mn for L2HP
We have, as yet, no examples of the 2014 'L-2 HP' or L-3 motors.  
In actual tests, and these were in duplicate or triplicate to be sure I wasn't measuring a 'one off' rogue motor, this is what I found for the motors we do have in stock: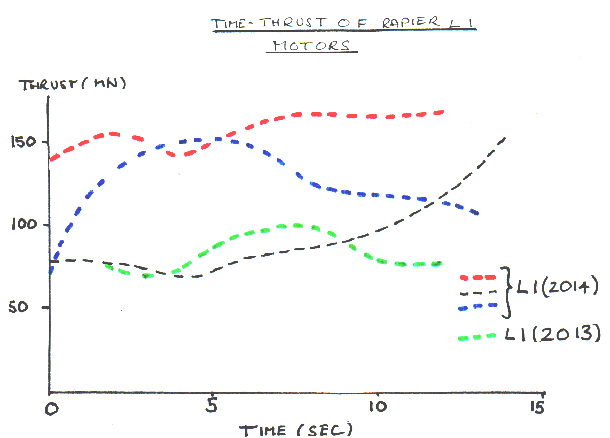 Above: note the 2013 L-1 motor tested with the others.  Thrust is a bit down from when I tested these in 2013, but still very usable.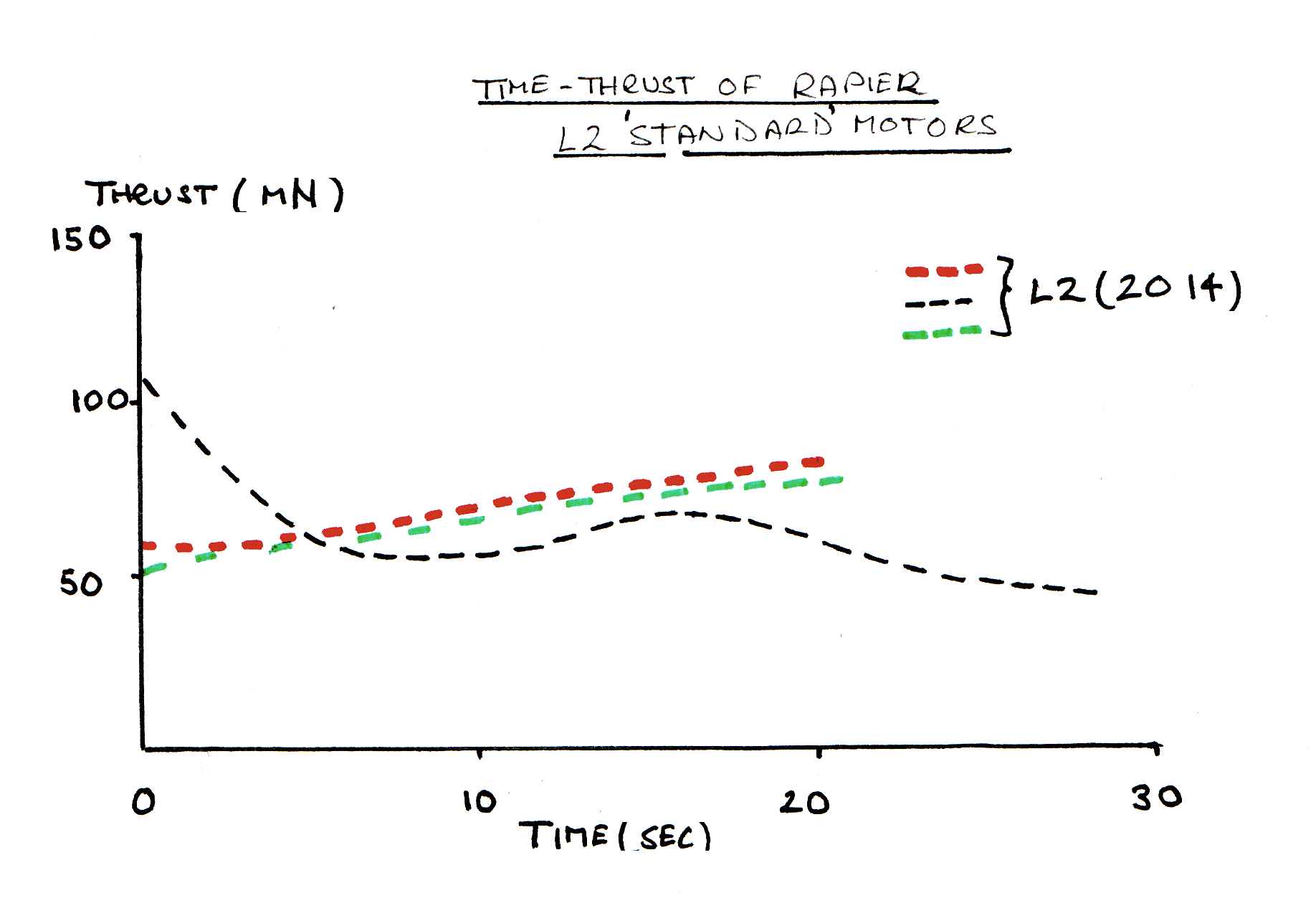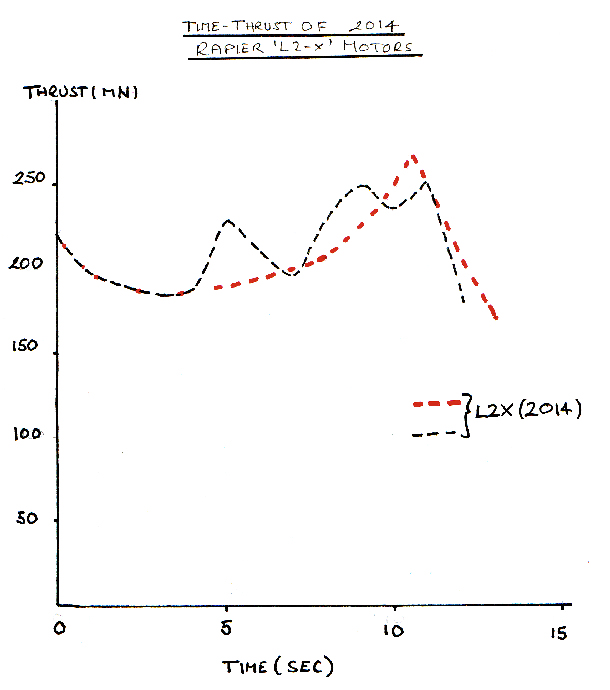 The first thing thing to be said is that these thrusts bear little relation to dr Z's 'nominal'  ratings, and I really don't know how Dr Z arrives at his figures.  But mine are what I found, and I have the videos of the thrust rig to prove it!
However, the good news is that the output of the 2014 L-1 motors is healthy, a bit higher than those from 2013, but great for  profile scale models of 8-10" span.
The 'standard' L-2 motors are disappointing, the thrust is low, and though the run time is gratifying, the motor cases did come close to 'burning through':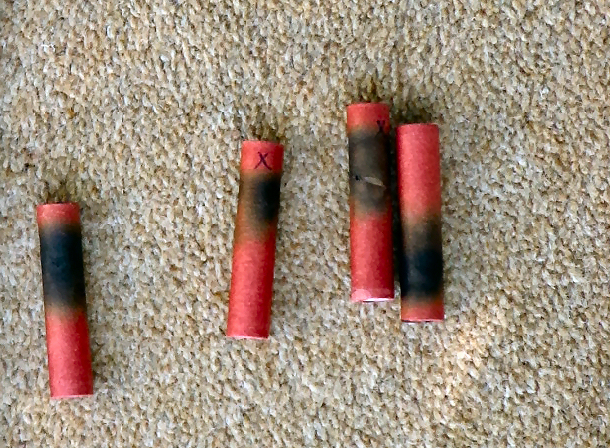 They are of too low a thrust for the old 'Flying Scale' models and though suitable for profile models, I did find them difficult to light.  They needed extensive 'boring out' with a 1mm reamer and the addition of 'fairy dust' (ground up match heads) to get going.  I would advise these are used with caution.  In the right (light!) model the long burn time could give a splendid flight and a long walk!
I hope that when Dr Z visits in July he can bring some standard L-2's of a more useful specification.
The good news is that the 2014 'L-2X' motors are quite close to what I found for the 2013 examples: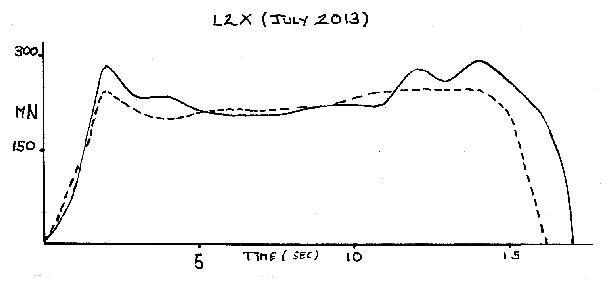 Above:  L-2 X motors tested in 2013.  This graph is included for comparison.  Ace flyers like Mike Suart found them very useful, and my larger F-100 Super Sabre liked these motors a lot!
Note the  shorter, though still acceptable, burn time of the 2014 motors.  The 2013 L-2X  motors worked well in built up models, and  larger profile ans semi profile models (like my F-100) and I hope these 2014 motors will be the same.
The less than good news is that stocks of these 2014 L-2 X's are limited - so order now.  
For those who want to fly Rapiers this year, and are starting out - my advice would be to buy some L-1's (of which I have good stocks ) and put it them in a (colourful) profile model (see the Jetex.org store!).
I hope  talk to Dr Z in July  so we can get some good L-2 motors of 120-130 mN, but until then we do have to, as in years gone by, work with what we've got!
As an 'addendum' to the above, here are some photos taken during the actual tests, just to prove I'm not making any of  this up!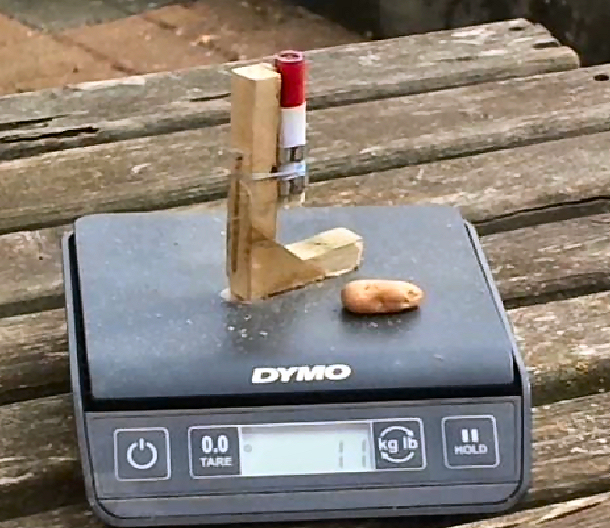 Above: a standard L-2 in the middle its run.  Note the reading hovers on '11 grams'.  The weight of the motor at this point can be calculated to be about 3-4 grams.  The exhaust is barely visible.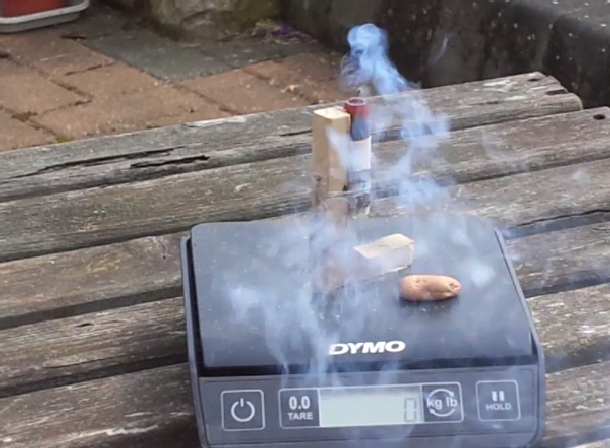 Above: a standard L-2 at  the end of its run.  Note the reading, seen through the smoke, is now '0 grams'.
By subtracting the weight of the motor at each time point (the motor looses about 5-7 grams during the power run ) it ca readily be calculated that the thrust of these standard L-2 motors is, at best, below 100 mN.  Note the charred motor case.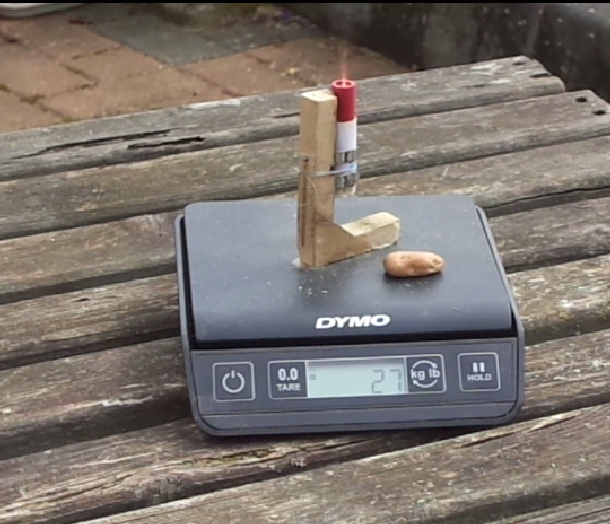 Above: an L-2 at mid run.  Note the reading hovers on '27 grams'  If the motor at this point weighs about 4 or do  grams it means the (static) thrust is over 200 mn.  
This is a useful amount of grunt, but not the 150 mN' specified.  Note the rather impressive glowing exhaust which contrasts with the more feeble exhaust of the 'standard' L-2.  The L-2 X was a lot louder, too!
I must emphasise that these simple static thrusts  are useful in the comparing of motors, and the thrust in a model in high speed flight will be different.