Perseverance in the 'computer age'
I recently bought some very nice vintage Tiger kits from a gentleman in Japan: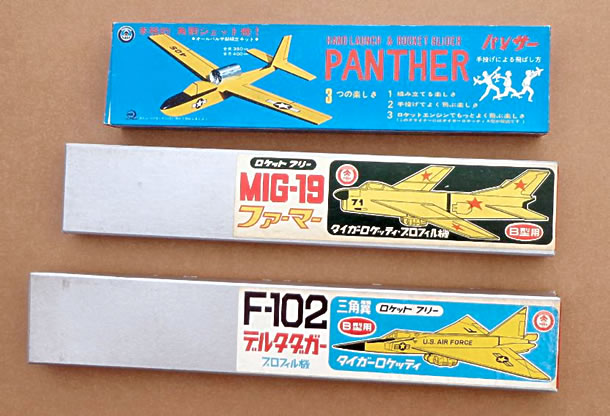 Tiger profile kits, made in Japan in the 1960's were nicely presented.
The F-102 Delta Dagger and MiG-19 are I think unique, and well worth replicating today.
Today's modeller has access to many computer techniques simply unknown in 'the old days' so that the parts of an old kit -– and the vast majority of 'Jetex' kits are old and date from the 1950's – can be scanned in, cleaned up and replicated. The trouble is, most of the modellers interested in such kits also date from the 1950's. We have problems getting the best out of sophisticated drawing/painting programs – well I do anyway – and modern modellers who can make the latest CAD or version of Paintshop sing and dance are not interested in granddad's latest antediluvian model. So I struggle on, cutting and pasting on bits here and there until that classic and evocative Jet from 1951 looks 'half right':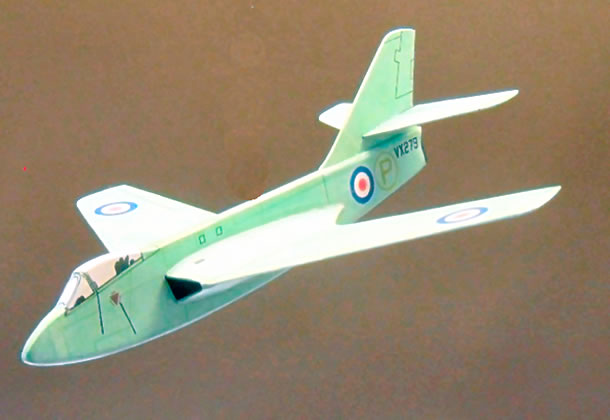 A Hawker P 1081 – the precursor of the Hunter - for Rapier L-2, designed and drawn using a popular 'Paintshop' program. Reproducing the 'eu de nil' pale blue/green caused an outburst of 'computer rage'.
But it takes hours, what a young expert can do in minutes takes me hours, and I end up truly pixellated. 'Never again' I say, until I find the next evocative prototype on the Internet.
Since first writing this, I have been putting together templates for an Alpha Jet, MiG 19 and an F-106 Delta Dart (which initially I derived from the Tiger Kits F-102 Delta Dagger).
Silver/grey is particularly tricky to reproduce - 'Fiffty Shades of Grey' isn't in it as it becomes blue/green  on printing and transferring to balsa with heat transfer paper.  Any suggestions?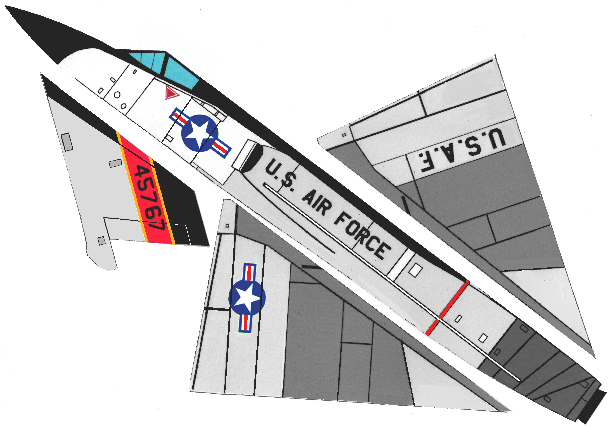 Above:  progress so far with the F-106 for Rapier L-2.  All 'profile models' tend to be caricatures, and  note the wings are enlarged, but are the various shades of grey here 'over the top'?
New Rapier Motors for 2014
Our intrepid contact with Dr Zigmund ('Nighthawk') will soon be collecting Rapiers for the 2014 flying season.  He asks what types we would like him to collect, so I told him, "A repeat of the 2013 types please".
These motors were favourably received by rocketeers, as the L-2X motors were perfect for models like the Aerographics Bell XS-1, Bluebottle Bell X1E, Mike Stuart's Thunderstreak, and the larger profile models like Bill Dean's Hawker Hunter or my own F-100.
The L-2HP is potent enough for the older larger Flying Scale models and the Aerographics Sukhoi SU-11 or Steve Bage's MiG 21,and the latest L-1s are just perfect for smaller profile models.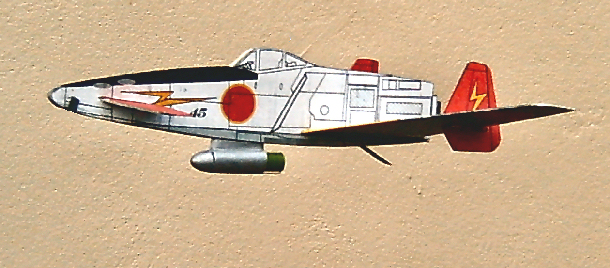 Above:  Rob Smith's unusual Jet Shinden flies splendidly with a Rapier L-1.
My thrust-time graphs I produced for the 2013 motors are shown below: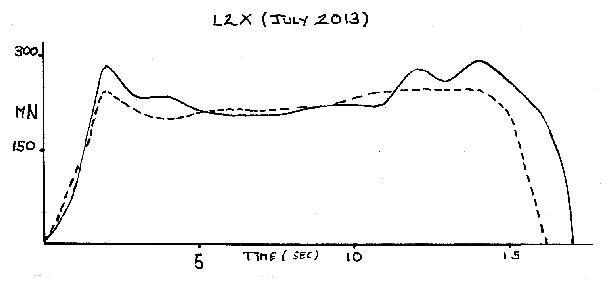 Above: L-2X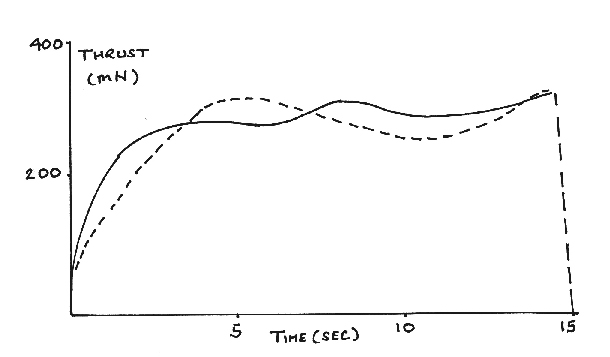 Above: L-2 HP - pretty potent!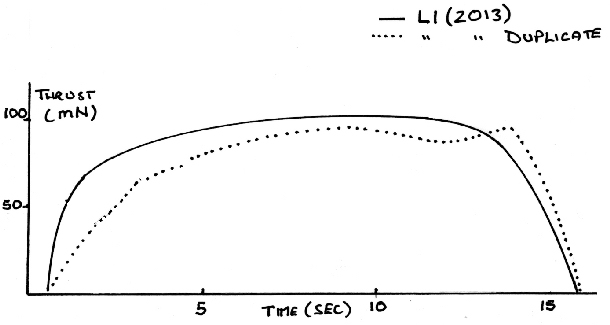 Above:  The latest L-1s - a really great motor!
So (a) think about what jets you should be building this year, secure in the knowledge that, at least on this side of the pond, you will have something to power them with (b) ask yourself what motors you would like this year. 
And you could always  phone up SAMS Models in the UK and encourage  George to restock with his Rapier kits!
Where will the next Generation of Rocketeers come from?
Every organisation, well the ones I'm familiar with, like the Society of Antique Modellers, the British Model Flyers Association and the Village Tidily Winks Team,  share a grave (and I use the word 'grave' with its morbid resonance advisedly) common concern: "Who will carry on after we are gone?"
A trip to model flying events, especially  free flight, shows that the vast majority of flyers are either in, or are approaching, what are, one chap said, their 'twilight years'.  Hmmm. 
There is the occasional youngster on the field with granddad, but of 15-20 year olds (the group amongst whom modelling was so popular in the 1950s-1960s), there is little sign. 
So are we the last free flight sport modellers, and, more pertinent to Jetex.org, the last 'Jetex' modellers?
Perhaps young modellers (under the age of 45) fly the splendidly cheap R/C RTF models – park flyers – and the like?  But if they are, I don't see them.  Perhaps they are busy on their simulators, and will one day graduate from this solipsistic obsession to the real world.  We can but hope.  And that, having crashed their first real model, they don't look for the 'reboot' key!
In the spirit of, "It is better to light one candle than bemoan the dark" the BMFA promotes a number of cheap and cheerful models suitable for the fledging flyer. 
One of these, the Aerojet delta, might go well with a Rapier … this got me thinking: in the main, the simple Jetex kits suitable for the beginner, like the Veron Sea Hawk or Keil Kraft Shooting Star, are over fifty years old and (apparentlu) attractive only to those who remember them from their youth.  The Jetex.org 'part kits' are, I think, very nice, but sell only to those happy to part with a small proportion of their pension: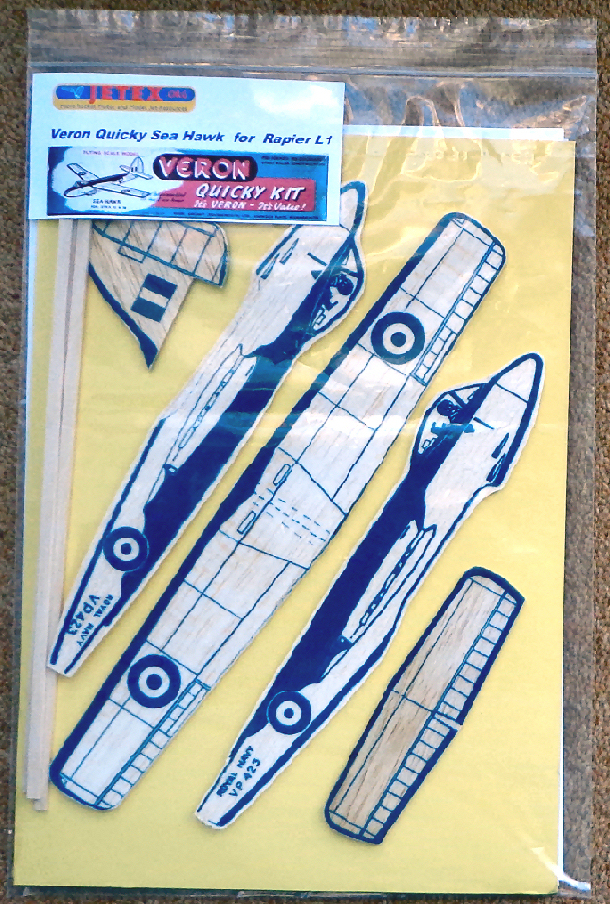 Above: the Jetex.org Sea Hawk.  It is a faithful replica of Phil Smith's original Veron 91950?) kit for Jetex 50.  Only bought today, alas, by modellers of a 'certain age'!  
So to try attract youngsters I thought I might try something more colourful; a MiG-19 for example: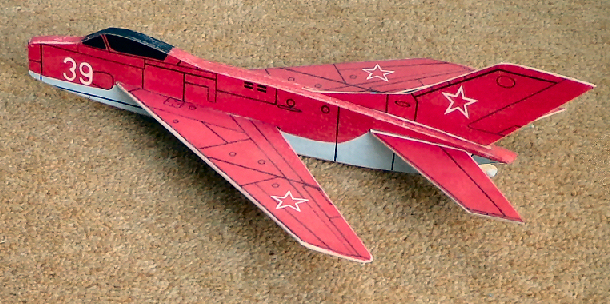 Above:  The prototype MiG-19, inspired by the Japanese Tiger kit of 1958-1960. It is more modern than the Sea Hawk, but will it still be seen as desparately old fashioned?  
I then thought, what else is out there likely to attract the young Jet Jockey?  Jason Wentworth, similarly concerned to evangelise modelling in general and rocket flying in particular, sent me examples of a little chucky popular in the US that he thought might just be suitable for an L-1: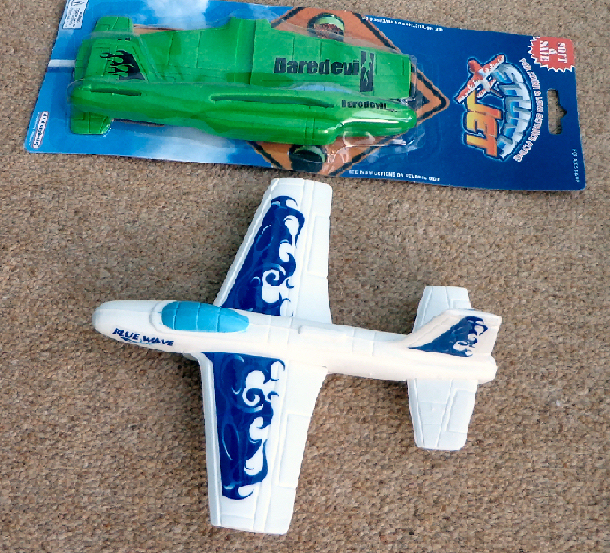 Above: readily available in the US, Jason thought these near-unbreakable chuckies might go well with an L-1. Perhaps, though they are a trifle small.  Could be a lot of fun, though.
Perhaps, I thought, there are some more suitable 'quick and easy' models  out there?  A quick survey of the giganormous Hobby King site  came up with a few suitable  candidates: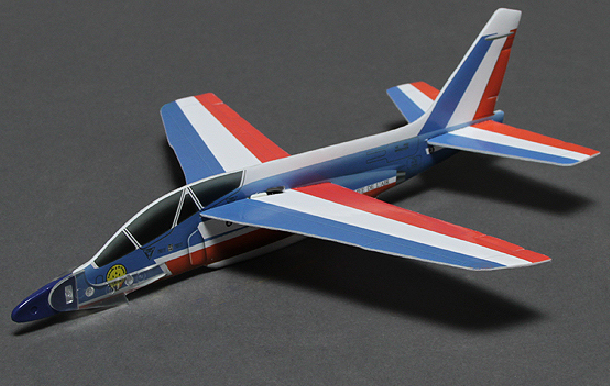 Above:  Hobby King's all Depron Alpha Jet.  At only a few ponds I expect they sell well.  But will the young jet jockey graduate from this to something a little more challenging?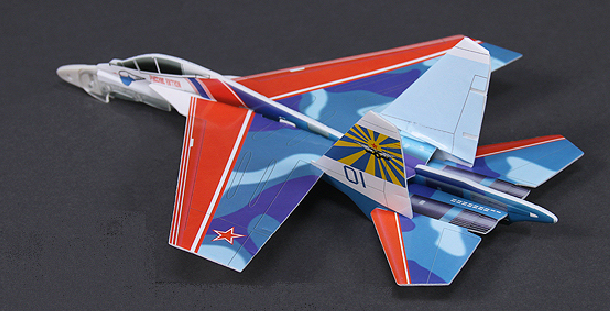 Above: Hobby King's SU-11.  An exciting model, and at just a few pounds (though don't forget the tax and the (quite steep) postage) it costs less than the kits available on Jetex.org. 
OK, and according to my friend André Bird the Hobby King jets  can be rocket powered, given a bit of serious 'fettling' (his Raptor needed two Rapiers mounted atop!):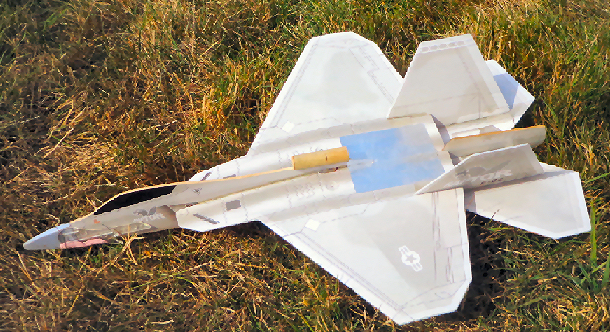 Above: Andre showed off his adaptations of the Hoby King F-22 Raptor and F-18 at the 2014 Peterboro Flying Aces.  He says they do fly (though he declined to do so in the wind we had) but are more than a little tricky to trim. 
And this is the point worth emphasising.  I can produce an Alpha Jet nearly as tasty looking as that offered by Hobby king: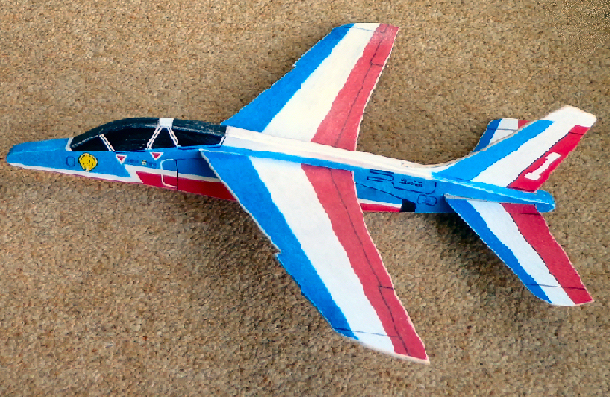 Above: My prototype (and unfinished) Alpha Jet.  Being all-balsa  the flying surfaces are very stiff, and trimming with a Rapier L-2 should be straightforward.
It does, of course, need more 'building' than Hobby King's models, but it will (I hope) fly in a fast and in a smoky way with a Rapier motor 'off the shelf'. This justifies the asking price, but will the punters see it that way?
To conclude: has  anyone else out there attached Rapiers to Hobby king's products?  And finally, how can the joys of Jetex and the rewards of Rapiers be evangelised to the next generation?  Any thoughts?   
More models in the Store!
We've just added some more models into the Jetex Store – if you go to the Store you can scroll to the bottom of the page and then navigate to the second and third pages which also now display models :)
You can now choose between L1 and L2 power for your new model. Simply click next to the power of your choice.
Other profile and semi-profile models are in the pipeline, including a MiG-19 and
F-102 based on the vintage Japanese Tiger models, and an original Alpha Jet.

Please contact Jetex.org for the latest availability of Rapier motors.
New Models for 2014 and the campaign for Real Profile Scale Models
'Tis Spring, and in the spring, an old aeromodeller's fancy turns to thoughts of trimming all those models built during the dark damp days of winter.  Readers will remember my current penchant for profile models, and I have just returned from the local recreation ground with a spring in my step and a bag of no less than five newly trimmed scale jets: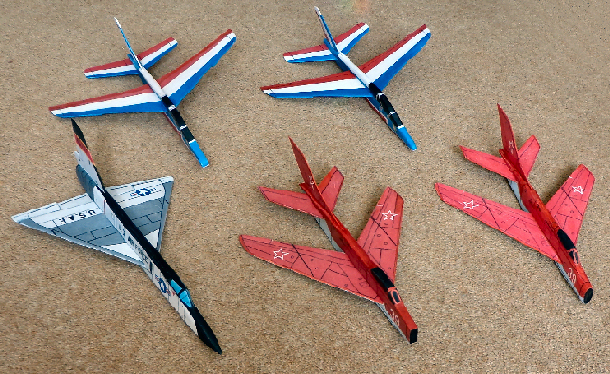 Above:  new profile models for 2014.  All glided well from a strong hand launch, needing only a little nose weight and little adjustment of adjustable rudders (Mig-19 and Alpha Jet) or elevons (F-106).  They now just need motor mounts and a calm day!
For lots of good reasons profile scale models ('PSMs') make a lot of sense for us jet jockeys.  There are a lot of excellent designs, new and old, available at the click of a mouse; they are easy to make, fly well and if you lose one due to a dubious motor it's no big deal.  They are great, too for experimenting with unusual planforms.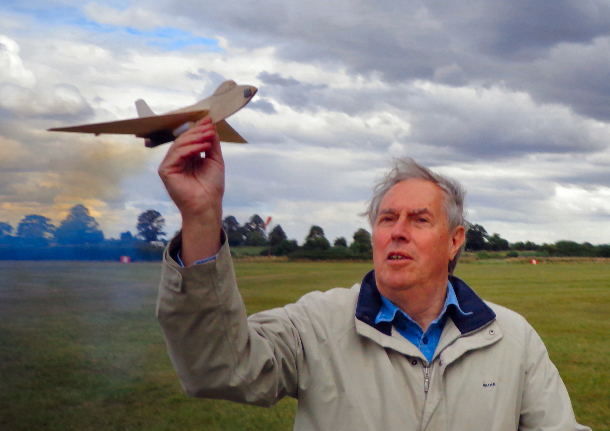 Above:  Roger Smith at Old Warden, September 2013.  The sadly undecorated profile Avro 707 was a lot of fun and flew splendidly with a (side mounted) Rapier L-2HP.
But I did have a problem with profile models in the old days,  though, believing the term 'profile scale' was an oxymoron.  To me they were crude and unsophisticated, even if (to repeat) they were quick to build, light, easy to adapt to a range of thrusts, and, if damaged by errant motors, were easy to repair or replace.  I couldn't, somehow,  accept them as legitimate.
Part of the problem was that in my early rocketeering days I saw, and was attacked by, some very lacklustre models launched by quite prestigious modellers.  I was very unimpressed by their pale wooden bodies and great lumps of Blu-Tac stuck on their noses (the models, not the modellers). 
Fortunately, I was converted by the wonderfully decorated models of Howard Metcalfe: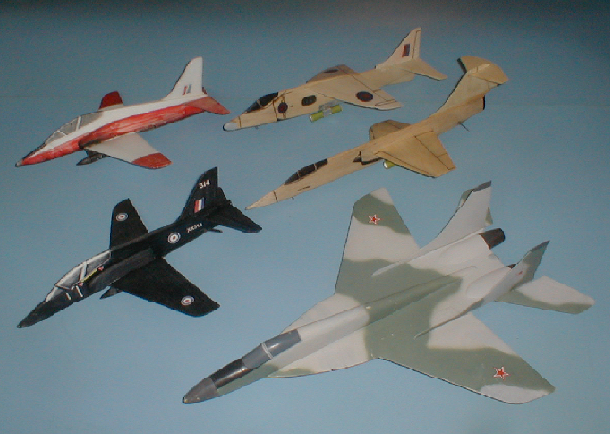 Above:  a selection of Howard's profile models from a few years ago.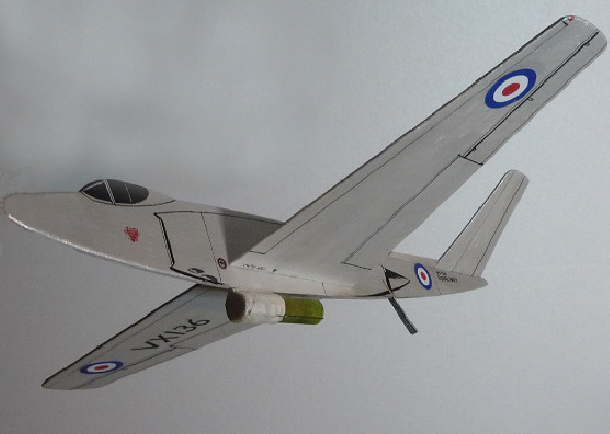 Above: Howard's more recent Supermarine 508.  Note the meticulously painted (sprayed, I believe), finish and the thrust tab.  The butterfly tail is quite unusual.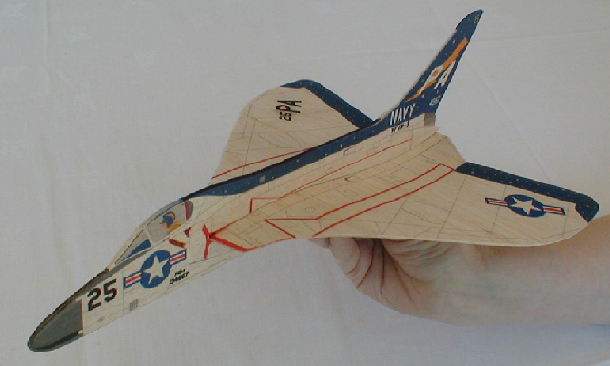 Above:  Another of Howard's more recent models.  This is what Bill Dean's Skyray should look like!  Howard prepared the templates using CAD.  These were then printed on tissue which was then affixed to sheet balsa before assembly. 
Others, too, showed me what PSMs could look like: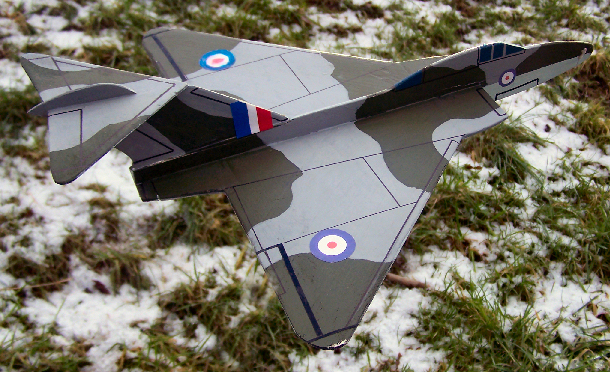 Above: Walter Snowdon's fine Jetex Javelin.  Such beautiful paintwork takes more skill and patience than I can easily muster! 
So it was that I started the 'Campaign for real PSM's' whose members eschew bare wood, will crush, dismember or surreptitiously eliminate any examples of, say,  Bill Dean's Skyray or Hunter that lack national markings and fin flashes.  
The old Veron and Keil Kraft 'ARTF' profile kits like the Sea Hawk came pre-decorated, and looked good on the flying field without too much effort from the builder.  Though they are easy to recreate using computer graphics programs, they appear only to appeal to old guys like me who remember them from the first time round!  This is a pity as they still make an excellent introduction to rocket flying.
George Foster, like many older modellers,  prefers to design his own models.  But, I am pleased to say,  he obviously aggrees with the principles of CRPSM: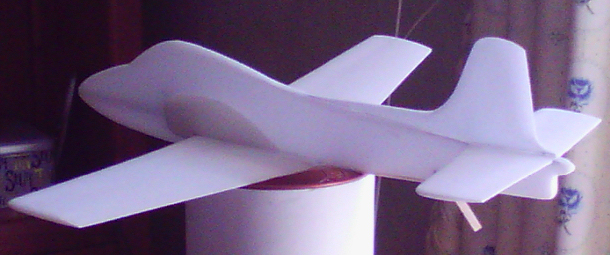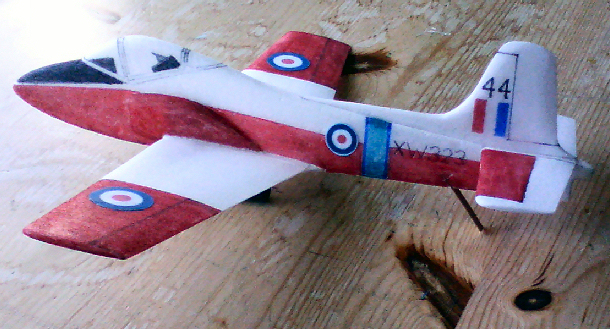 Above: George's Depron Jet Provost before and after decoration with felt tip pens.
But for me, there was a  'problem': finishing the bare wood (or Depron) requires skills with paint (or  felt-tip pens) that I don't find easy.  I lack the patience and artistic acumen to do this well.  
So I prefer the 'printed paper on balsa (or Depron)  methods which have  been all but perfected by Rob Smith: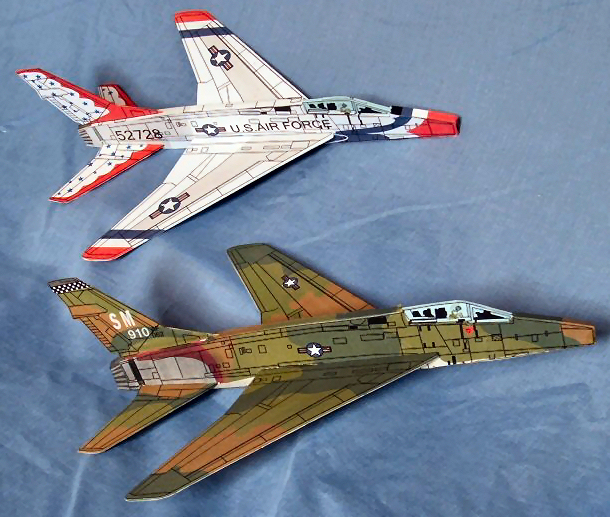 Above: it's easy (and quick) when you know how.  Rob's two Super Sabres.  Take your pick!
This method can be taken as far as you want to go, if one is happy with a square fuselage the templates can be transferred directly to balsa or Depron sheet: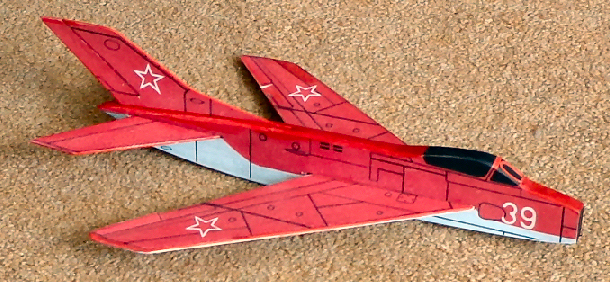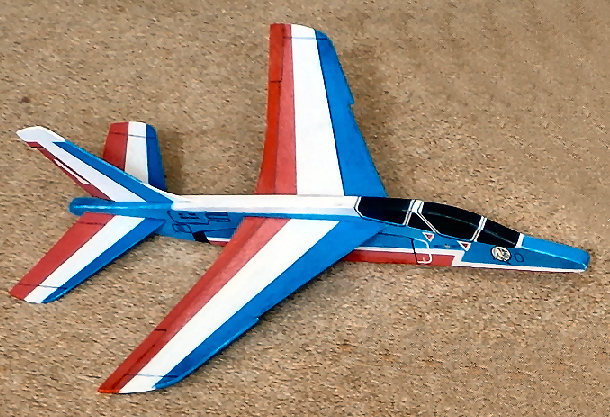 Above: two examples of my profile models 'just off the press'  with square '3D' fuselages.  Here, printed templates are transferred directly to sheet balsa. 
Alternatively, you can complicate matters by going for a rounded fuselage: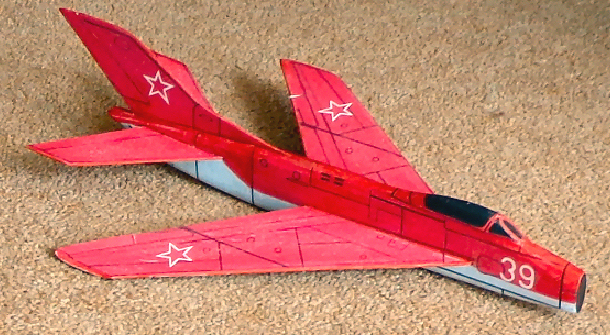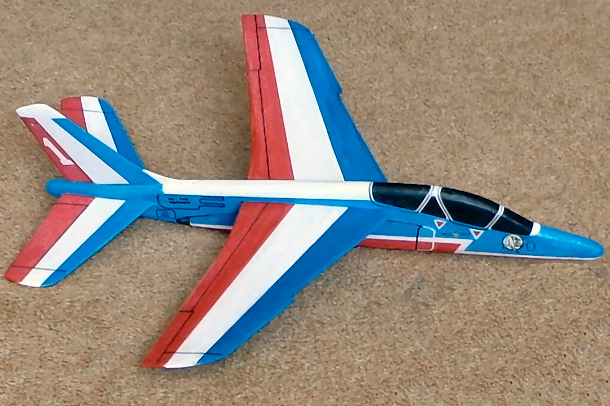 Above: also 'just off the press' - two models with rounded fuselages.  Here, templates are transferred to the balsa surfaces after construction.  Not easy! 
Is rounding the fuselage  worth the effort?  Probably not, even though it saves a little weight.  The  square ones seem to fly equally well, and in the air, who is to notice?  And all the extra complication rather goes against the received wisdom that profile models should be 'quick and easy'.
John Rigby is another member of CRPSM, and uses (I think) printed tissue on his true profile models: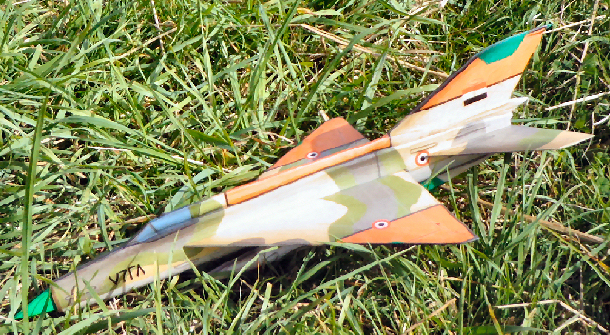 Above: John's very nice MiG 21.  Hadrian Tucker has ponted out that tissue on balsa is not particularly light, and printing directly on balsa would be better.  Yes, but how? 
 Chris Richards, too, believes in properly decorated profile models: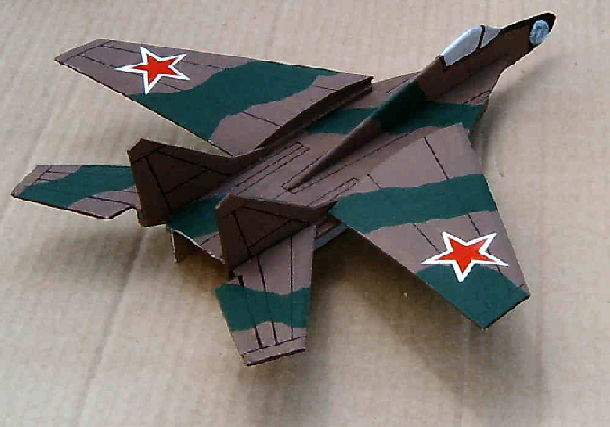 Above: Chris's MiG 29 triumphed at the 2014 Peterboro' Flying Aces.  Built from sheet balsa, templates could be transferred to balsa sheet before building.  But this is more than a simple profile model:  perhaps 'semi profile model' is an apt description?  
Meanwhile, I carry on with my own obsession.  Here is the latest: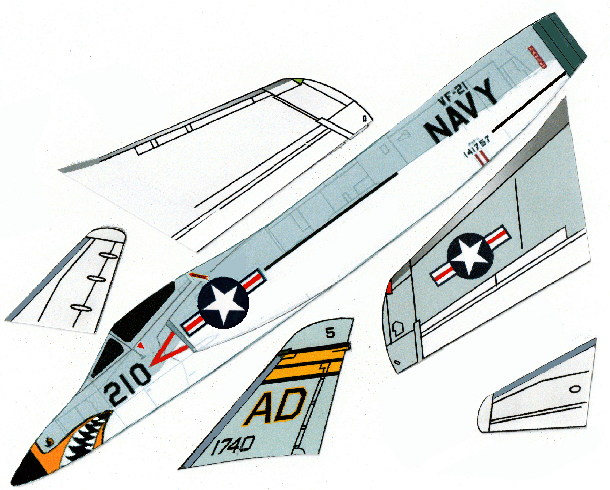 If anybody would like to join the CRPSM, please contact me.  Members could receive a T-shirt and a badge, and a full set of felt tip pens to use on any bare bodied models (I know, I know) they find on the flying field! 
Oh yes: if anyone can suggest an easy ways to transfer printed copies of computer generated templates of models to balsa, or knows of a reasonably priced flat bed printer that can handle 1/16" sheet balsa, please let me know.