Where will the next Generation of Rocketeers come from?
Every organisation, well the ones I'm familiar with, like the Society of Antique Modellers, the British Model Flyers Association and the Village Tidily Winks Team,  share a grave (and I use the word 'grave' with its morbid resonance advisedly) common concern: "Who will carry on after we are gone?"
A trip to model flying events, especially  free flight, shows that the vast majority of flyers are either in, or are approaching, what are, one chap said, their 'twilight years'.  Hmmm. 
There is the occasional youngster on the field with granddad, but of 15-20 year olds (the group amongst whom modelling was so popular in the 1950s-1960s), there is little sign. 
So are we the last free flight sport modellers, and, more pertinent to Jetex.org, the last 'Jetex' modellers?
Perhaps young modellers (under the age of 45) fly the splendidly cheap R/C RTF models – park flyers – and the like?  But if they are, I don't see them.  Perhaps they are busy on their simulators, and will one day graduate from this solipsistic obsession to the real world.  We can but hope.  And that, having crashed their first real model, they don't look for the 'reboot' key!
In the spirit of, "It is better to light one candle than bemoan the dark" the BMFA promotes a number of cheap and cheerful models suitable for the fledging flyer. 
One of these, the Aerojet delta, might go well with a Rapier … this got me thinking: in the main, the simple Jetex kits suitable for the beginner, like the Veron Sea Hawk or Keil Kraft Shooting Star, are over fifty years old and (apparentlu) attractive only to those who remember them from their youth.  The Jetex.org 'part kits' are, I think, very nice, but sell only to those happy to part with a small proportion of their pension: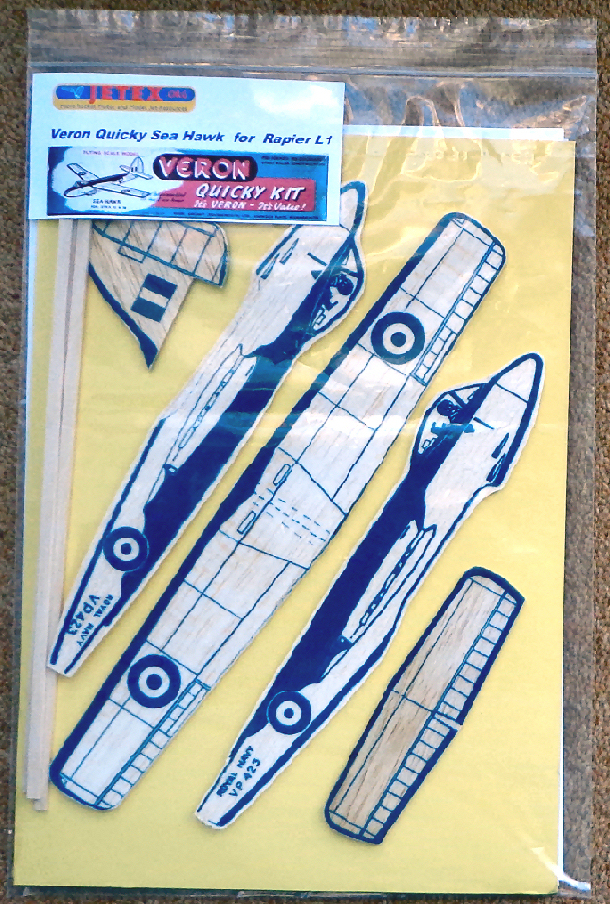 Above: the Jetex.org Sea Hawk.  It is a faithful replica of Phil Smith's original Veron 91950?) kit for Jetex 50.  Only bought today, alas, by modellers of a 'certain age'!  
So to try attract youngsters I thought I might try something more colourful; a MiG-19 for example: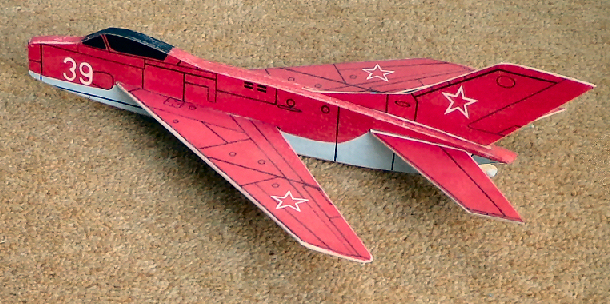 Above:  The prototype MiG-19, inspired by the Japanese Tiger kit of 1958-1960. It is more modern than the Sea Hawk, but will it still be seen as desparately old fashioned?  
I then thought, what else is out there likely to attract the young Jet Jockey?  Jason Wentworth, similarly concerned to evangelise modelling in general and rocket flying in particular, sent me examples of a little chucky popular in the US that he thought might just be suitable for an L-1: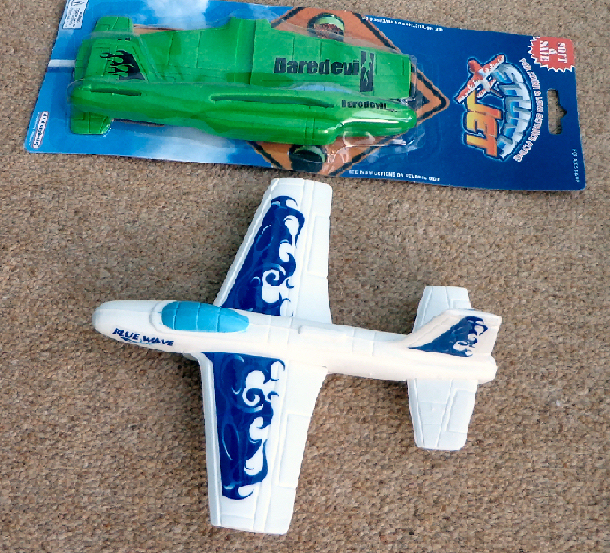 Above: readily available in the US, Jason thought these near-unbreakable chuckies might go well with an L-1. Perhaps, though they are a trifle small.  Could be a lot of fun, though.
Perhaps, I thought, there are some more suitable 'quick and easy' models  out there?  A quick survey of the giganormous Hobby King site  came up with a few suitable  candidates: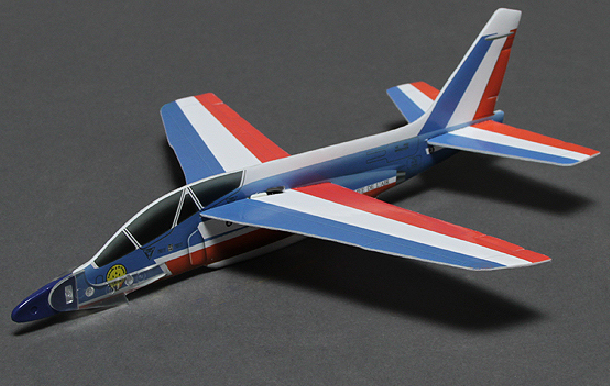 Above:  Hobby King's all Depron Alpha Jet.  At only a few ponds I expect they sell well.  But will the young jet jockey graduate from this to something a little more challenging?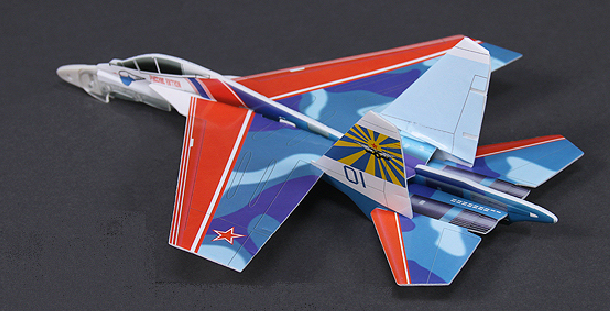 Above: Hobby King's SU-11.  An exciting model, and at just a few pounds (though don't forget the tax and the (quite steep) postage) it costs less than the kits available on Jetex.org. 
OK, and according to my friend André Bird the Hobby King jets  can be rocket powered, given a bit of serious 'fettling' (his Raptor needed two Rapiers mounted atop!):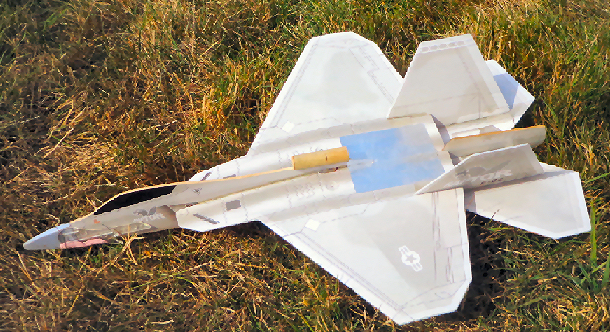 Above: Andre showed off his adaptations of the Hoby King F-22 Raptor and F-18 at the 2014 Peterboro Flying Aces.  He says they do fly (though he declined to do so in the wind we had) but are more than a little tricky to trim. 
And this is the point worth emphasising.  I can produce an Alpha Jet nearly as tasty looking as that offered by Hobby king: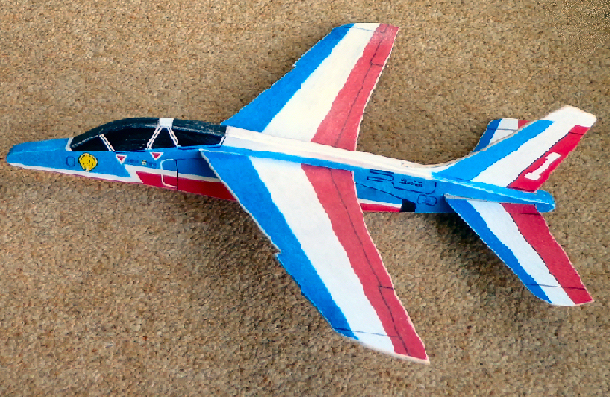 Above: My prototype (and unfinished) Alpha Jet.  Being all-balsa  the flying surfaces are very stiff, and trimming with a Rapier L-2 should be straightforward.
It does, of course, need more 'building' than Hobby King's models, but it will (I hope) fly in a fast and in a smoky way with a Rapier motor 'off the shelf'. This justifies the asking price, but will the punters see it that way?
To conclude: has  anyone else out there attached Rapiers to Hobby king's products?  And finally, how can the joys of Jetex and the rewards of Rapiers be evangelised to the next generation?  Any thoughts?   
New Models for 2014 and the campaign for Real Profile Scale Models
'Tis Spring, and in the spring, an old aeromodeller's fancy turns to thoughts of trimming all those models built during the dark damp days of winter.  Readers will remember my current penchant for profile models, and I have just returned from the local recreation ground with a spring in my step and a bag of no less than five newly trimmed scale jets: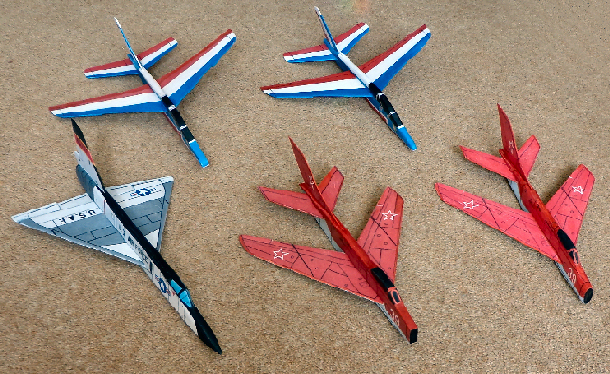 Above:  new profile models for 2014.  All glided well from a strong hand launch, needing only a little nose weight and little adjustment of adjustable rudders (Mig-19 and Alpha Jet) or elevons (F-106).  They now just need motor mounts and a calm day!
For lots of good reasons profile scale models ('PSMs') make a lot of sense for us jet jockeys.  There are a lot of excellent designs, new and old, available at the click of a mouse; they are easy to make, fly well and if you lose one due to a dubious motor it's no big deal.  They are great, too for experimenting with unusual planforms.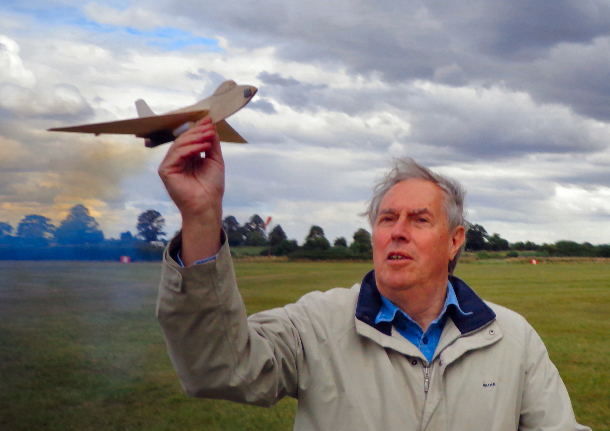 Above:  Roger Smith at Old Warden, September 2013.  The sadly undecorated profile Avro 707 was a lot of fun and flew splendidly with a (side mounted) Rapier L-2HP.
But I did have a problem with profile models in the old days,  though, believing the term 'profile scale' was an oxymoron.  To me they were crude and unsophisticated, even if (to repeat) they were quick to build, light, easy to adapt to a range of thrusts, and, if damaged by errant motors, were easy to repair or replace.  I couldn't, somehow,  accept them as legitimate.
Part of the problem was that in my early rocketeering days I saw, and was attacked by, some very lacklustre models launched by quite prestigious modellers.  I was very unimpressed by their pale wooden bodies and great lumps of Blu-Tac stuck on their noses (the models, not the modellers). 
Fortunately, I was converted by the wonderfully decorated models of Howard Metcalfe: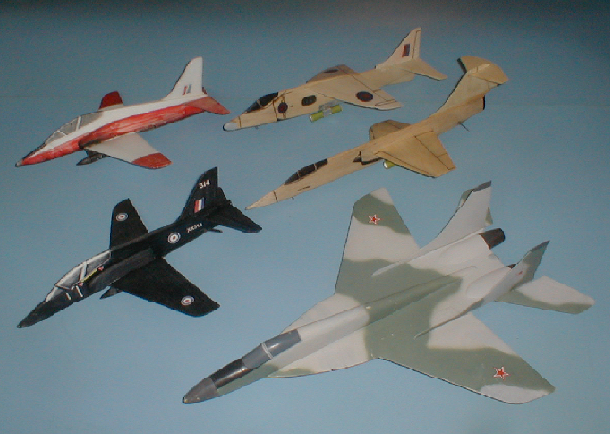 Above:  a selection of Howard's profile models from a few years ago.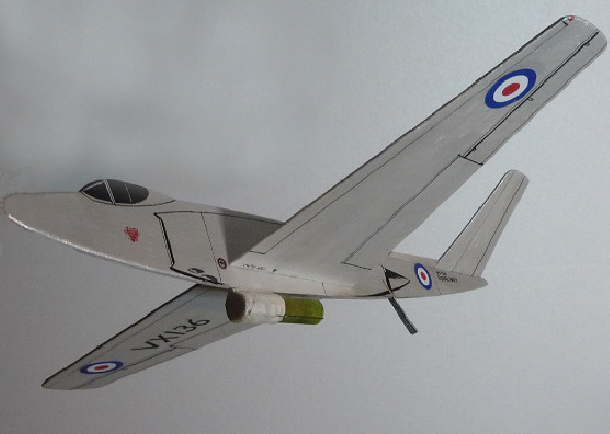 Above: Howard's more recent Supermarine 508.  Note the meticulously painted (sprayed, I believe), finish and the thrust tab.  The butterfly tail is quite unusual.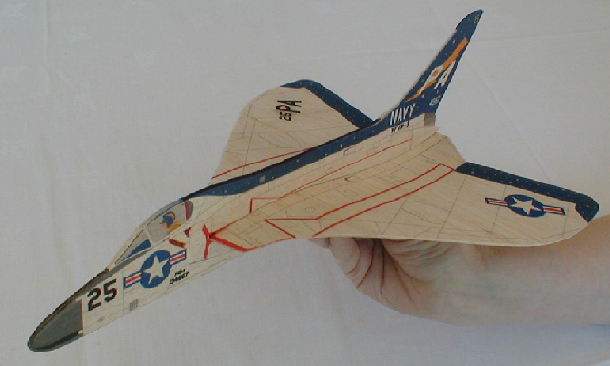 Above:  Another of Howard's more recent models.  This is what Bill Dean's Skyray should look like!  Howard prepared the templates using CAD.  These were then printed on tissue which was then affixed to sheet balsa before assembly. 
Others, too, showed me what PSMs could look like: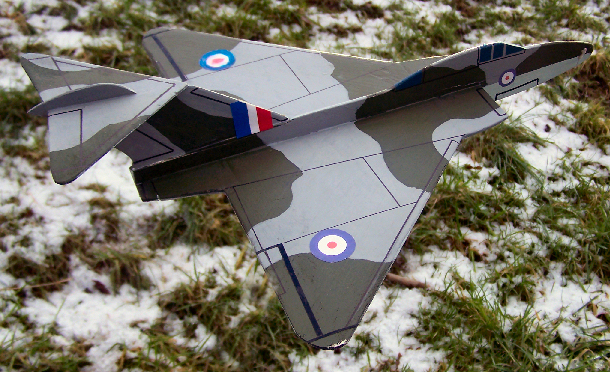 Above: Walter Snowdon's fine Jetex Javelin.  Such beautiful paintwork takes more skill and patience than I can easily muster! 
So it was that I started the 'Campaign for real PSM's' whose members eschew bare wood, will crush, dismember or surreptitiously eliminate any examples of, say,  Bill Dean's Skyray or Hunter that lack national markings and fin flashes.  
The old Veron and Keil Kraft 'ARTF' profile kits like the Sea Hawk came pre-decorated, and looked good on the flying field without too much effort from the builder.  Though they are easy to recreate using computer graphics programs, they appear only to appeal to old guys like me who remember them from the first time round!  This is a pity as they still make an excellent introduction to rocket flying.
George Foster, like many older modellers,  prefers to design his own models.  But, I am pleased to say,  he obviously aggrees with the principles of CRPSM: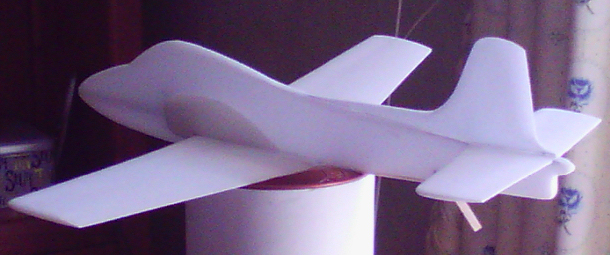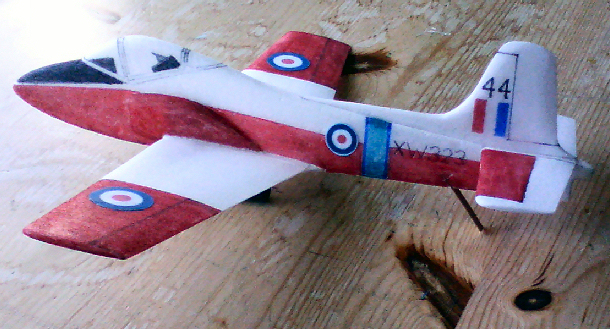 Above: George's Depron Jet Provost before and after decoration with felt tip pens.
But for me, there was a  'problem': finishing the bare wood (or Depron) requires skills with paint (or  felt-tip pens) that I don't find easy.  I lack the patience and artistic acumen to do this well.  
So I prefer the 'printed paper on balsa (or Depron)  methods which have  been all but perfected by Rob Smith: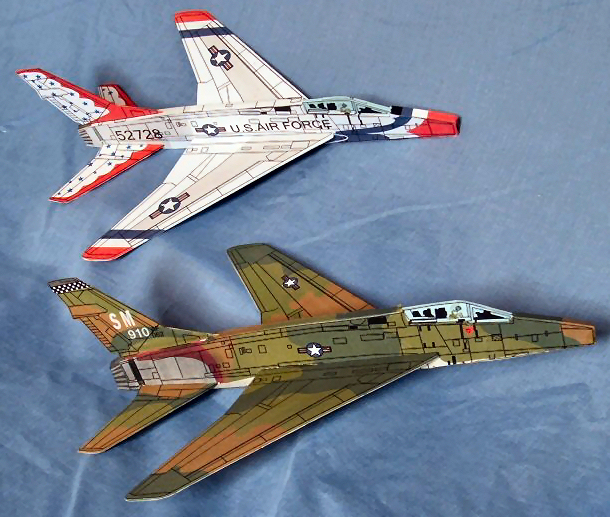 Above: it's easy (and quick) when you know how.  Rob's two Super Sabres.  Take your pick!
This method can be taken as far as you want to go, if one is happy with a square fuselage the templates can be transferred directly to balsa or Depron sheet: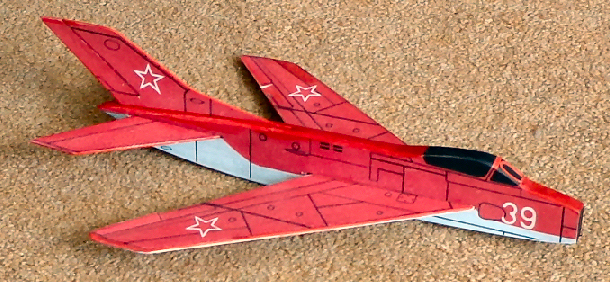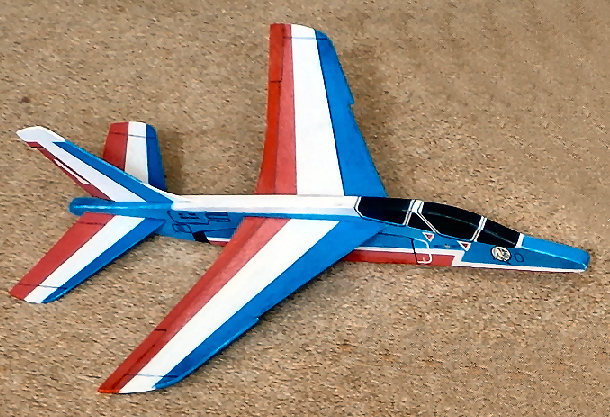 Above: two examples of my profile models 'just off the press'  with square '3D' fuselages.  Here, printed templates are transferred directly to sheet balsa. 
Alternatively, you can complicate matters by going for a rounded fuselage: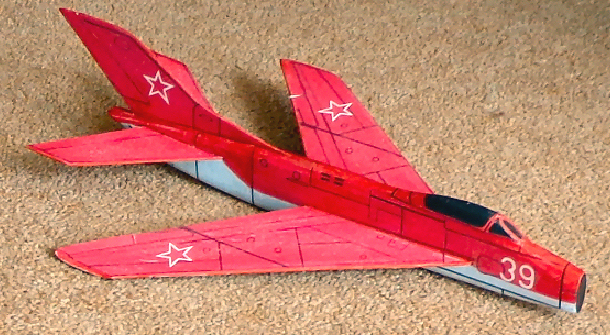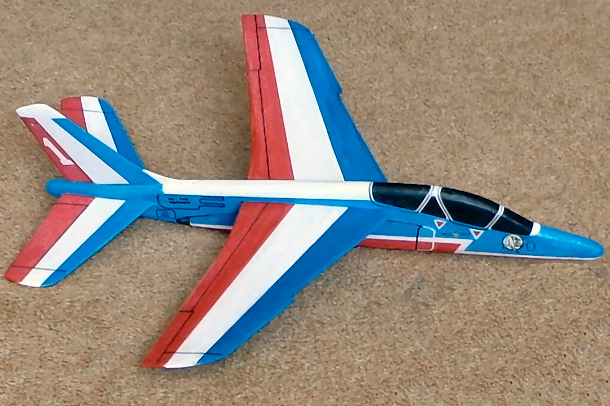 Above: also 'just off the press' - two models with rounded fuselages.  Here, templates are transferred to the balsa surfaces after construction.  Not easy! 
Is rounding the fuselage  worth the effort?  Probably not, even though it saves a little weight.  The  square ones seem to fly equally well, and in the air, who is to notice?  And all the extra complication rather goes against the received wisdom that profile models should be 'quick and easy'.
John Rigby is another member of CRPSM, and uses (I think) printed tissue on his true profile models: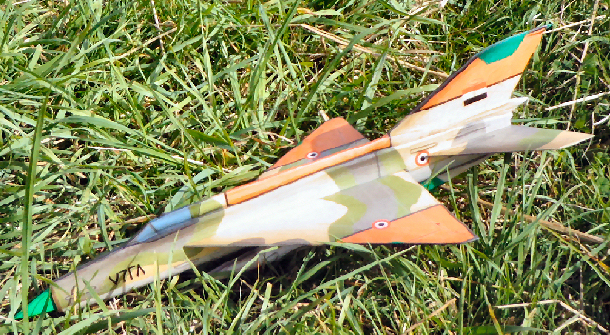 Above: John's very nice MiG 21.  Hadrian Tucker has ponted out that tissue on balsa is not particularly light, and printing directly on balsa would be better.  Yes, but how? 
 Chris Richards, too, believes in properly decorated profile models: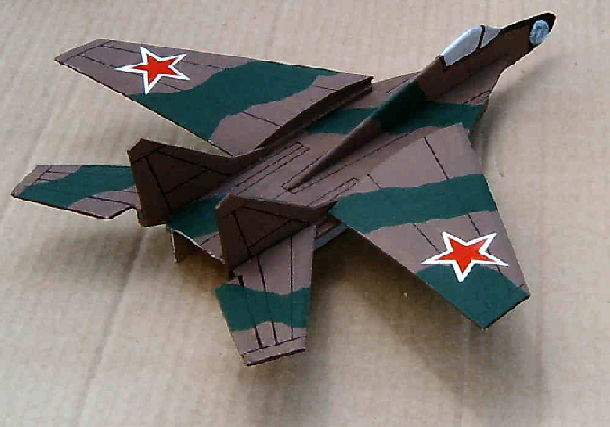 Above: Chris's MiG 29 triumphed at the 2014 Peterboro' Flying Aces.  Built from sheet balsa, templates could be transferred to balsa sheet before building.  But this is more than a simple profile model:  perhaps 'semi profile model' is an apt description?  
Meanwhile, I carry on with my own obsession.  Here is the latest: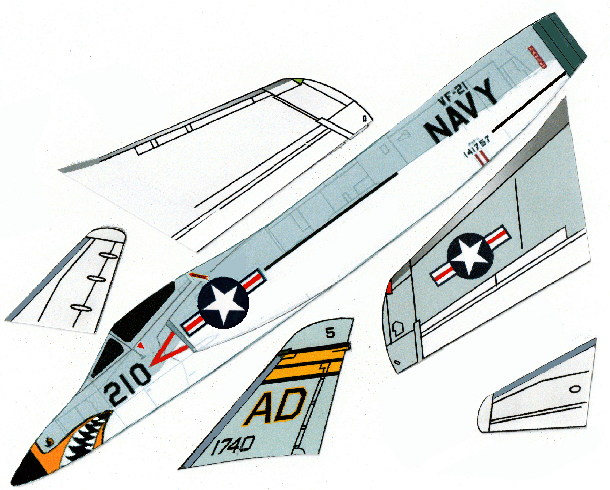 If anybody would like to join the CRPSM, please contact me.  Members could receive a T-shirt and a badge, and a full set of felt tip pens to use on any bare bodied models (I know, I know) they find on the flying field! 
Oh yes: if anyone can suggest an easy ways to transfer printed copies of computer generated templates of models to balsa, or knows of a reasonably priced flat bed printer that can handle 1/16" sheet balsa, please let me know.
EDF for Jetex Flyers?
Ducted fans to power scale jet models have been around since the early 1960's and Veron's kits and Impellers fetch high prices on eBay.  The Fairy Delta 2, especially is still a sought-after plan.  But most the i/c motors of the age were never comfortable at the high speeds ducted fans required, (Phil Smith confessed his FD2 was little more than a 'powered glider') and even though there were a number of successful semi-scale plans and model kits (like the Telasco Skyray) it was a specialist niche  and was never going to be very popular.
Electric motors are much more comfortable at high revs ducted fans require: Stephen Glass showed the way EDF (electric ducted fan) was going to go years ago.  Motors got smaller and more powerful, batteries became lighter, and suddenly, it seemed, kits like Aerographic's 20" span Hunter with a KP fan, controller and LiPo batteries became a viable prospect for the average modeller.  (And I very much include myself in this category).
Expert modellers like Steve Bage were quickly off the mark  and his MiG 17 is a fine of example what could be achieved with the new technology:
 Above: Steve Bage's sophisticated Mig-17 for an internal 32mm KP EDF unit.  Note the paper-lined jet pipe.  Beautifully built, this model also featured 'R/C guidance', and was, alas, lost in a flyaway.  The plan can be supplied on request.
Chris Richards has demonstrated his less ambitious but eminently practical Depron La-17, which has an internal 24 mm fan, to me several times: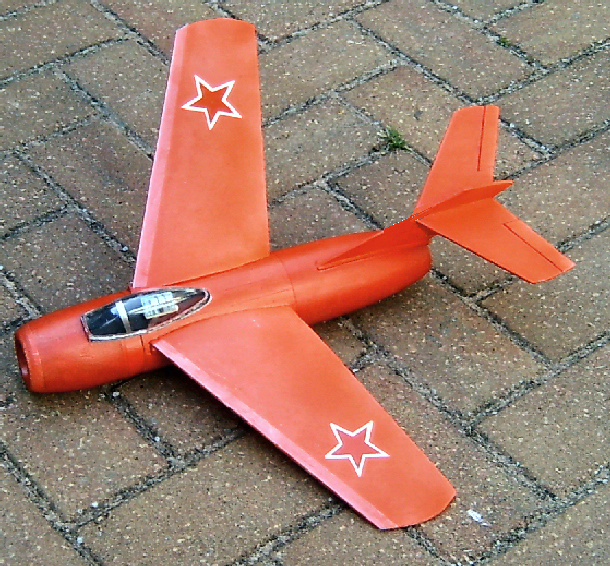 Above: Chris Richard's LA-17, built as a 'proof of concept' for unbelievers like me.  Flies OK in a steady fashion, but has a liking for trees!
A very nice EDF version of the Telasco Skyray was also flying at Old Warden recently (sorry, no photo!). 
But I remained curiously unmoved by these models – yes they flew 'free flight', and pretty well, but they were bigger  than the Keil Kraft and Jetex 'Flying Scale' models of my youth and somehow didn't 'hit the spot'.
What I craved was a little EDF the size of a Jetex 50 that would fit in the trough of an old Jetex model.   The good news is that the redoubtable Derek Knight in the UK  has developed such a unit: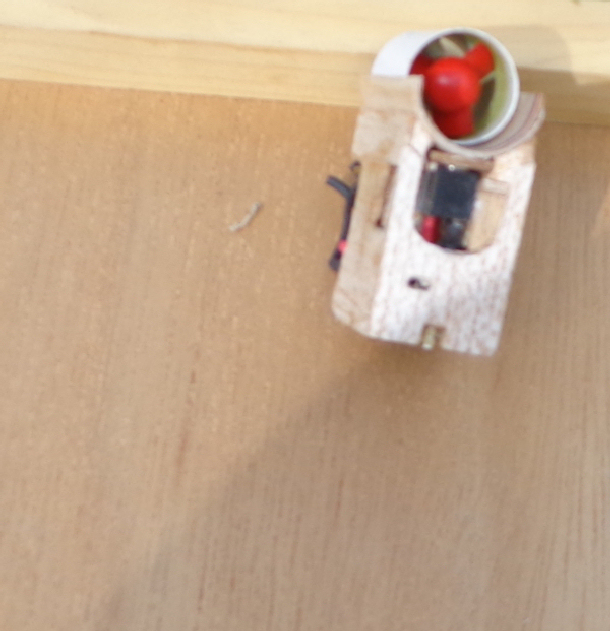 Above: Derek's prototype of his miniature EDF unit.  The package is 'all in one' containing motor, fan, controller, timer and batteries.
The complete package will cost perhaps as much as four packs of Rapier L-2's.   The bad news is that the package – motor, fan, timer, and speed controller is not due for release for some months.  But it will be worth the wait!
Derek showed off his new EDF 'power train' at Old Warden recently, and made several nice sorties with his Skyleada Mystère: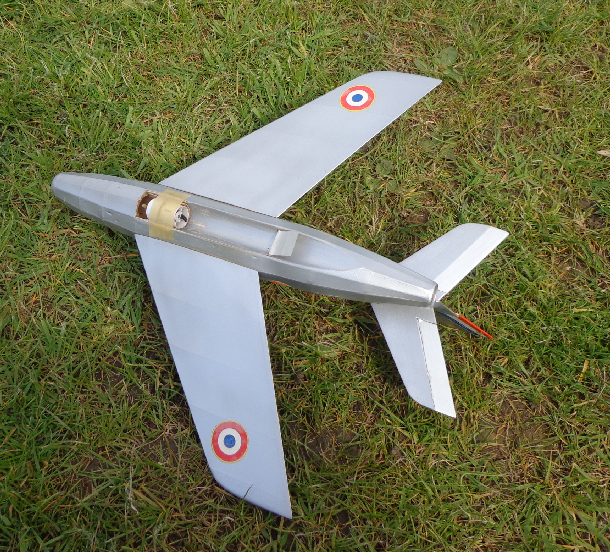 Above:  Derek's Mystere is built exactly as the Skyleada kit of sixty years ago.  It's a bit heavier, but the  wing area can handle this.  The EDF unit fits in the Jetex trough.  Note the thrust tab.  The EDF makes an interesting jet like whine in the sky.
The flights, short as they were, were  impressive: this was a ducted fan model I could (at last!) be interested in.  It is certainly the 'right size' for me, and the fact the complete 'power train' will just slot in an established model will mean the transition from rocket power to fan power should be relatively painless.
Now the model(about 65 grams) is (at present) about twice the weight of a Jetex model (say 30-35 grams) but the thrust of the fan (up to 40 grams) is more than sufficient to give a nice climb out and a quite fast circling flight at about 30 feet.
OK, where's the brisk acceleration, the smoke, the excitement and unpredictability of Jetex or Rapier?
But the very lack of a chaotic flight pattern makes EDF less traumatic, and will suit some temperaments.  It will also make some ambitious scale projects – a Bristol 188 or a French Trident, models one would hesitate to put a Rapier of uncertain specification in – more attractive.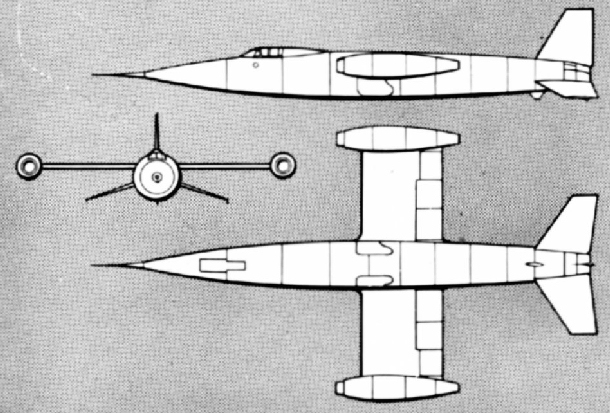 Above:  the interesting Trident - two small jets on the wing tips and a rocket in the fuselage.EDF enables ambitious jet models to be contemplated without fear of an uncertain power supply.
Now here's an exciting possibilty ,  A Trident with two 18 mm ducted fans on the wing tips could be launched into the sky with confidence.  At height a Rapier L-2 in the fuselage could be lit …. Just a thought!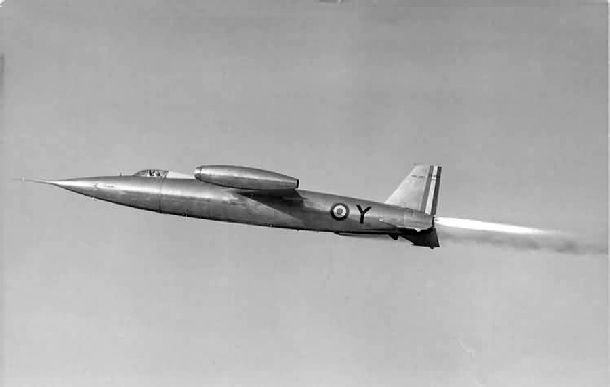 To conclude: If Derek's plans come to fruition, we should soon  have an alternative means of flying those old evocative Keil Kraft, Veron and Skyleada Jetex models.  But, as I said, Derek's package is still under development, so please be patient.
Am I a heretic, but  could  the 'Jetex future' really be micro (or 'nano') EDF?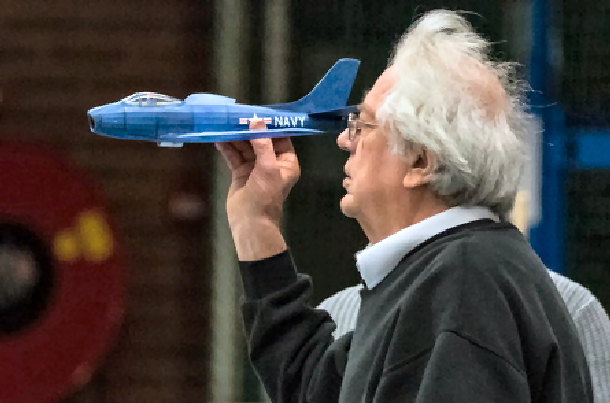 Above: Derek with his Keil Kraft Sabre (coloured as a 'Fury', very nice) built without modification.  Note the tiny EDF unit in the trough where the Jetex 50 went.  It is a bit heavier than one with a Jetex or Rapier, but, by adding another battery, you can up the watts and have a bit more thrust to play with.
Rapier Motors 2014 - a Users' Guide
I have now tested some of the latest L-2 and L-1 motors collected from Dr Zigmund by our very own 'Nighthawk'. 
Dr Z's  nominal thrust ratings are:
70Mn for L1
130Mn for L2
150Mn for L2X
200+Mn for L2HP
We have, as yet, no examples of the 2014 'L-2 HP' or L-3 motors.  
In actual tests, and these were in duplicate or triplicate to be sure I wasn't measuring a 'one off' rogue motor, this is what I found for the motors we do have in stock: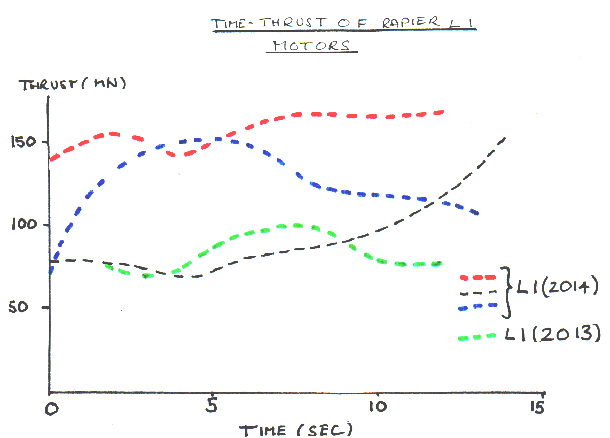 Above: note the 2013 L-1 motor tested with the others.  Thrust is a bit down from when I tested these in 2013, but still very usable.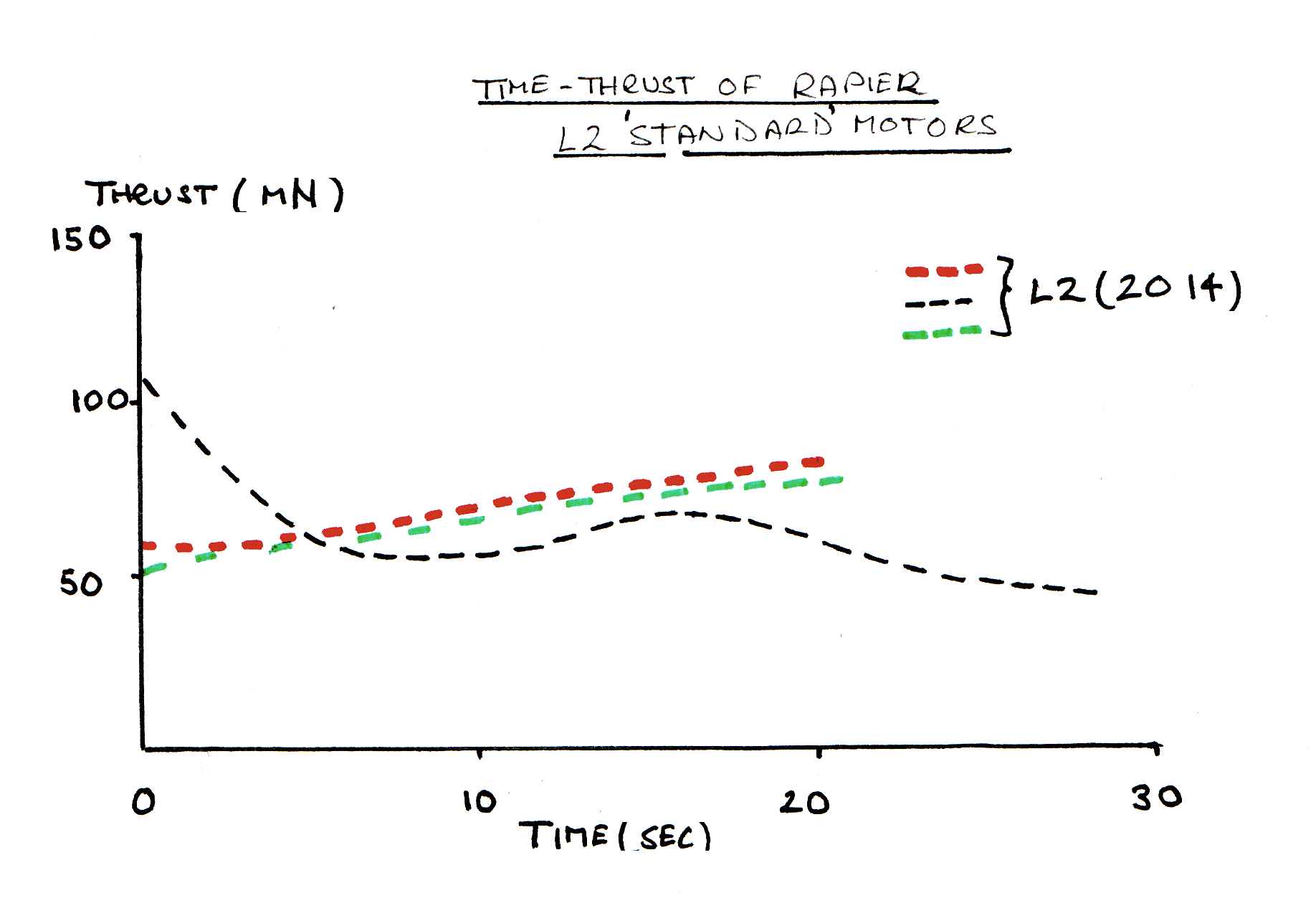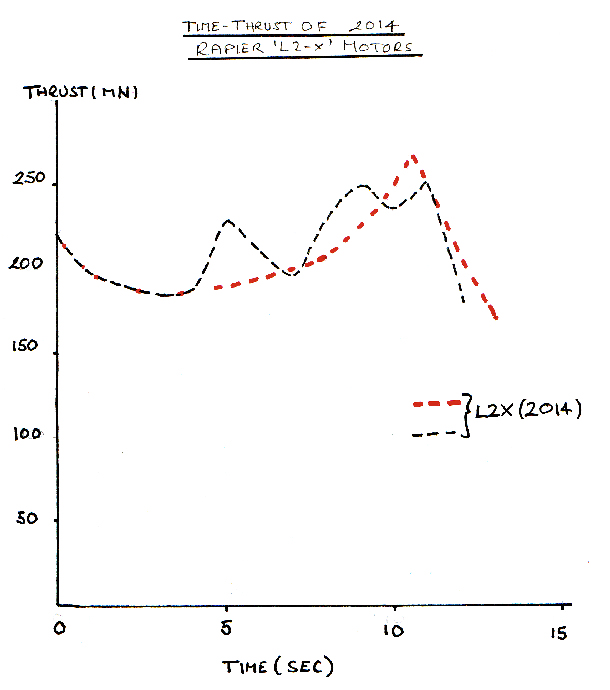 The first thing thing to be said is that these thrusts bear little relation to dr Z's 'nominal'  ratings, and I really don't know how Dr Z arrives at his figures.  But mine are what I found, and I have the videos of the thrust rig to prove it!
However, the good news is that the output of the 2014 L-1 motors is healthy, a bit higher than those from 2013, but great for  profile scale models of 8-10" span.
The 'standard' L-2 motors are disappointing, the thrust is low, and though the run time is gratifying, the motor cases did come close to 'burning through':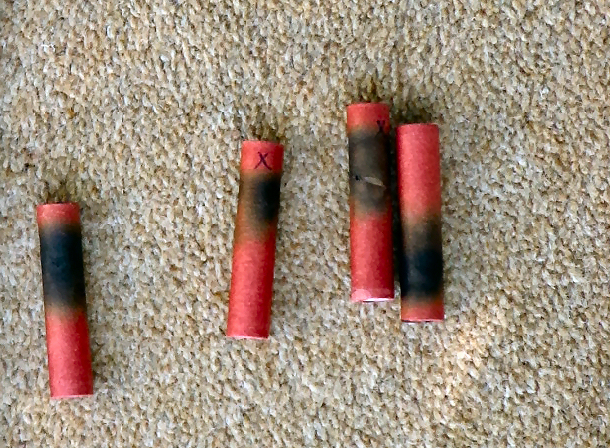 They are of too low a thrust for the old 'Flying Scale' models and though suitable for profile models, I did find them difficult to light.  They needed extensive 'boring out' with a 1mm reamer and the addition of 'fairy dust' (ground up match heads) to get going.  I would advise these are used with caution.  In the right (light!) model the long burn time could give a splendid flight and a long walk!
I hope that when Dr Z visits in July he can bring some standard L-2's of a more useful specification.
The good news is that the 2014 'L-2X' motors are quite close to what I found for the 2013 examples: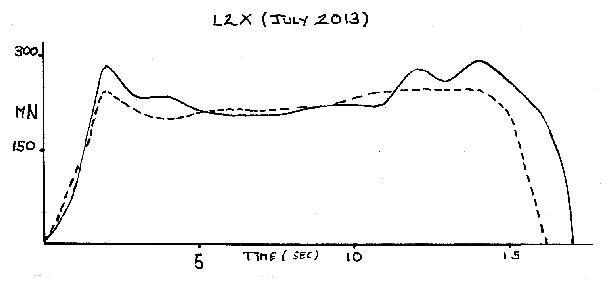 Above:  L-2 X motors tested in 2013.  This graph is included for comparison.  Ace flyers like Mike Suart found them very useful, and my larger F-100 Super Sabre liked these motors a lot!
Note the  shorter, though still acceptable, burn time of the 2014 motors.  The 2013 L-2X  motors worked well in built up models, and  larger profile ans semi profile models (like my F-100) and I hope these 2014 motors will be the same.
The less than good news is that stocks of these 2014 L-2 X's are limited - so order now.  
For those who want to fly Rapiers this year, and are starting out - my advice would be to buy some L-1's (of which I have good stocks ) and put it them in a (colourful) profile model (see the Jetex.org store!).
I hope  talk to Dr Z in July  so we can get some good L-2 motors of 120-130 mN, but until then we do have to, as in years gone by, work with what we've got!
As an 'addendum' to the above, here are some photos taken during the actual tests, just to prove I'm not making any of  this up!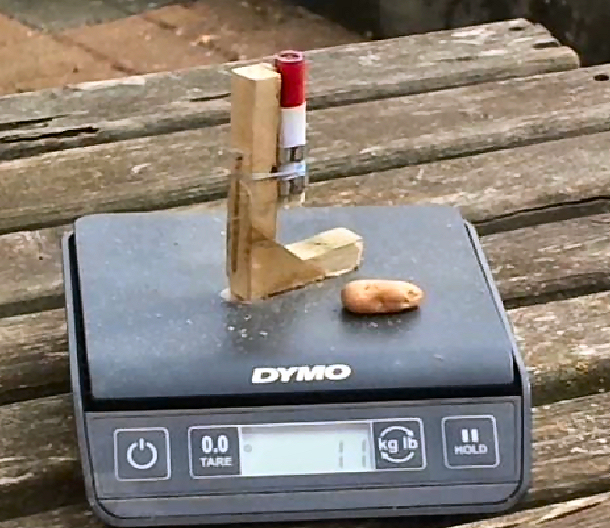 Above: a standard L-2 in the middle its run.  Note the reading hovers on '11 grams'.  The weight of the motor at this point can be calculated to be about 3-4 grams.  The exhaust is barely visible.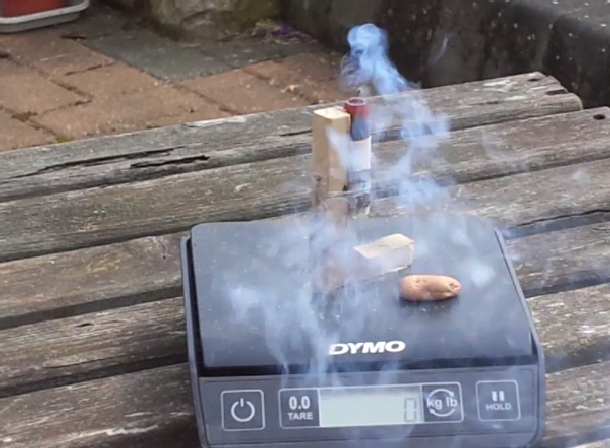 Above: a standard L-2 at  the end of its run.  Note the reading, seen through the smoke, is now '0 grams'.
By subtracting the weight of the motor at each time point (the motor looses about 5-7 grams during the power run ) it ca readily be calculated that the thrust of these standard L-2 motors is, at best, below 100 mN.  Note the charred motor case.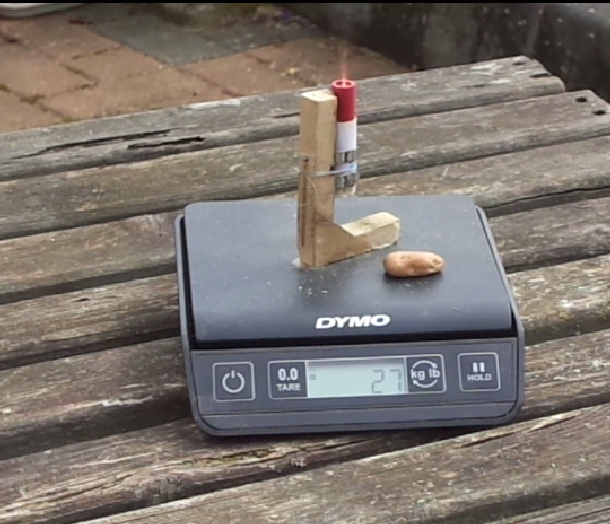 Above: an L-2 at mid run.  Note the reading hovers on '27 grams'  If the motor at this point weighs about 4 or do  grams it means the (static) thrust is over 200 mn.  
This is a useful amount of grunt, but not the 150 mN' specified.  Note the rather impressive glowing exhaust which contrasts with the more feeble exhaust of the 'standard' L-2.  The L-2 X was a lot louder, too!
I must emphasise that these simple static thrusts  are useful in the comparing of motors, and the thrust in a model in high speed flight will be different.
Jetex and Rapier Flying in 2015 - a new beginning.
Those who have read my latest postings on the forum will realise that I am now, with a refurbished set of heart valves working as about as well as a mint condition (though antique) Jetex 50 or, perhaps, a new Rapier L-2X, ready to give Jetex.org the attention it deserves.
Folk that I meet on the flying field are appreciative of the website. This nice - it is there for the free flight rocket flyer - and it is my hope to add to the site and make it an even better resource for those, young and old, who want to fill the sky with smoke trails, and not the thrumming of the latest ARTF drone.
I have not been altogether idle during my enforced months of convalescence, and I have put together several new designs, including this 'semi-profile' T-38 Talon: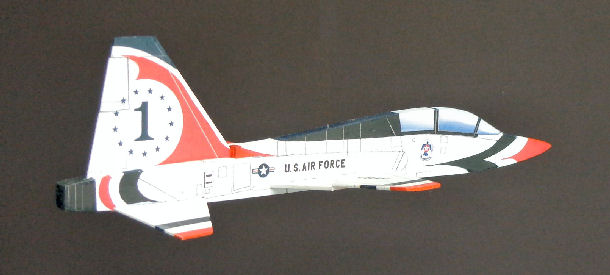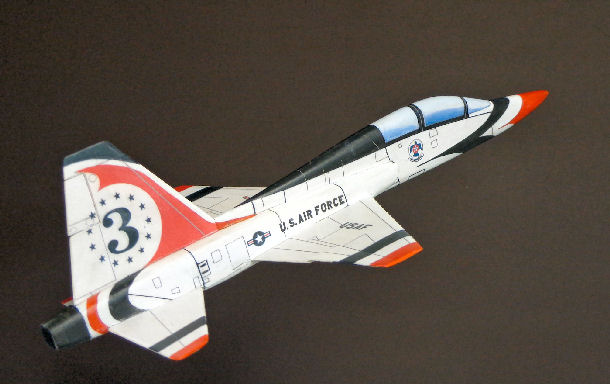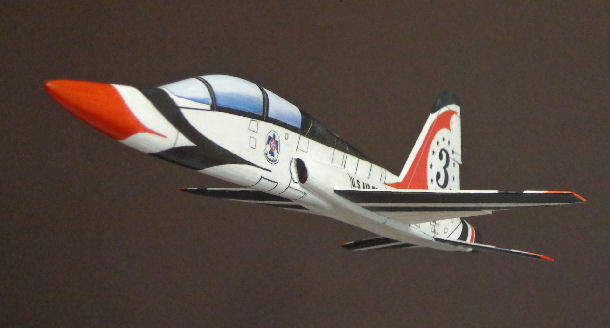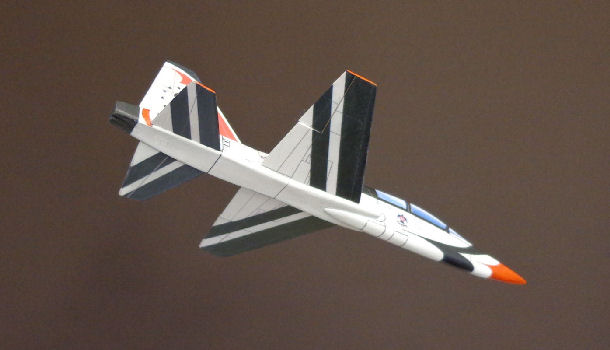 Above: My latest models were designed, if that is the right word, by modifying 3-views retrieved from the Internet. After some manipulation of the flying surfaces, templates were then refined and decorated using 'Paintshop pro'.
The printed templates were then transferred to (generally) 1/16" light balsa.
I made two versions of the T-38 in the livery of the USAF aerobatic team (the 'Thunderbirds'): number '1' to check everything went together OK, (note the square fuselage) and no '3', where the fuselage is 'fleshed out' and a lot more rounded.
Both await their 'rocket pods' (for Rapier L-2) and trimming.
Well-known rocket-flyer and 'prime pilot' Andy Blackwell has recently 'beta tested' this design for me: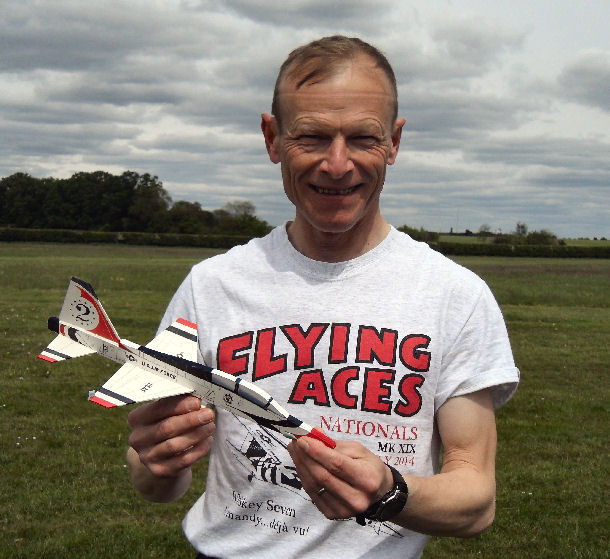 Above: Andy was quicker finishing his T-38 Thunderbird (no 2') than I was with numbers 1 or 3! Here he is after its first very successful and spectacular flight.
Next, something for the Francophiles (you know who you are!):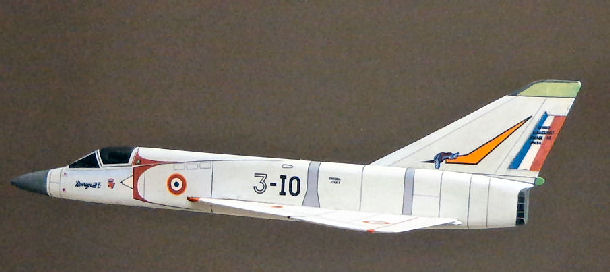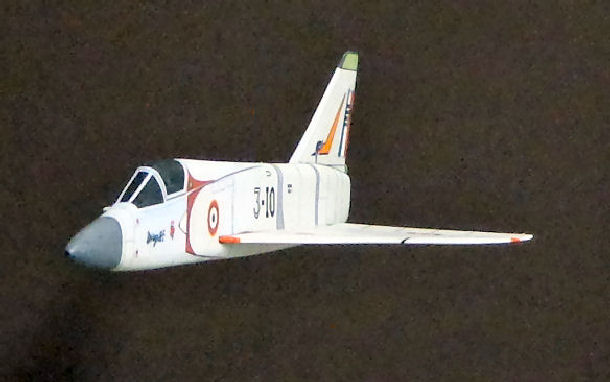 Above: Following the success of my semi-profile F-106 Delta Dart, I couldn't resist trying a Mirage III. If it flies as well as the Delta Dart I will be well pleased. This is 'printed paper over balsa', which allows for a more rounded fuselage.
Back to the US: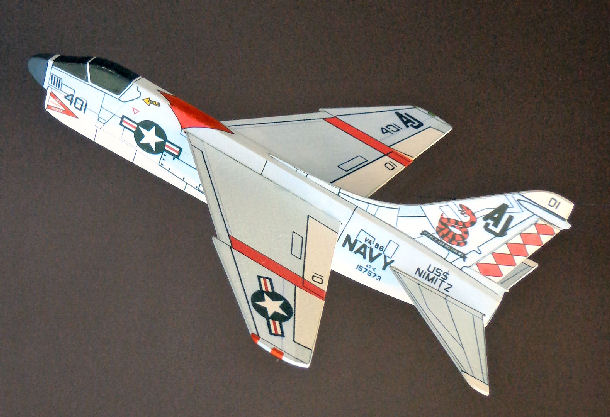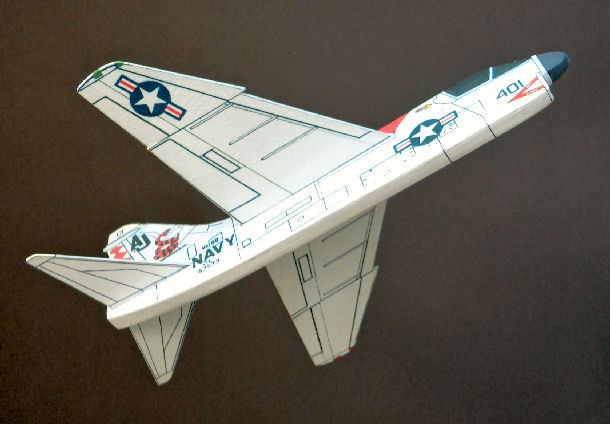 Above: The Corsair II has all the proportions of a very stable model - large flying surfaces and plenty of fuselage side area.
And now for something completely different: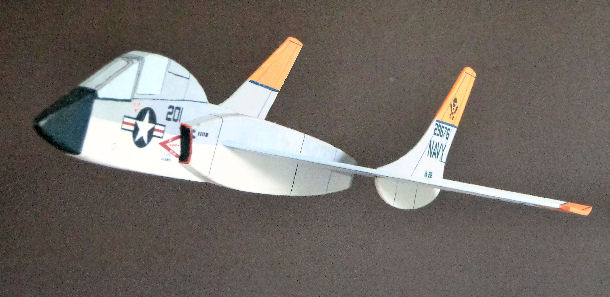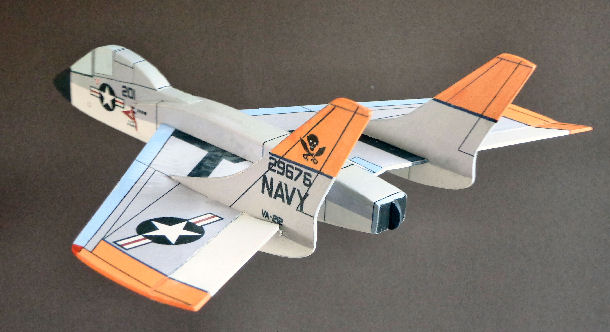 Above: The Cutlass was let down in real life by its poor engines. In miniature it presents a challenge, but I'm hoping that my version, powered by a Rapier L-2X, will show what the original could have done for the US Navy.
The Corsair II and Cutlass are printed 'Dark T-shirt' heat activated transfers over balsa. This allows for a colourful model - note the balsa doesn't show through, but fuselsges are best left with square edges.
Designing and building all (balsa) sheet models was therapeutic, but by this time I was fed up with staring at the computer screen, and hankered after something' stick and tissue' that needed a little more building: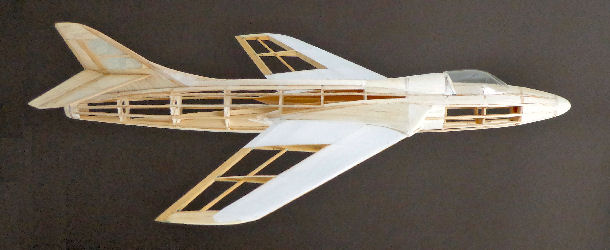 Above: My original Skyleada Hawker Hunter was wrecked by a Rapier 'blow out' in 2008. Here it is brought back from the dead and ready for covering. Note the attention paid to the jet pipe, which looked a little 'naff' on my first one.
Here it is again, canopy fitted and ready for airbrushing - not my favourite procedure: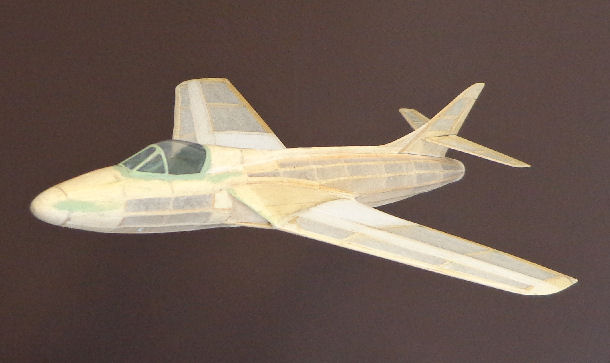 Above: It is covered in white 'Starspan': green Modelspan would have been better, as I hope to finish it in the 'eu de nil' ('duck egg green') of WB188, the first prototype.
My building skills don't approach those of ubermodellers Mike Stuart, Peter Smart, Richard Crossley et al, but it's the best I can do.
I also cannot build light: at the moment the Hunter a little over 26g without paint, motor mount or nose weight. So think '32-34g' ready to fly. It will probably need all of the 160 mN of thrust an L-2 X can provide. We shall see.
Howard Metcalfe, too, has been taking a break from profile models: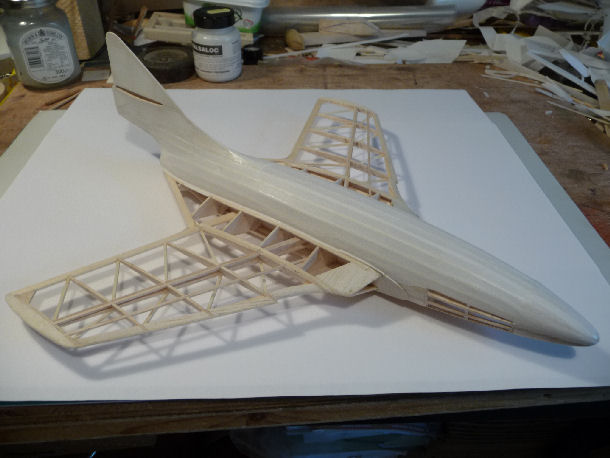 Above: Howard's Cougar. This is Andy Ray's design. I do hope it will be finished before the end of the 2015 Flying Season.
If any reader is interested in any of the new profile models, I can supply templates that you can print out and attach to balsa, for example: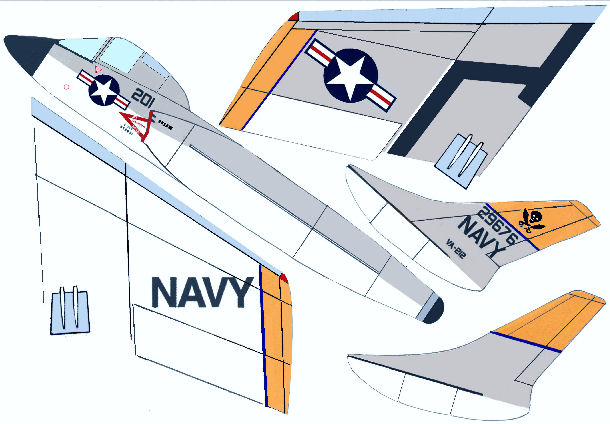 Or a set of finished balsa parts. These, though, will cost you £17.50 including postage.
So there you have it: I'm all set for the 2015 season. I would love to hear from you about your own models, especially 'work in progress'. Please email me with a picture or two and some words.
I also hope to meet you on the flying field - my next meeting is Middle Wallop in mid June.