EDF for Jetex Flyers?
Ducted fans to power scale jet models have been around since the early 1960's and Veron's kits and Impellers fetch high prices on eBay.  The Fairy Delta 2, especially is still a sought-after plan.  But most the i/c motors of the age were never comfortable at the high speeds ducted fans required, (Phil Smith confessed his FD2 was little more than a 'powered glider') and even though there were a number of successful semi-scale plans and model kits (like the Telasco Skyray) it was a specialist niche  and was never going to be very popular.
Electric motors are much more comfortable at high revs ducted fans require: Stephen Glass showed the way EDF (electric ducted fan) was going to go years ago.  Motors got smaller and more powerful, batteries became lighter, and suddenly, it seemed, kits like Aerographic's 20" span Hunter with a KP fan, controller and LiPo batteries became a viable prospect for the average modeller.  (And I very much include myself in this category).
Expert modellers like Steve Bage were quickly off the mark  and his MiG 17 is a fine of example what could be achieved with the new technology:
 Above: Steve Bage's sophisticated Mig-17 for an internal 32mm KP EDF unit.  Note the paper-lined jet pipe.  Beautifully built, this model also featured 'R/C guidance', and was, alas, lost in a flyaway.  The plan can be supplied on request.
Chris Richards has demonstrated his less ambitious but eminently practical Depron La-17, which has an internal 24 mm fan, to me several times: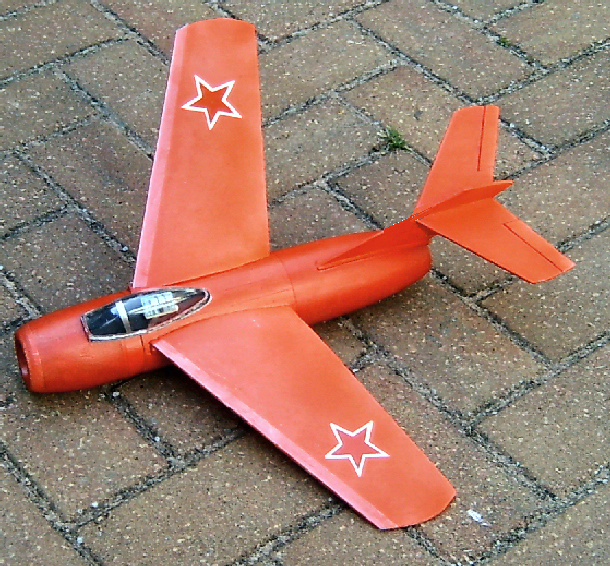 Above: Chris Richard's LA-17, built as a 'proof of concept' for unbelievers like me.  Flies OK in a steady fashion, but has a liking for trees!
A very nice EDF version of the Telasco Skyray was also flying at Old Warden recently (sorry, no photo!). 
But I remained curiously unmoved by these models – yes they flew 'free flight', and pretty well, but they were bigger  than the Keil Kraft and Jetex 'Flying Scale' models of my youth and somehow didn't 'hit the spot'.
What I craved was a little EDF the size of a Jetex 50 that would fit in the trough of an old Jetex model.   The good news is that the redoubtable Derek Knight in the UK  has developed such a unit: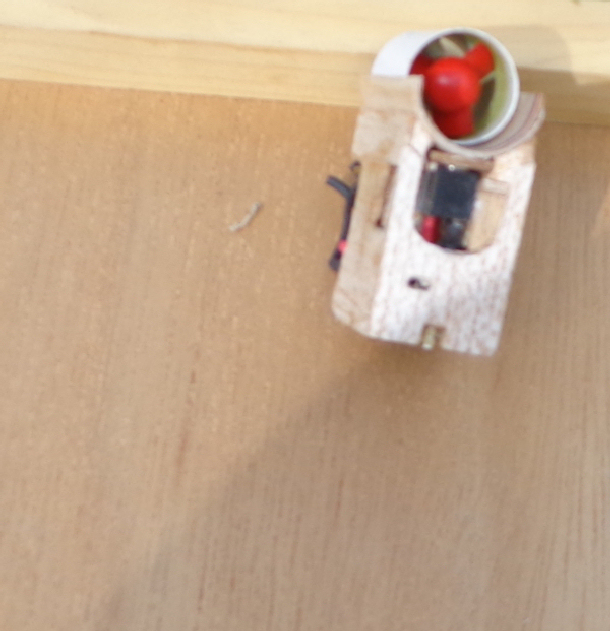 Above: Derek's prototype of his miniature EDF unit.  The package is 'all in one' containing motor, fan, controller, timer and batteries.
The complete package will cost perhaps as much as four packs of Rapier L-2's.   The bad news is that the package – motor, fan, timer, and speed controller is not due for release for some months.  But it will be worth the wait!
Derek showed off his new EDF 'power train' at Old Warden recently, and made several nice sorties with his Skyleada Mystère: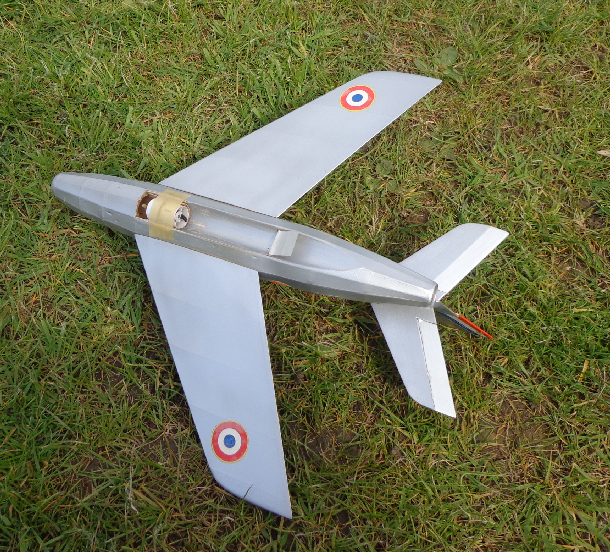 Above:  Derek's Mystere is built exactly as the Skyleada kit of sixty years ago.  It's a bit heavier, but the  wing area can handle this.  The EDF unit fits in the Jetex trough.  Note the thrust tab.  The EDF makes an interesting jet like whine in the sky.
The flights, short as they were, were  impressive: this was a ducted fan model I could (at last!) be interested in.  It is certainly the 'right size' for me, and the fact the complete 'power train' will just slot in an established model will mean the transition from rocket power to fan power should be relatively painless.
Now the model(about 65 grams) is (at present) about twice the weight of a Jetex model (say 30-35 grams) but the thrust of the fan (up to 40 grams) is more than sufficient to give a nice climb out and a quite fast circling flight at about 30 feet.
OK, where's the brisk acceleration, the smoke, the excitement and unpredictability of Jetex or Rapier?
But the very lack of a chaotic flight pattern makes EDF less traumatic, and will suit some temperaments.  It will also make some ambitious scale projects – a Bristol 188 or a French Trident, models one would hesitate to put a Rapier of uncertain specification in – more attractive.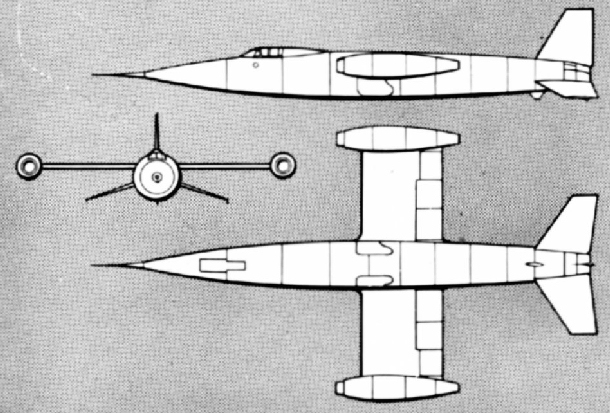 Above:  the interesting Trident - two small jets on the wing tips and a rocket in the fuselage.EDF enables ambitious jet models to be contemplated without fear of an uncertain power supply.
Now here's an exciting possibilty ,  A Trident with two 18 mm ducted fans on the wing tips could be launched into the sky with confidence.  At height a Rapier L-2 in the fuselage could be lit …. Just a thought!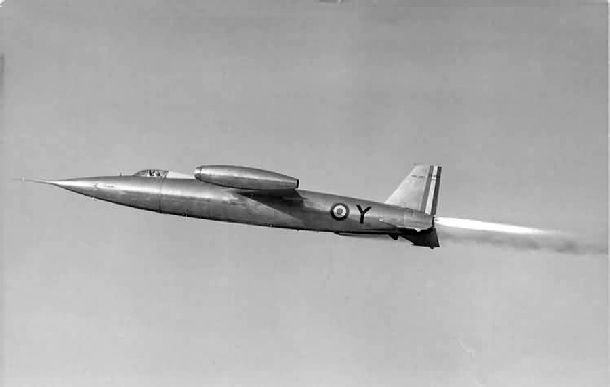 To conclude: If Derek's plans come to fruition, we should soon  have an alternative means of flying those old evocative Keil Kraft, Veron and Skyleada Jetex models.  But, as I said, Derek's package is still under development, so please be patient.
Am I a heretic, but  could  the 'Jetex future' really be micro (or 'nano') EDF?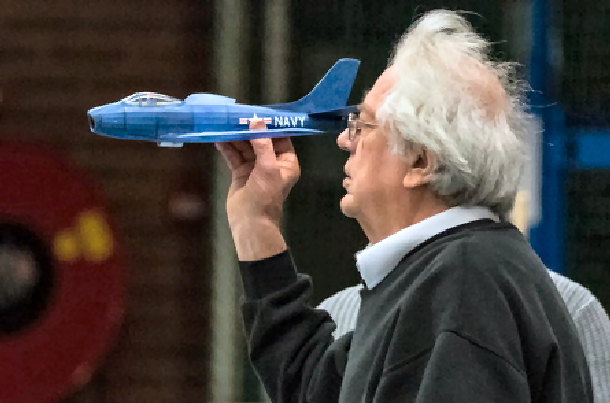 Above: Derek with his Keil Kraft Sabre (coloured as a 'Fury', very nice) built without modification.  Note the tiny EDF unit in the trough where the Jetex 50 went.  It is a bit heavier than one with a Jetex or Rapier, but, by adding another battery, you can up the watts and have a bit more thrust to play with.
Jetex and Rapier Flying in 2015 - a new beginning.
Those who have read my latest postings on the forum will realise that I am now, with a refurbished set of heart valves working as about as well as a mint condition (though antique) Jetex 50 or, perhaps, a new Rapier L-2X, ready to give Jetex.org the attention it deserves.
Folk that I meet on the flying field are appreciative of the website. This nice - it is there for the free flight rocket flyer - and it is my hope to add to the site and make it an even better resource for those, young and old, who want to fill the sky with smoke trails, and not the thrumming of the latest ARTF drone.
I have not been altogether idle during my enforced months of convalescence, and I have put together several new designs, including this 'semi-profile' T-38 Talon: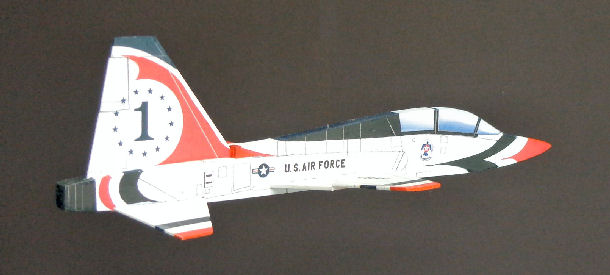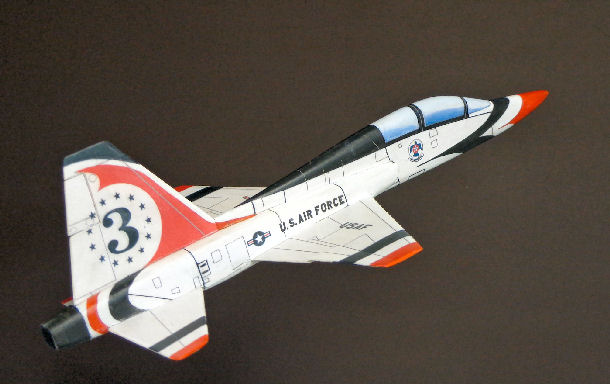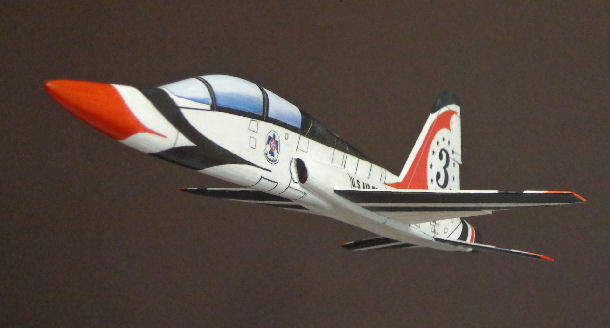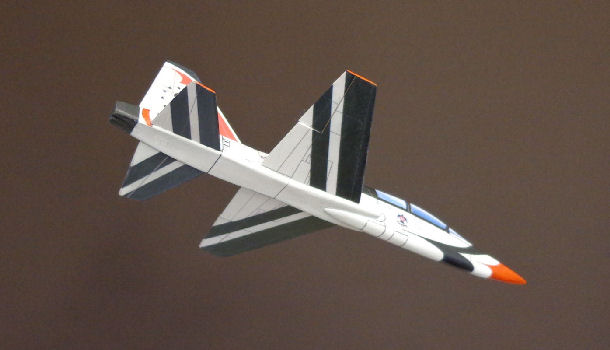 Above: My latest models were designed, if that is the right word, by modifying 3-views retrieved from the Internet. After some manipulation of the flying surfaces, templates were then refined and decorated using 'Paintshop pro'.
The printed templates were then transferred to (generally) 1/16" light balsa.
I made two versions of the T-38 in the livery of the USAF aerobatic team (the 'Thunderbirds'): number '1' to check everything went together OK, (note the square fuselage) and no '3', where the fuselage is 'fleshed out' and a lot more rounded.
Both await their 'rocket pods' (for Rapier L-2) and trimming.
Well-known rocket-flyer and 'prime pilot' Andy Blackwell has recently 'beta tested' this design for me: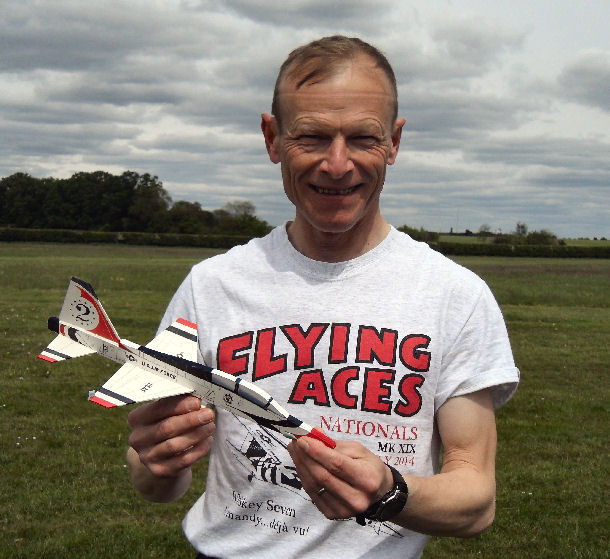 Above: Andy was quicker finishing his T-38 Thunderbird (no 2') than I was with numbers 1 or 3! Here he is after its first very successful and spectacular flight.
Next, something for the Francophiles (you know who you are!):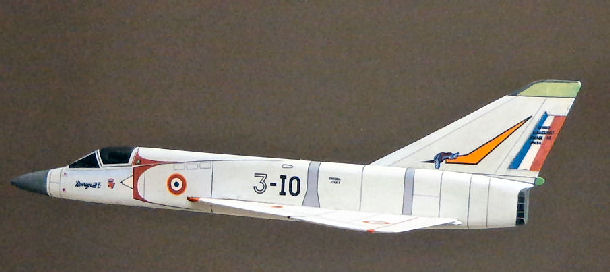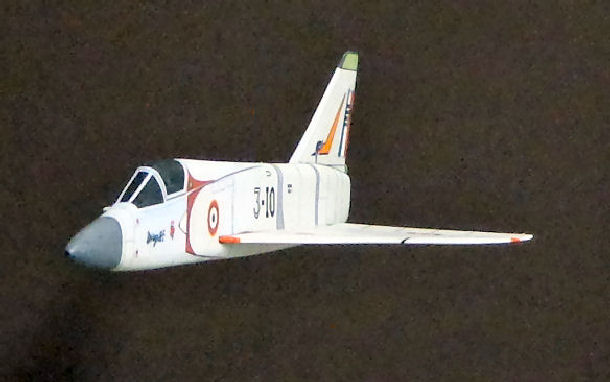 Above: Following the success of my semi-profile F-106 Delta Dart, I couldn't resist trying a Mirage III. If it flies as well as the Delta Dart I will be well pleased. This is 'printed paper over balsa', which allows for a more rounded fuselage.
Back to the US: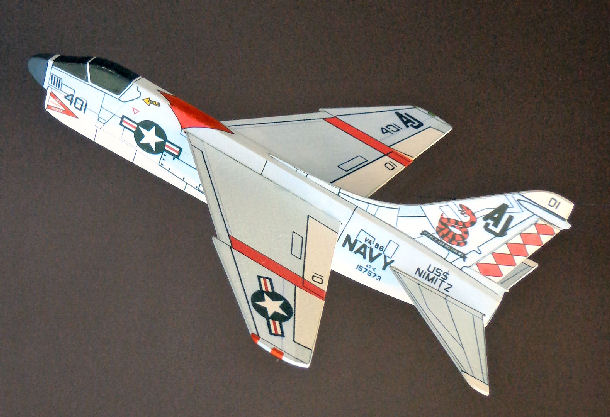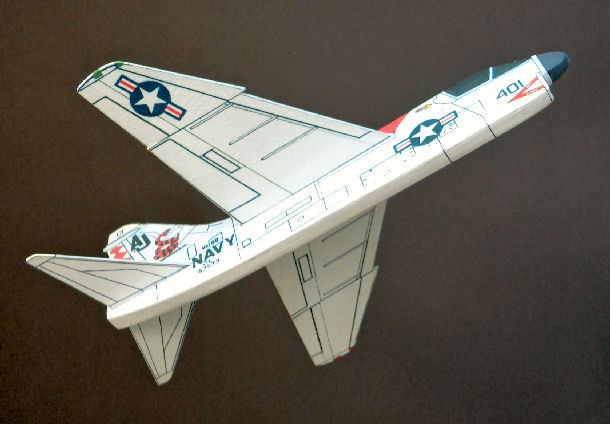 Above: The Corsair II has all the proportions of a very stable model - large flying surfaces and plenty of fuselage side area.
And now for something completely different: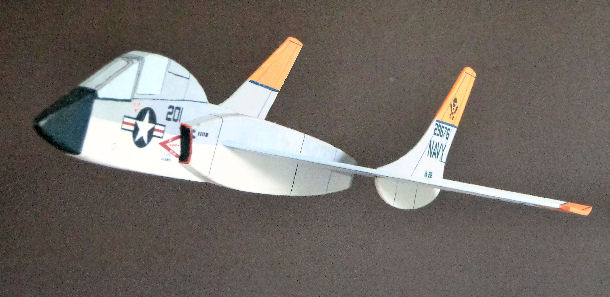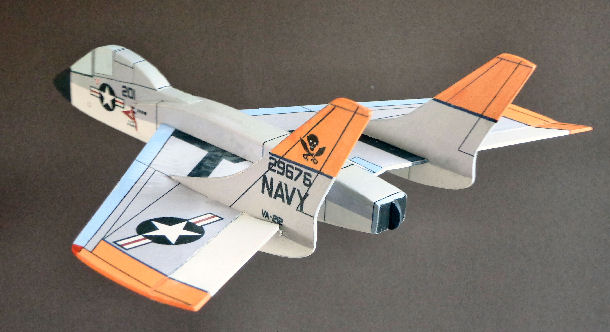 Above: The Cutlass was let down in real life by its poor engines. In miniature it presents a challenge, but I'm hoping that my version, powered by a Rapier L-2X, will show what the original could have done for the US Navy.
The Corsair II and Cutlass are printed 'Dark T-shirt' heat activated transfers over balsa. This allows for a colourful model - note the balsa doesn't show through, but fuselsges are best left with square edges.
Designing and building all (balsa) sheet models was therapeutic, but by this time I was fed up with staring at the computer screen, and hankered after something' stick and tissue' that needed a little more building: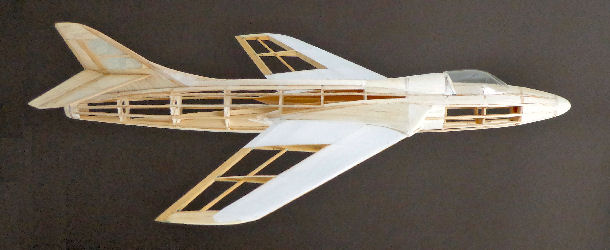 Above: My original Skyleada Hawker Hunter was wrecked by a Rapier 'blow out' in 2008. Here it is brought back from the dead and ready for covering. Note the attention paid to the jet pipe, which looked a little 'naff' on my first one.
Here it is again, canopy fitted and ready for airbrushing - not my favourite procedure: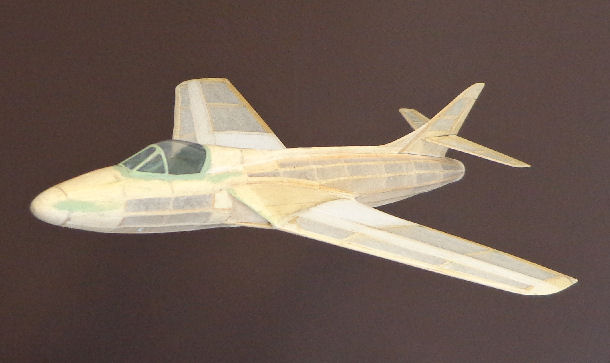 Above: It is covered in white 'Starspan': green Modelspan would have been better, as I hope to finish it in the 'eu de nil' ('duck egg green') of WB188, the first prototype.
My building skills don't approach those of ubermodellers Mike Stuart, Peter Smart, Richard Crossley et al, but it's the best I can do.
I also cannot build light: at the moment the Hunter a little over 26g without paint, motor mount or nose weight. So think '32-34g' ready to fly. It will probably need all of the 160 mN of thrust an L-2 X can provide. We shall see.
Howard Metcalfe, too, has been taking a break from profile models: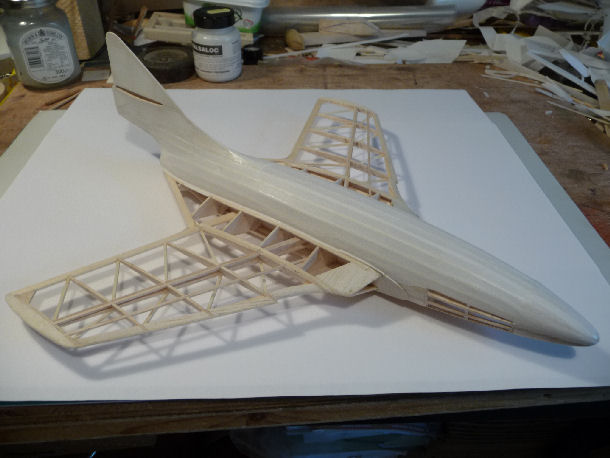 Above: Howard's Cougar. This is Andy Ray's design. I do hope it will be finished before the end of the 2015 Flying Season.
If any reader is interested in any of the new profile models, I can supply templates that you can print out and attach to balsa, for example: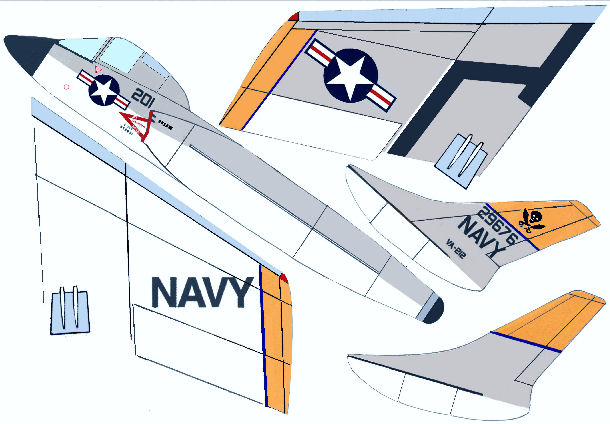 Or a set of finished balsa parts. These, though, will cost you £17.50 including postage.
So there you have it: I'm all set for the 2015 season. I would love to hear from you about your own models, especially 'work in progress'. Please email me with a picture or two and some words.
I also hope to meet you on the flying field - my next meeting is Middle Wallop in mid June.
The Jetex Dan Dare Spaceship
Were there any two names more evocative than 'Dan Dare' and Jetex' for the technically-minded 1950's schoolboy?  I can't think of any. 
Peter Cock of Wilmot Mansour (Jetex before it was taken over by Sebel)  designed this shapely model in (I think)1953/54.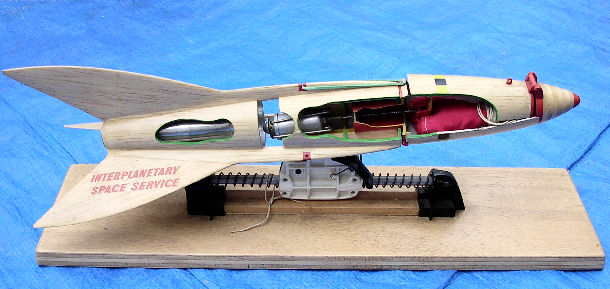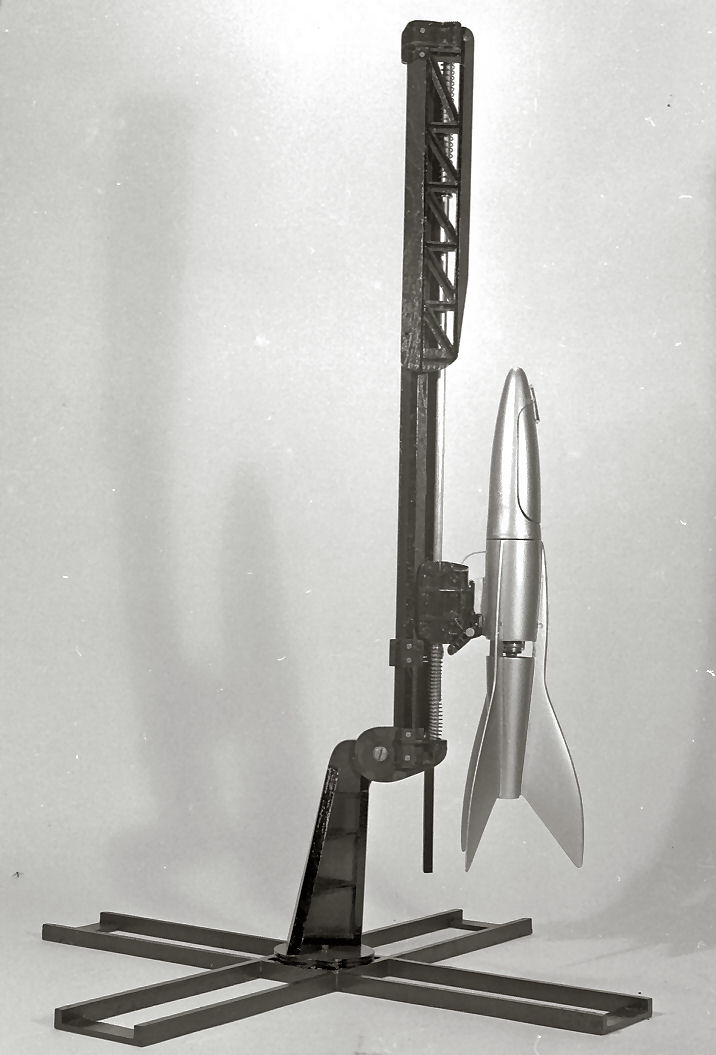 Above: Jetex Space ship on display, and on its fearsome spring-loaded launch pad.  (Both photos from Mike Ingram's archive).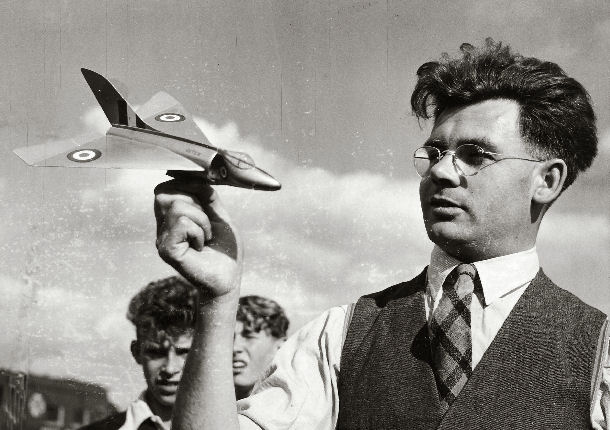 Above:  One of Jetex's most brilliant designers was Peter Cock.  This photo from the 1950's shows Peter at one of the many meetings where Jetex products were demonstrated.
Peter, seen above  with his equally famous Interceptor, told me he built three prototypes of the Spaceship to make sure it worked properly.  
The body was moulded balsa sheet, a feature of the Jetex 'Tailored' models. The scary plywood catapult was designed by Joe Mansour himself.  All in all, it was a pretty complex model and an expensive kit (more than a year's pocket money) at the time. It  was powered by the newly developed Jetex '50R':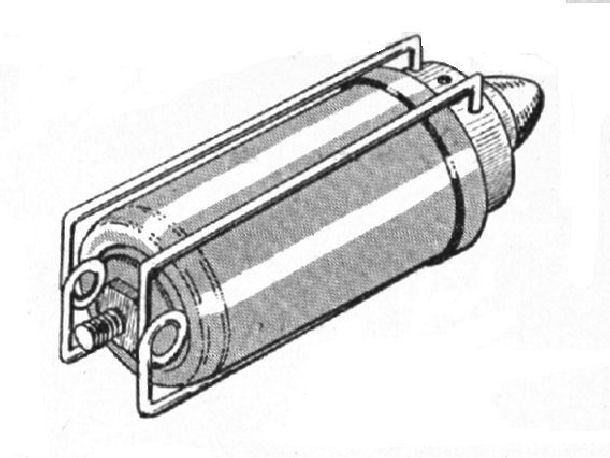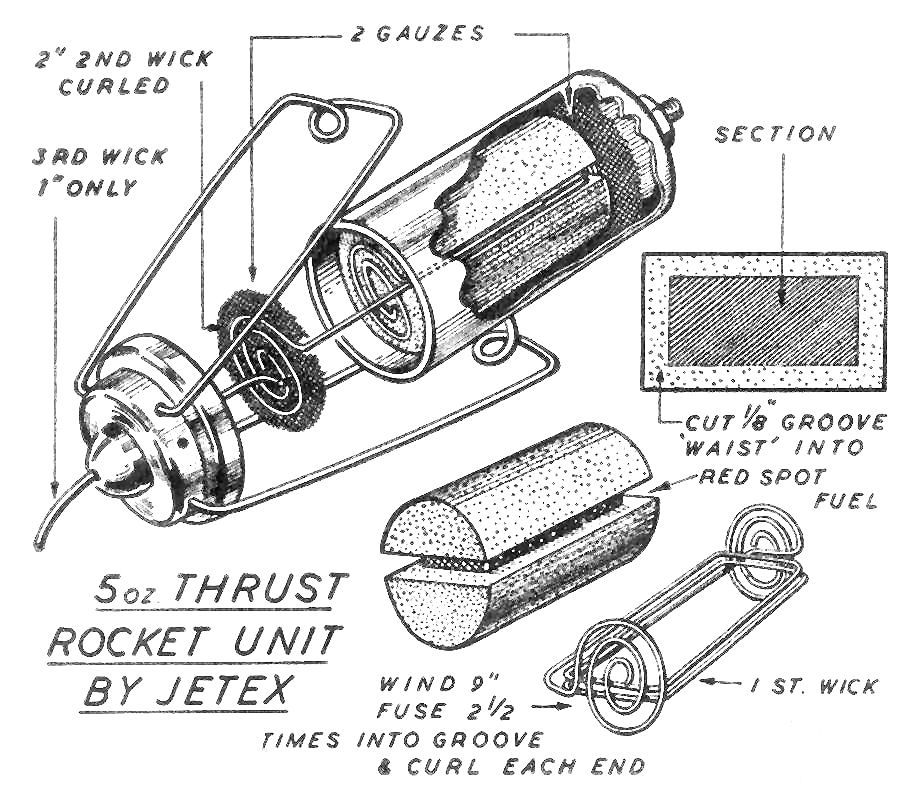 As long as this was properly loaded with grooved pellets and a yard (1M) or so of fuse, it could deliver about  5 oz ) thrust (about 1.5N for up to 5 seconds. 
This was enough to propel the spaceship to a couple of hundred feet before the spring-loaded catch opened and the parachute was ejected.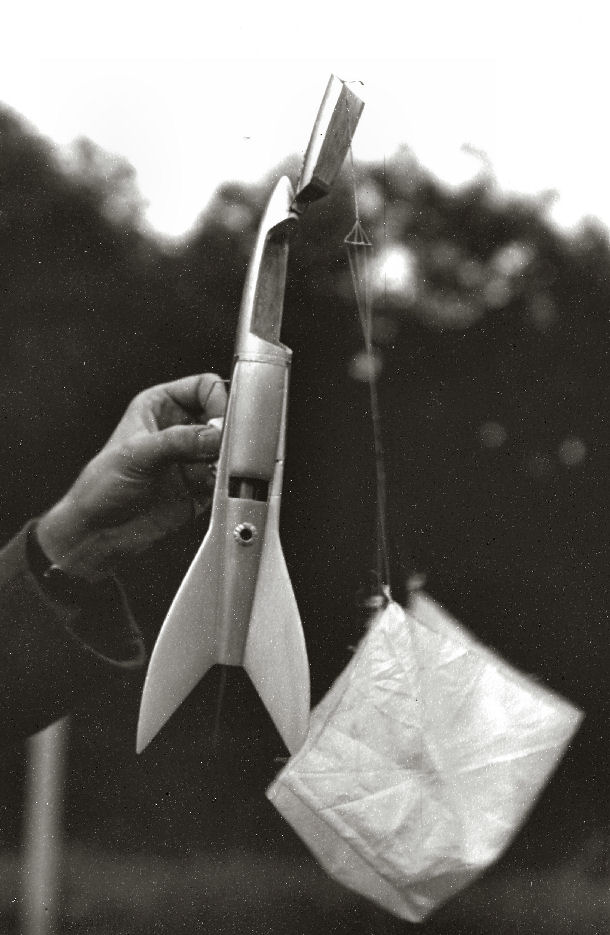 Above: The catch opens and (hopefully) the parachute comes out.  In its review, the Aeromodeller was highly impressed with the quality of the kit, but thought it was one for 'experts only'. Eagle, as will be explained below,were not impressed.  Or amused.   
There is more about the Spaceship's history at:
http://archivesite.jetex.org/models/kits/kits-other.html#spaceships
When the Spaceship was first marketed, Jetex  associated it with Dan Dare, the astronaut hero of that wondeful boys' comic at the post-war years, Eagle: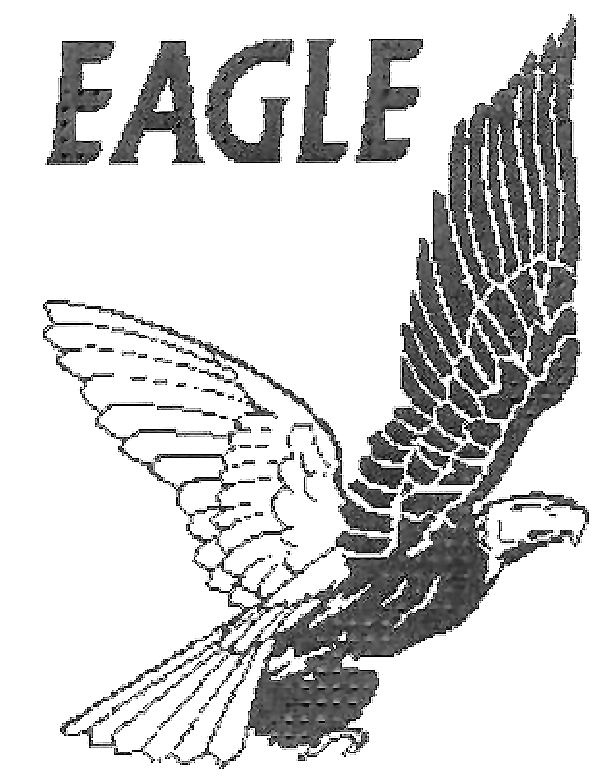 However, Eagle for some reason objected to the appropriation of Dan Dare, its 'Pilot of the future'.  lawyers were called in, litigation was threatened and, not without great regret, all reference to DD was removed and Dan Dare had to be content, for the time being, with his Sondar-designed Anastasia.  So the box most modellers associate with Peter Cock's wonderful creation looks like this:

 Which is how it appears even in a recent AeroModeller.  An original box has proved difficult to track down, so I was delighted to receive to receive high quality scans of a Dan Dare  box from Robert England (thank you, Robert).
 Robert's father had been a printer in the 1950's and had kept these test printings in his garage for over sixty years.  They only came to light when Robert was clearing his father's house.The quality of these prints is amazing, here is Robert's scan of the original box top for comparison to the bowdlerised version above.

I am thrilled Robert's father (blessed be he!) thought to preserve these unique artefacts, and, calling upon all my skills in Paintshop pro, I have now prepared a montage from Robert's excellent scans: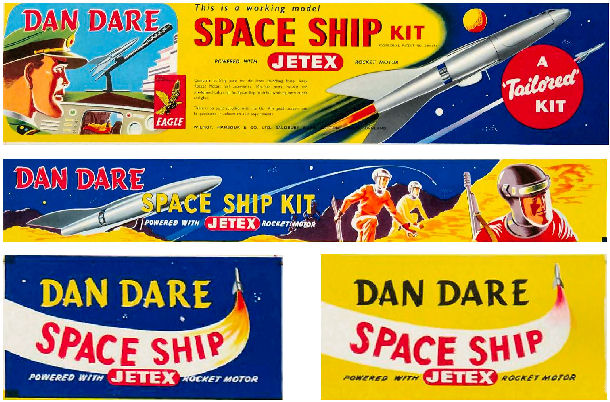 Printed  in glorious Technicolor and suitably mounted, this work of art will make a grand addition to any Jetex enthusiast's workshop.  It can be printed (on quality photo pape)r at either A3 (recommended) or A4.
Please tell me if you would like a copy, which will only cost you only 5 GBP (cheap) to cover printing, and 3-6 GBP postage  (expensive) depending on where you live.
Onwards and upwards! 
Mounting Rapiers in Models
Generally, our 'one shot' Rapier motors are inserted into paper/cardboard tubes attached to our models. 
These mounts are simple and effective, and can be  commercially available, or 'own rolled'.  In either case they have a wire retaining clip at one end and a  balsa plug the other .  These can be refined to resemble like 'weapons pods' beneath a profile model and really look quite authentic: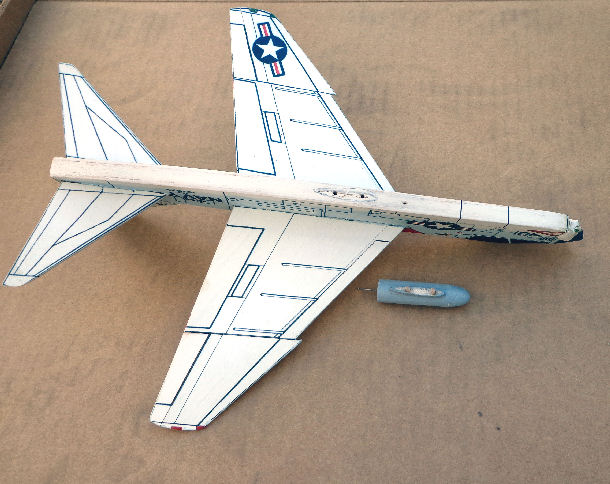 Above: a motor mount is ready to be glued to my profile Corsair II.  Note the two short lengths of cocktail sticks to key the mount in the fuselage and ensure (as far as possible) that the mount doesn't come off in a hard arrival.  I've also rounded the nose and applied a couple of coats of grey enamel paint.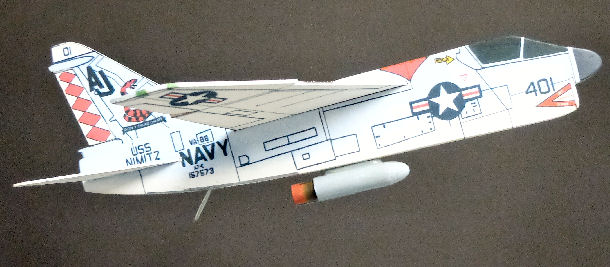 Above: the latest Corsair II with finished mount and motor in place.  Note the foil protection and the thin metal thrust tab behind the motor  Rapier exhaust is HOT!.
 Rapier motors are these days quite reliable, much better than they were a couple of years ago, when duff motors were not uncommon.  Nevertheless, burn-throughs, blow outs, whatever you like to call them, can still happen. 
Below is my MiG-19 for L-1. It's a fine flyer and I'm very fond of it: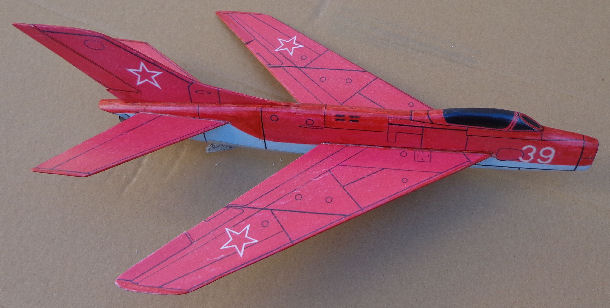 But this is what happened on its first flight: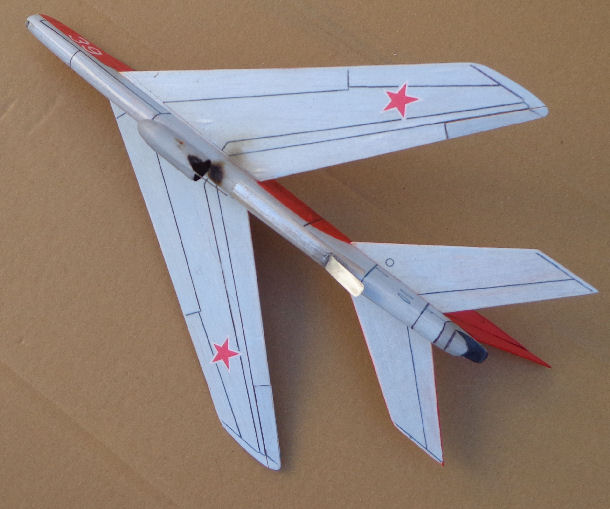 OK, not too serious, and profile models are much more robust than a proper scale model, but even so it is upsetting.
More serious is what happened to my Hawker Hunter a few years ago: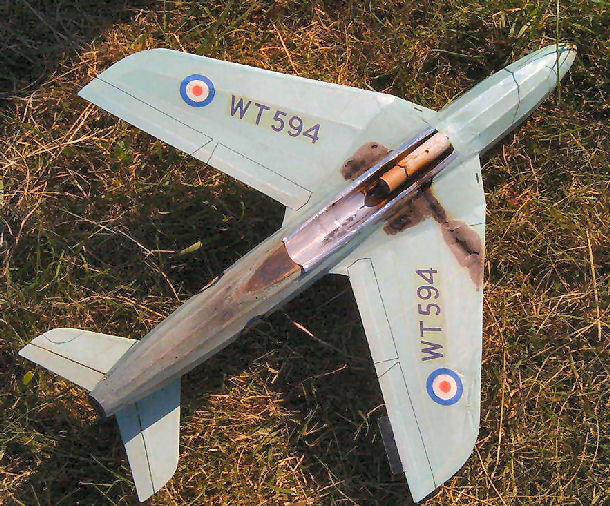 Rapiers are pretty good these days, but one would hesitate to put one of the older motors we all have at the bottom of our flight boxes (or given to us by a generous rocketeer who has (alas) 'moved on') into our latest superscale creation.
 As can be seen in the case of the MiG-19 and Hunter, card/paper motor mounts give little protection and allow the hot exhaust to quickly attack a precious model.  Built up models are, as can be seen with the Hunter, more easily damaged. 
So, is there a better way? Time for some thought ...
I have in my possession some genuine Jetex asbestos paper from many years ago: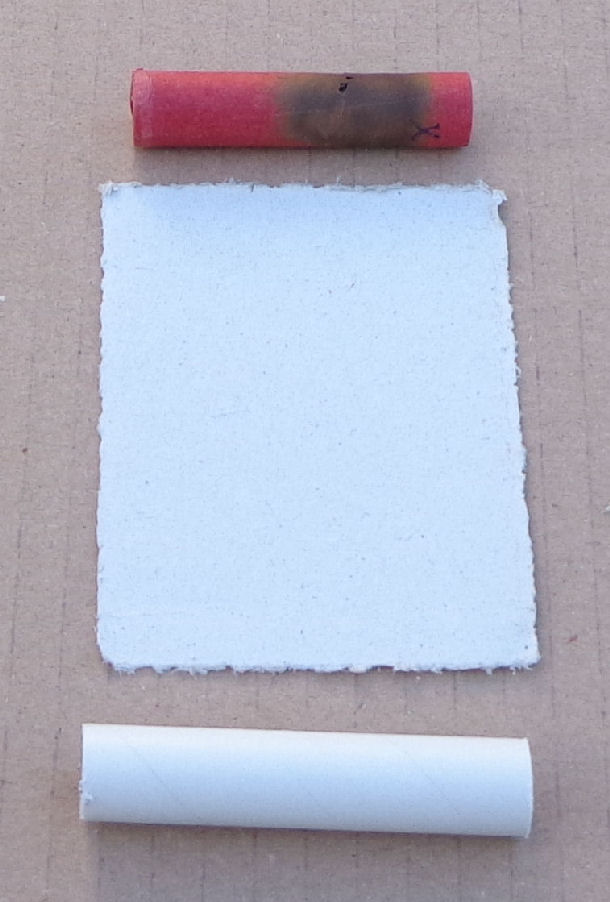 Above :Jetex asbestos paper and a commercially available mounting tube for an L-2.  The L-2 shown is used, and though scorched, it did not, I repeat not, burn through in fliight. 
I wondered if a motor mount fashioned from asbestos would be more robust.  I glued light 'Bank' paper to the asbestos with PVA glue, and wrapped it around the cardboard mount: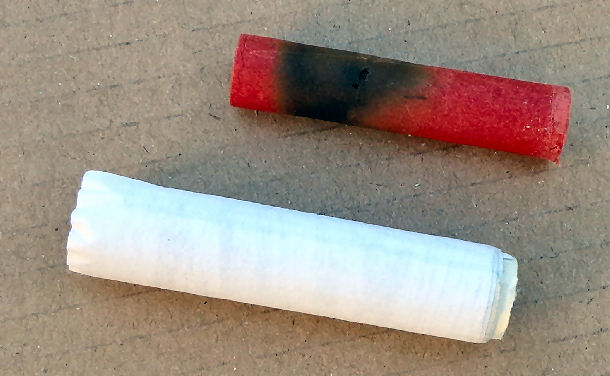 Above:  rolled tube and motor.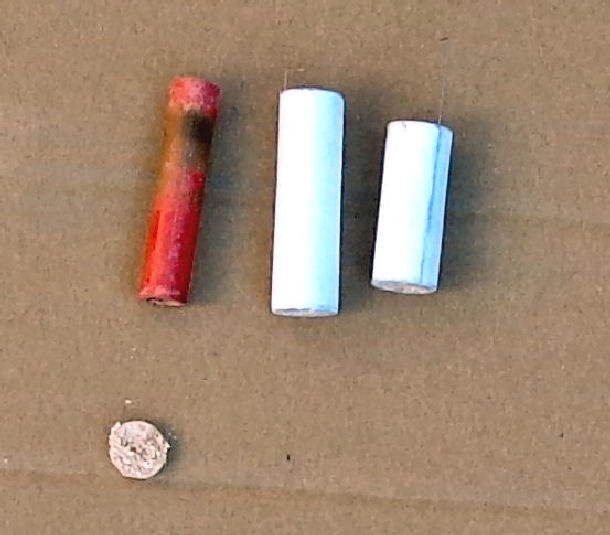 Above: Asbestos/card motor mounts (or tubes) cut to size after drying overnight..  There are two thicknesses of asbestos paper next to the cardboard.  Note the balsa plug and wire clip.
I was quite pleased with these and the asbestos only added a gram or so. 
I then mounted one of the new mounts in my test rig: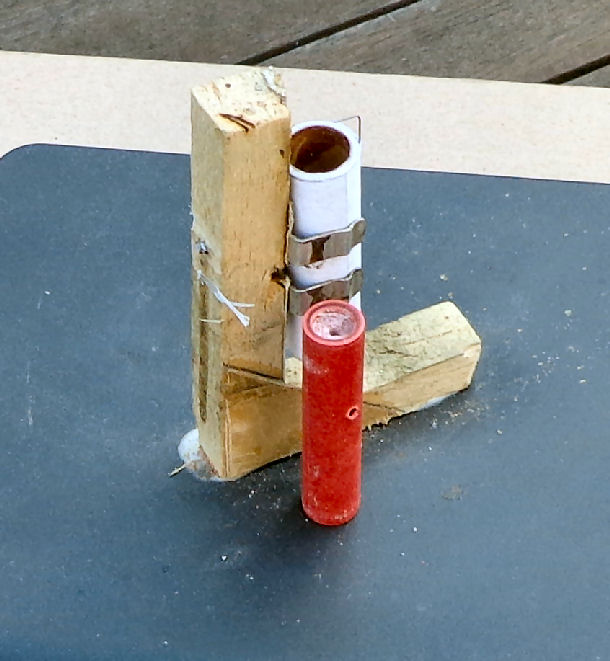 Note I drilled a small hole in the Rapier L-2about an inch below the nozzle to ensure a 'blow-out'.
Now for the crucial experiment. I  ignited the motor: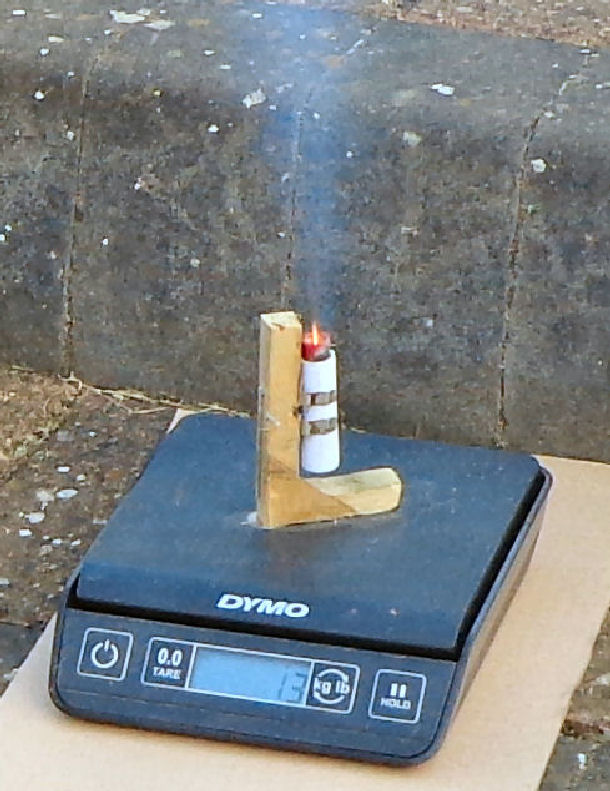 Above: we have ignition!  The motor(which went first go) is giving a healthy 13 grams (a little under 1/2 oz) of thrust. Looking good ....
The flame then reached the drilled hole: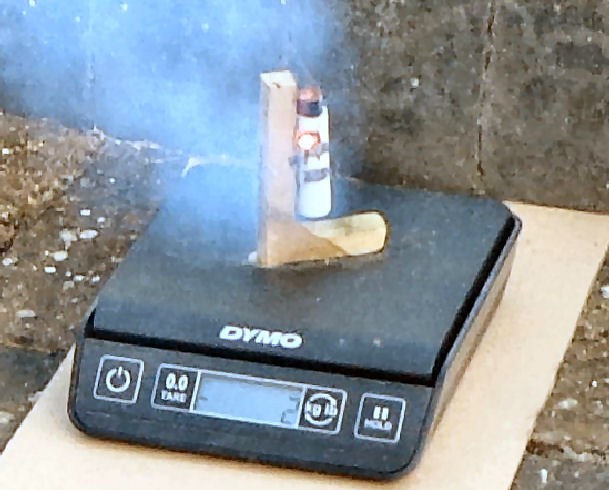 A case of, "Houston, we have a problem!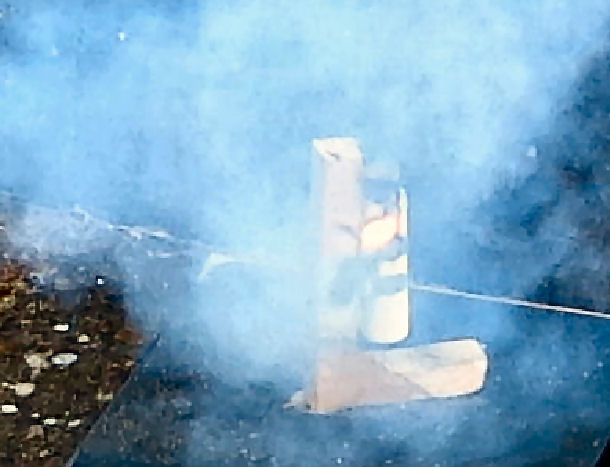 Above:  Through the smoke you can see that the thrust dropped immediately as the flame came through the motor case. After a further couple of seconds, the blow torch-like exhaust seared through the motor mount.  Not quite what I was hoping for ...
I let everything cool down: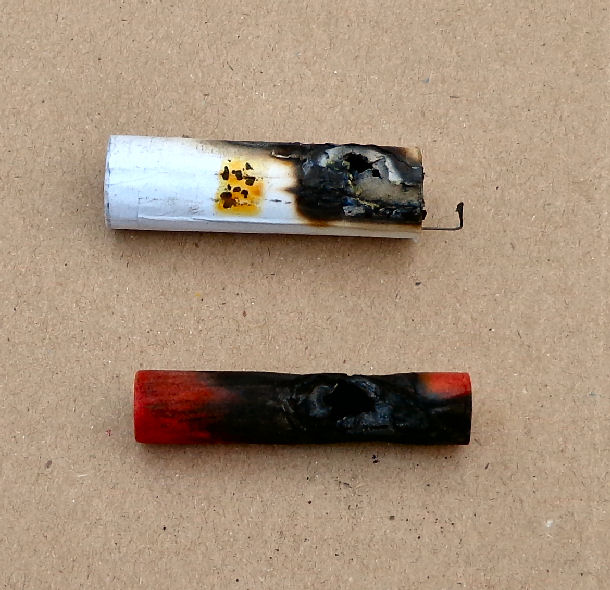 Above: Here is the motor and mount at the end of the experiment.  Glad I hadn't tried it in a model!  
I was disappointed  the asbestos burned through so quickly, but this is an extreme case, and in real life a Rapier a  'burn-through' is never this bad.
So the results are not clear.  I'm inclined to believe asbestos can offer your precious model some protection from a duff motor.  Asbestos, which these days has a bad reputation, is probaby not now the best material to use. Thin metal sheet I'm not sure is the answer - perhaps there is modern plastic out there which is better.  Nomex, perhaps? 
I'm open to suggestions!
Mounting Rapiers in Models Part 2.
Intro:  My previous blog on this subject was about the use of asbestos in a Rapier mount to see if this would prevent a model being damaged in the event of a Rapier case burn through.  Experiments showed (you will remember) a mount with two thicknesses of asbestos proved ineffective.
The  need for a robust motor mount was made even clearer when I tested a batch of Rapier what turned out to be L-2 LT motors: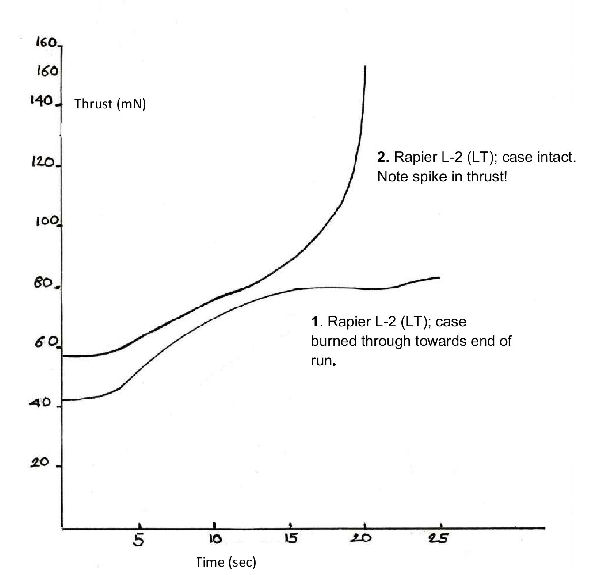 Above: the thrust is adequate for a light model; however, there is a thrust spike towards the end of the (very nice 20 sec plus) burn time.  The cases of two motors burned through at this point,  with enough heat and flame to damage a model. 
I wouldn't put one of these motors in a model, and certainly wouldn't provide them to even a brave modeller!
Following previous blog, I was contacted by Rob Mcconaghy, who suggested a ceramic or metal mount would resist the heat of Rapier propellant. 
In the first instance, Bob offered to make some metal tubes of various aluminium alloys and one of stainless steel that I could test with Rapier L-1 and L-2 motors.
Rob was as good as his word, and a few days ago some beautiful tubes arrived by post: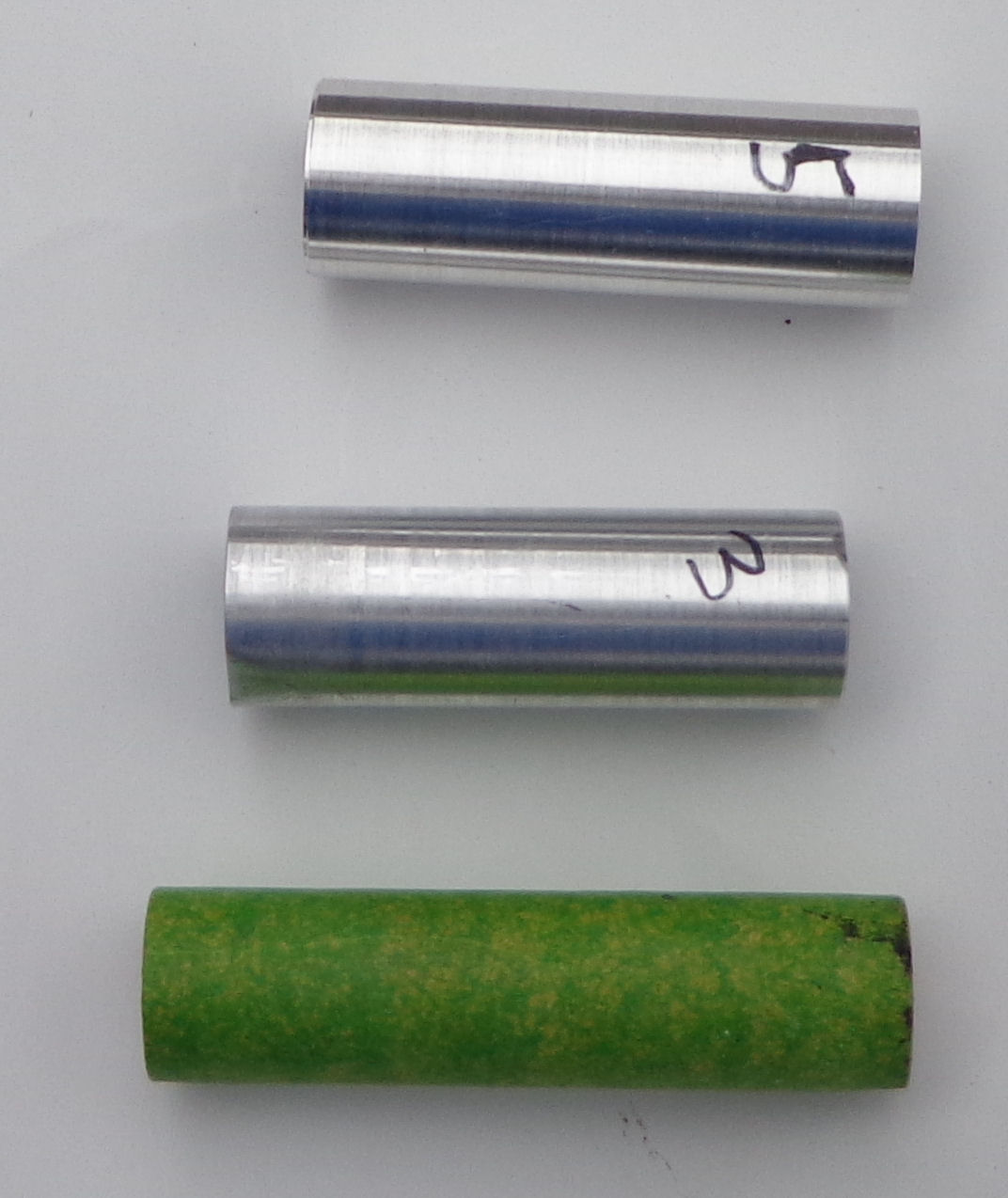 Above: these alloy tubes are sized for L-1 and weigh only 0.6g.  Those for L-2 were larger: those made of alloy weighing 0.9-1.2g, the stainless steel one weighed in at 2g. 
And very beautifully machined they are too  It almost seemed a pity to test them!
Experiment time:
I first tested the stainless steel tube with a standard L-2.  This had a small 1 mm hole drilled through the case to ensure  a 'blow-out':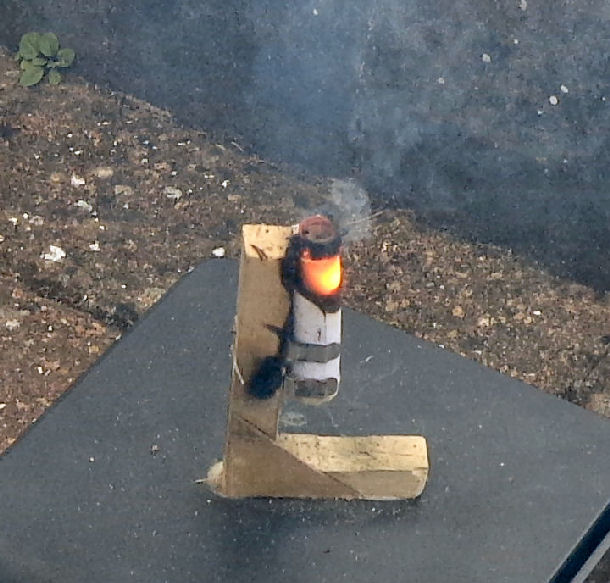 Above: We have ignition! The tube glowed red-orange but did not burn through and the model would have been protected.
 I repeated the experiment with one of the suspect L-2 LT motors.  The tube remained intact: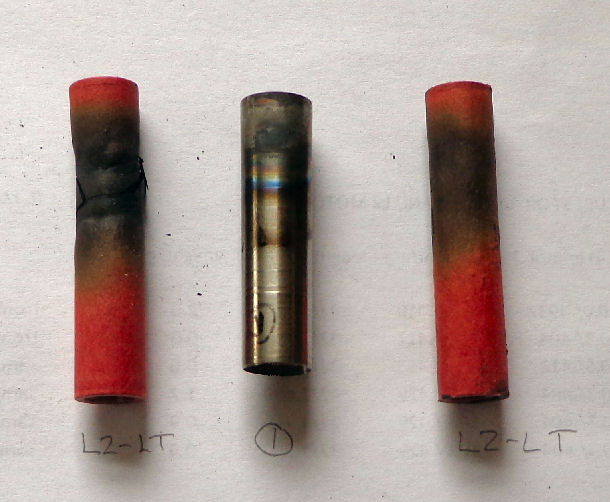 I 
Above: The stainless steel (303SS) tube withstood L-2 blowouts.  The L-2 on the left was predrilled to ensure a 'blow out'.  Nasty.  The L-2 LT on the right is scorched but intact.
So far so good! 
Rob had high hopes for the lighter alloy tubes.  He hoped their good conductivity would prevent them being melted. 
This is the actual experiment with a prepared L-2: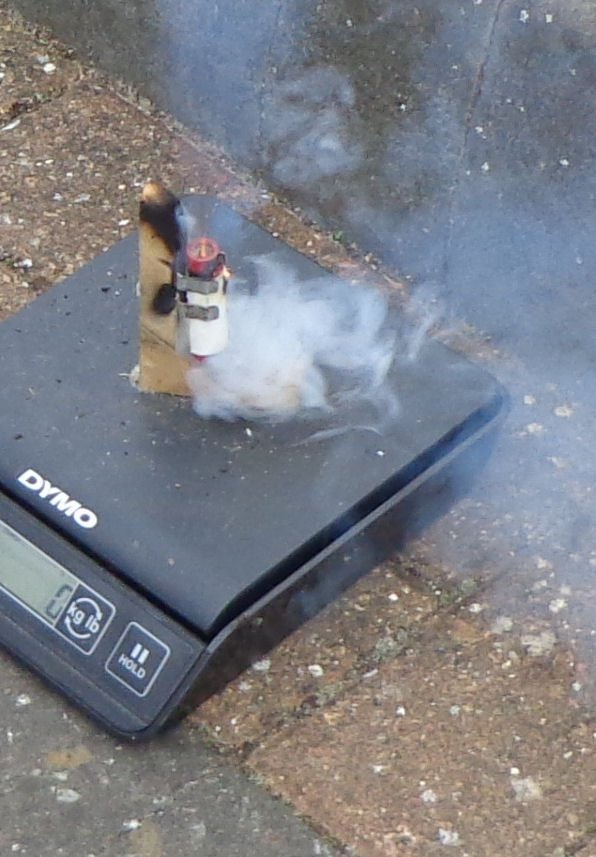 Above: The Rapier ignited easily, gave a good thrust (about 160 mN) then  a 'blow torch' flame on the right appeared.
And here's the alloy tube post-run: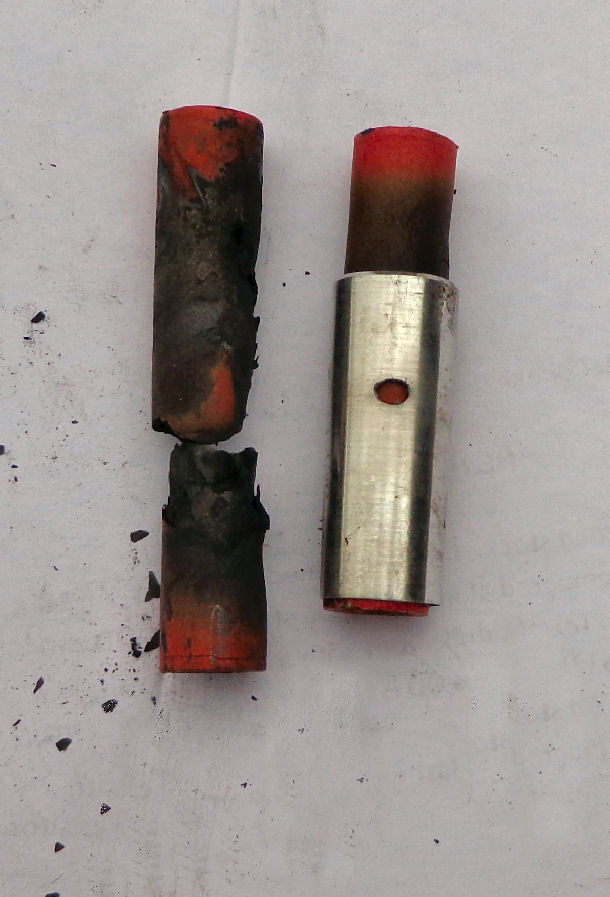 Above: The Rapier 'blow-out' has burned a neat hole through the alloy.  The model would not have been protected. 
This was disappointing.  I then tried an alloy tube with L-1.  These motors are smaller.  But do they burn as hot as an L-2?  After two runs with prepared L-1s, this was the result: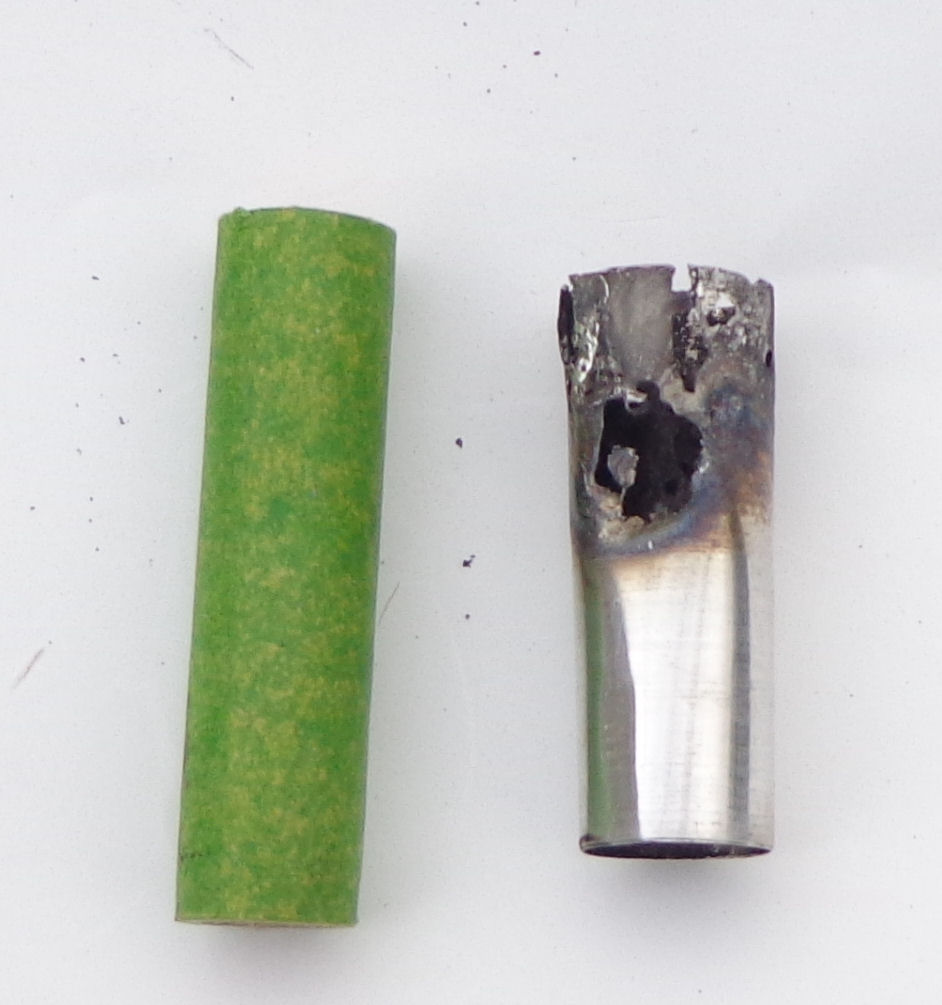 Above: L-1 alloy tube with a Rapier L-1 on the left.  The alloy (6061-T6 Al) has been melted through.  This implies the Rapier burns hotter than 550 degrees Celsius. 
Conclusion: no scientific experiment is a 'failure' if it gives a clear result.  In this case it is: alloy is not effective; stainless steel is the way to go.  A layer of ceramic tape around a stainless steel tube  will be needed to protect a model from the high temperatures.  I think we can live with the extra 2g weight.
My thanks must go to Rob for making and posting these tubes.
.........................................................................
As an aside, turning to the actual models:
I have been protecting my profile models with self adhesive metal tape behind the motor:
Above: The Corsair II ready for its maiden flight.  Note the metal foil and the down-thrust tab (made from the thin metal off a coffee can top).
Caution: (red alert!) The self-adhesive metal tape currently sold by, for example Halfords (in the UK) is too thin.  This stuff is far better: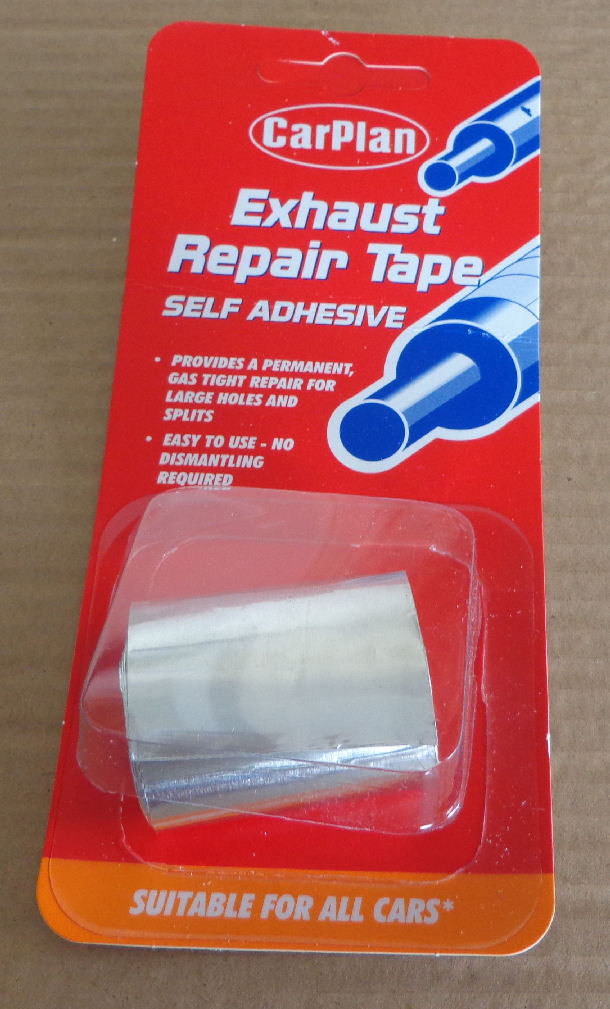 Above:  this works fine for me.  Available on eBay.
I look forward trying out ceramic mounting tubes, and trying a stainless steel Rapier mounting tube in a model.
Watch this space!