Jetex and Rapier related 'blogs'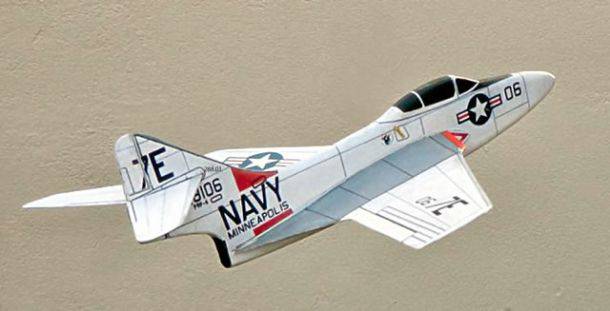 Welcome to the first of what I hope will be regular 'Jetex and Rapier related 'blogs'. As this is my first foray into the 'blogosphere' it will take me time to find my niche, so please bear with me.
These will of course be full of interesting observations about the modern 'small model jet plane flying' scene which will motivate a loyal cadre of enthusiasts to keep up with the latest news about motor availability, upcoming meetings and how to take part in what I hope will be a growing part of the free flight aeromodelling scene. Note the 'free flight' bit. I have nothing to say about those marvellous and sophisticated RC jets that we see showing off at meetings. However, free flight EDF is pertinent to our hobby and is one way of keeping our models flying. We shall see!
What with the winter weather – my own flying field is more suited to hydroplanes than aeroplanes at the moment – I have been designing some new models for the new flying season. These are simple 'semi-profile' models like the Cougar above  suitable for the latest batch of Rapier L-1 and L-2 motors.
Availability of Rapier Motors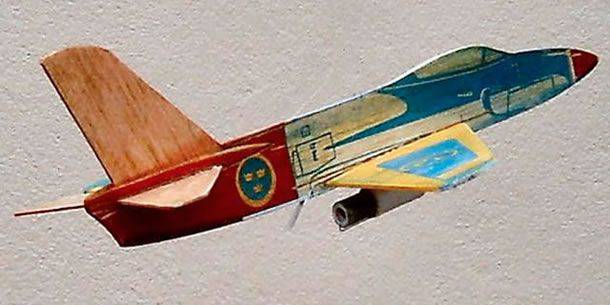 Flying small model aeroplanes with rockets is a thrilling activity, one open to all, but in the last couple of years there have been questions about the availability of Rapier motors, and their reliability and performance when you can get them.
Although they are not now sold by model shops like the splendid 'SAMS Models', who nevertheless sell models for them, see: 
http://www.samsmodels.com/acatalog/copy_of_AEROGRAPHICS_KITS.html
Rapiers are still made by Dr Zigmund in the Czech Republic and available in this country. They can be collected at meetings or by personal delivery. The situation is not unlike that of the more powerful motors for model rockets. But, if you want 'em, you can get them, and the latest 2013 batches are well worth having.
The latest L-1 motors put out 100mN for 10 sec, giving my Swedish Lansen (above) a sparkling performance:
The latest L-2 motors are also pretty potent, and so far, I've had no blowouts. So we can build and fly with confidence!
Paper over balsa
Another modelling technique Joe Mansour experimented with was 'paper over balsa'. This is a method well suited to profile jets, and, using computer programs not available to the old guys in the 1950's, very colourful models can today be designed and put together very quickly: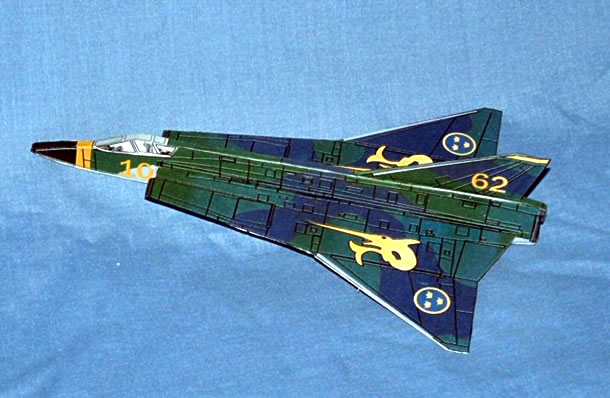 Draken designed by Rob Smith using CAD. Construction is printed paper over Depron and balsa.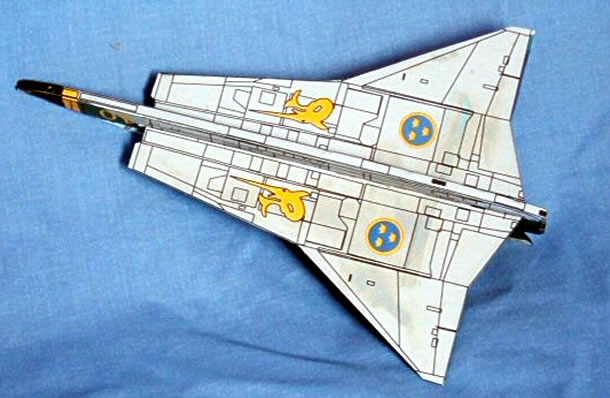 These models make a very good introduction to rocket flying, as they are robust, light, easy and inexpensive to build. Also – a consideration given the nasty weather we have been having – another can be printed off if the first one flies away in a thermal or crashes because of turbulence.
Joe Mansour innovation
One of the inventors of the original Jetex motors, Joe Mansour, explored innovative ways of building models – for example the 'Tailored' series with internal motors: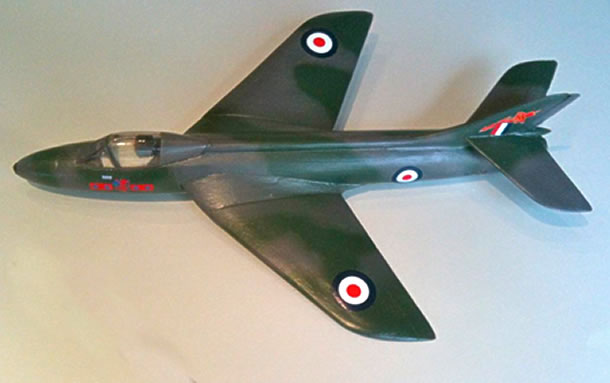 An original Jetex Tailored Hawker Hunter rescued from eBay and beautifully restored by Ian Hobbs.
A feature of these models, the fully moulded balsa fuselage, is not too difficult to reproduce, for example this Draken: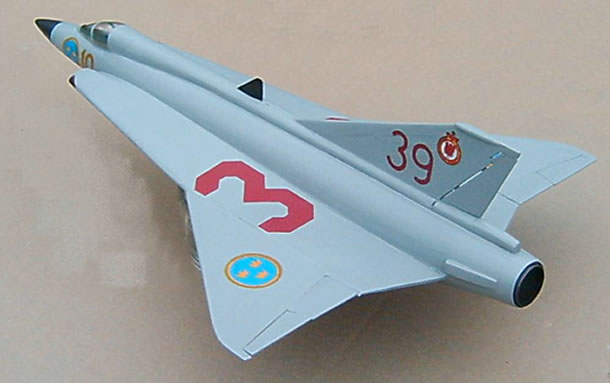 Draken for Rapier L-2. The fuselage is moulded; the wings and tail are built up.
The trick is to use the very lightest balsa available, and I can fully recommend online suppliers like
http://www.slecuk.com/catalogue/sitemap.html
The Draken is a little over 30g – much lighter than an old Tailored model and should fly well, but, what with the weather at meetings we had last year, has not been fully trimmed out.
One rule for one it seems?
It seems strange to me that Jetex stuff is apparently sold on eBay and, by all accounts, posted off to the lucky winner, without the restrictions that apparently apply to Rapiers. I have bought motors and pellets on eBay with good results.
Fuse, though, is definitely dodgy – to buy and to post – and some of the old stuff doesn't burn very well. I am told that Dr Zigmund is 'on the case' so if I hear anything I'll let you know. Meanwhile, I guard the good fuse I do have – the test is to see if it stays lit through a Jetex nozzle – and hope somebody clever comes up with an electric igniter.

This nice item appeared on eBay recently, but will the fuse (right) still work?