– the Wilmot Mansour Story by John Miller Crawford
Three model aeroplane hobbyists build a business - 1910s-1938
The Wilmots' first production - The Aeroplane World, Dec. 17, 1918 Jetex has its origins with three remarkably enterprising and talented young men, in England in the early part of the twentieth century.
Two of the three were the Wilmot brothers, Charles Mandeville ('Bill') Wilmot and John Wilmot. As schoolboys in the second decade of the century, fired with enthusiasm for the exciting developments in aviation, they produced and sold their own hand-written magazines, The Aeroplane World (above right) and The Aeroplane Monthly.
The third young man, initially working quite separately from the Wilmots, was Joseph Naimé Mansour, a talented model-maker whose craftsmanship had achieved early recognition. He had accepted an invitation to contribute to the most prestigious example of the modelmaker's skill ever created in Britain – the 1:12 scale Queen Mary's Doll's House (right), still today a major attraction at Windsor Castle.
With the burgeoning interest in aviation that had already attracted the Wilmots, Joe Mansour turned to modelling aeroplanes. Not content with the relatively heavy stick-and-silk models then dominating the scene (balsa wood was not yet available), he developed a method of lightweight construction using moulded papier-mâché. This he produced by compressing a mixture of newspaper and glue through the family laundry mangle. He then moulded the resulting sheets into very light but strong fuselages. (It's interesting to consider that the Jetex 'Tailored' series of the 1950s also used moulded fuselages.)
With his moulded fuselage process perfected, Joe Mansour's enterprising spirit turned to a scheme for commercial production. So, in 1931 he advertised in Flight magazine for others to join him in setting up a business to develop and manufacture model aeroplanes. The Wilmot brothers, who meanwhile had been experimenting with fuselage construction from very thin aluminium sheet, responded to Mansour's advertisement.
In what was to prove a typical businesslike move, the trio formed two companies in 1931. One, Wilmot, Mansour & Co., Ltd., held patents which they had been granted, and the other, International Model Aircraft Ltd. (IMA) had the world's largest toy manufacturer, Lines Brothers, as a shareholder (right). IMA was responsible for production, which was eventually conducted in the large Tri-ang factory in Merton. The Tri-ang football field adjoining the IMA factory was to became a model aerodrome, where customers could learn to fly the models coming off the production line.
IMA's initial product was to be an innovative model aeroplane with an aluminium fuselage and paper wings – the FROG Interceptor fighter Mark IV (below right). Not only was the Interceptor unique in its method of construction, but its motive power also showed innovative flair. It was powered by a rubber motor which turned the propeller via a minute Swiss-made gearbox, allowing a smaller, more realistic, propeller to be used. The rubber motor could even be wound up by means of a high-speed geared winder built into the model's box.
Moreover, in an era when the rudimentary appearance of model aeroplanes bore little similarity to contemporary full-size aircraft, the Interceptor stood out with its semi-scale resemblance to the Supermarine Schneider racers. With a propellor speed of 2,700 r.p.m., it was quite the fastest rubber-powered aeroplane to be bought – typically, it travelled 300 feet at a height of 70 feet and a scale speed of 240 mph.
The 'FROG' name came from Joe Mansour, who had coined the acronym from the slogan "First to Rise Off Ground", to express the advantage his papier-mâché models had over the stick-and-silk machines. Later, it came to signify "Flies Right Off Ground". A 'W'and an 'M' were incorporated in the FROG logo (below right). By November 1932, the Wilmots and Mansour had achieved their goal of commercial production with over 800 Interceptors per day being produced.
Taking advantage of Tri-ang's world-wide outlets, the Interceptor was by 1933 being produced in the colours of many different countries, and being built at the rate of 1000 per day. The initial price of 10/6 was reduced to 7/6, and eventually to 5/-. Sales kept climbing, and the original Interceptor model remained in continuous production through till 1940.
Faced with the problem of frequent breakages of the Interceptor's carved wooden propeller, the IMA designers once more showed their inventive flair by moulding the propellers from cellulose acetate. The material proved such a success that most small parts for the FROG flying models were subsequently made from it. Later, it was to have an even bigger role as the material for the FROG Penguin non-flying scale models.
In 1934, IMA's next model was introduced. This was a scale D.H. 80A Puss Moth, made famous by the long distance flights of Amy Johnson, Bert Hinkler, and Jim Mollison. Emboldened by success, in 1935 the company released its most ambitious flying scale model, the Hawker Hart, with three rubber motors geared together, and rigging sprung to minimise damage. However, the production difficulties of this complex model proved costly for IMA.
IMA letterhead
Learning their lesson and taking advantage of the advent of balsa wood, the Wilmots and Mansour in 1936 introduced other simpler and lighter models. In a further ground-breaking move, they produced kitsets from which enthusiasts could build their own model aircraft. These first FROG kits were of very high quality, comprising die-cut parts, printed tissue, dope, and brushes.
Not neglecting the ready-to-fly market, IMA also introduced a development of Mansour's original model aeroplane, having a moulded-paper fuselage with balsa wings. Lighter and easier to manufacture than the Interceptor, this was turned out in very large numbers and a variety of types and sold in Woolworth's department stores. More expensive and larger kits, a Spitfire, a Vickers Wellesley bomber and a PV.6 dive bomber, were sold at specialist toy shops. By the end of 1936, IMA had 21 models on the market.
1937 saw yet another innovation with the introduction of the first three moulded non-flying scale models, known as 'Penguins'. These were moulded in cellulose acetate and were very detailed, giving the modeller practically everything needed to build an accurate scale model. (Read more about those models and ther history of FROG on the profusely illustrated FrogPenguin.com website.)
The Jetex motor is conceived and created – 1938-1948
Never ones to rest on their laurels, the Wilmots and Joe Mansour conceived the notion of adding rocket boosters to their flying models. The challenge was to concoct a propellant that would provide a safe and even thrust over several seconds without risk of setting the model aflame. One of the IMA directors, Capt. E Grattan Thomson, put them in touch with Group Capt. C H Keith, an armament specialist who could give them access to the necessary technical knowledge and expertise.
Many experiments ensued and by the end of 1940 they had a prototype motor, composed of a Bakelite case enclosing a removable cardboard tube holding a gas-generating compound which could be ignited with a fuse. Fitted to model aircraft of various sizes, the motor proved so successful that the British War Ministry, by then in the midst of the Second World War, saw the possibilities of adding another type of device to their arsenal.
The Development of Miscellaneous Weapons Department (DMWD), led by Commander Neville Shute Norway, the famous aeronautical designer and author, took charge of the project and a senior Government pyrotechnical chemist was assigned to join the team. Another team member, from the IMA factory, was A A (Bert) Judge (right), winner of the 1936 Wakefield contest and later to become the Jetex Chief Designer.
The DMWD also brought Imperial Chemical Industries (ICI) into the act, as manufacturers of wrapped cordite charges for engine starter cartridges and thus having suitable facilities for large-scale production of the Wilmot-Mansour rocket motors. Research on a suitable fuel was conducted at ICI's Nobel Division in Ardeer, Scotland. This research was in the hands of a young (30 year old) chemist, Alex Hutchison (below right). His great contribution to the success of Jetex was to invent the fuel itself, the low-temperature, steady-burning fuel that was so different from the earlier nitrocellulose propellants. Hutchison's unique formulation was patented under his name in 1948.
Meanwhile, the IMA factory under Joe Mansour continued with model aircraft production, principally turning out millions of recognition models for the Forces, but also keeping on producing the ready-to-fly Spitfire model.
Bill Wilmot became involved in another Government war project for the Airborne Forces Experimental Establishment (AFEE), involving the design and trialling of 16 ft and 32 ft towed target gliders. The development work was initially conducted at the Thame RAF airfield, with production craft being manufactured at the Lines Brothers factory at Merton.
On a parallel track, Joe Mansour was charged with the construction design of a target drone, with four feet wingspan, to be used by Wrens (Women's Royal Navy Service) to teach merchant seamen to 'lay off' when attempting to shoot down enemy aircraft. In due course, because the seamen became very proficient in shooting down this slow-flying aircraft, Joe Mansour's IMA team was asked to develop a faster-flying rocket-powered model. This was of pod-and-boom configuration, with a fuselage of moulded papier-mâché (shades of Joe's first models!) in four sections glued together over a balsa keel and formers with wing and tail of balsa and fabric construction, the whole sprayed bright orange (right).
The rocket propellant was cordite-based (nitrocellulose smokeless powder); the guanidine nitrate based Jetex micro rocket fuel was still to come. The motor weighed two pounds (0.9 kg), with a maximum thrust of just under three pounds (1.4 kg). So successful was it for its purpose that IMA turned out hundreds of thousands.
With their wartime activities entailing a reduced involvement in the management of IMA, Bill Wilmot and Joe Mansour chose to sever their relationship with that company in 1944. (The original trio had been reduced to a duo with the death of John Wilmot in a car accident in 1943.) Their commercial ambitions were now focused on powering model aircraft with smaller rocket motors of the gas-generating type used in their target aircraft. Manufacturing premises were obtained in Bishop's Waltham in Hampshire and five staff were employed. As a name for this enterprise they turned to a company which they had incorporated in 1932 – Wilmot, Mansour & Co., Ltd.
War work also continued, with the two development tracks of Wilmot's towed target gliders and Mansour's powered target drones merging in rural Hampshire as a combined project. Initially, the work was carried on at Marwell Hall, where the estate has been requistioned for a wartime aerodrome, and then at the AFEE site at Beaulieu Aerodrome. Target gliders and rocket-powered craft of various sizes, ranging between 4 ft and 32 ft were designed and tested. At Beaulieu, Wilmot and Mansour had the use of a small hangar in which a Spitfire XVIII was converted into a target tug. The hangar also housed model aircraft which were used to test the model motors developed at the Wilmot Mansour factory in Bishop's Waltham. Research and development on suitable fuel for the motors were conducted at the ICI factory in Scotland.
The two young sons of the CO of the RAF Beaulieu experimental station between 1945 and 1947, Chris and Robin Heath (right), were pressed into service as juvenile 'test pilots' of simple gliders powered by the model motors. As Chris recalls, "they worked very well and on occasions, we had to spend a good deal of time and effort chasing these planes across the heath", with the result that "apparently Wilmot and Mansour decided that if their invention survived the Heath children's handling and mishandling, the Jetex toy was a good idea".
In 1947, by when all motor development and production had been consolidated in the Beaulieu hangar, it was purchased from the government and moved to Totton, a nearby suburb of Southampton, to become the permanent headquarters and factory for Wilmot, Mansour & Co., Ltd (above right). By this stage, the composition of the gas-generating propellant for the model motors had been fixed, and patented, as principally consisting of a guanidine nitrate oxidiser base with nitrated resorcinols as a catalyst.
ICI was contracted to manufacture the propellant in quantity. E F H Cosh, visiting the ICI plant in Scotland with other journalists early in 1948, was shown motors of two types. One was a self-contained cartridge (right) of the type depicted in the March 1948 patent. The other type, "for the more advanced modeller", comprised "aluminium alloy jet motors, fitted with a special safety device [and] loaded with a pellet of gas-producing composition". He was able to witness "the 'Jetex' units flying tailless models in gusty weather conditions, and was particularly impressed by their stable performance". He reported that the motors would be "marketed towards the end of May".
The Wilmots' first production
- The Aeroplane World, Dec. 17, 1918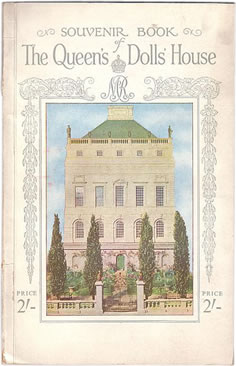 Souvenir Book of Queen Mary's Doll's House, on which Joe Mansour worked
- Olney & Son, 1924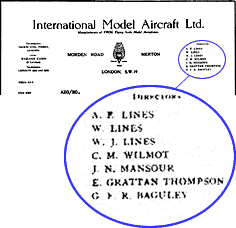 An IMA letterhead, showing Wilmot and Mansour as directors along with the Lines brothers
- FROG Model Aircraft, 1989 (p. 10)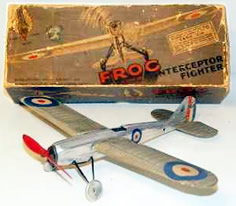 FROG Interceptor and box
- Aumann Auctions, 2005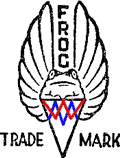 FROG logo ('W' and 'M' hightlighted)
- Meccano Magazine, Dec. 1948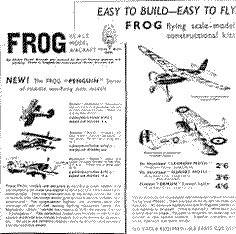 Advertisement for FROG kitsets
- Popular Flying, Feb. 1937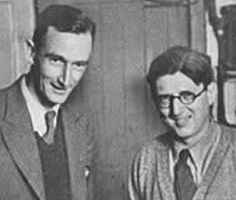 'Bill' Wilmot (left) and Joe Mansour
- FROG Model Aircraft, 1989 (p. 10)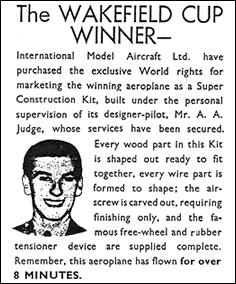 IMA announces the acquisition of "designer-pilot" Bert Judge in 1937
- reproduced in FROG Model Aircraft, 1989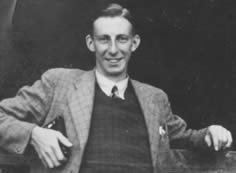 Alex Hutchison at the time of his
work on Jetex fuel
- Alex Hutchison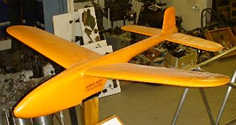 IMA target rocket plane,Tangmere Aviation Museum
- Howard Metcalfe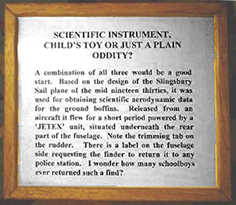 Label for the IMA target plane, Tangmere Aviation Museum – somewhat misleading, but it does mention "Jetex"
- Howard Metcalfe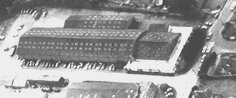 Former Jetex factory (previously Beaulieu
hangar), Totton, in 2001
- David Carpenter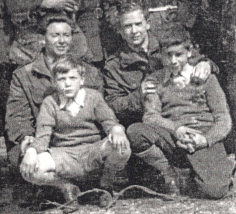 Robin (l.) and Chris Heath, Beaulieu 194
- Chris Heath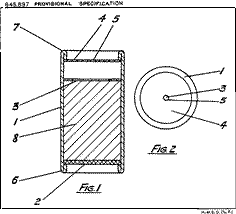 - UK Patent 645,897, 3 Mar. 1948
Acknowledgements
Text by John Miller Crawford, based on the following sources provided by David Carpenter, Bill Henderson, Edward Jones and Stuart Guy:
- Editorial obituary: Joe Mansour, Aeromodeller, January 1973
- Coles, R. History Of Beaulieu Airfield, Robert Coles 1982
- Lines, R. & Hellstrom, L. FROG Model Aircraft 1932-1976, New Cavendish Books, 1989
- John May, 'Trixie, Jumbo and Co', Aeroplane Monthly, May 1978 p. 261
- Hampshire - the county magazine, December 1990
- Personal correspondence of Bert Judge to Edward Jones
- Personal correspondence of A W Thatcher (Wilmot Mansour staff, 1961- ) to Stuart Guy (Head of Engineering, GEL Engineering Ltd)
Illustrations:
- David Carpenter, John Miller Crawford, Chris Heath, Alex Hutchison, Mike Ingram, Edward Jones, Howard Metcalfe, Aumann Auctions